Subzero Research Laboratory
Introduction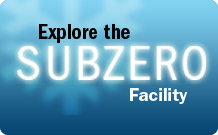 Montana State University is home to the Subzero Lab, a unique and state-of-the-art suite of laboratories used to study the effects of the cold on projects across many scientific disciplines.
The Subzero Lab opened in October 2008 and is housed in MSU's Cobleigh Hall. It is administered by the university's Department of Civil Engineering and directed by civil engineering professor Ed Adams and land resources and environmental sciences professor John Priscu
MSU hopes the Subzero Lab will serve as a focal point not only for education but also for cross-discipline research into state, national and international issues. It is also hoped that the one-of-a-kind facility will attract scientists from around the country and world to conduct research at MSU.
The Subzero Science and Engineering Research Facility, along with the educational and scientific interactions that it makes possible, further enhances MSU's position as one of the world's leading cold science research and education institutions.
Background
MSU has a long and prestigious history of research focused on low-temperature terrestrial and marine environments, including alpine, polar and winter-related studies.
Why study avalanches? How is the structure of snow important to avalanche forecasting? A National Geographic news article published at the genesis of this partnership explains the reasons.
That history of cold-related research is a natural development for MSU because the cold influences almost every aspect of life in Montana. The state's long, cold winters affect everything from agriculture and transportation to safety and ecology, even water storage in mountain snowpack.
While Montana's climate offers a natural, readily accessible outdoor laboratory, fully understanding the impact of the cold requires a way to study the climate and its effects in precisely controlled ways.
Description
The Subzero Lab occupies 2,700 square feet inside the first floor of MSU's Cobleigh Hall. It includes eight room-sized cold laboratories; three low-
temperature biological incubators; two additional environmental chambers; a temperature-controlled computed tomography (CT) scanner; and a refrigerated epifluorescence microscope.
While each of the walk-in laboratories can be adapted to fit a range of research needs, each one is designed with a specific scientific focus in mind.
Several labs have the ability to simulate radiation from the sun and sky.
One laboratory serves as a large-scale structural engineering test bed with a strong floor for mounting equipment.
Another laboratory is designated as a germ-free clean room for sensitive biological work.
One lab is plumbed so that liquid water can be used in cold experiments, such as those done in wetlands research.
Another chamber serves as a storage locker.
And another lab serves as a teaching space, with ample rooms for student groups.
The facility also includes a general specimen preparation area.
Each testing chamber has observation windows, and the Subzero Lab's main area can be viewed from the hallway -- to attract interest in the research.
Funding
The Subzero Lab was funded by the National Science Foundation's Major Research Instrumentation program, the Murdock Charitable Trust and Montana State University.