45th Annual American Indian Council Powwow
2020 MSU Powwow Poster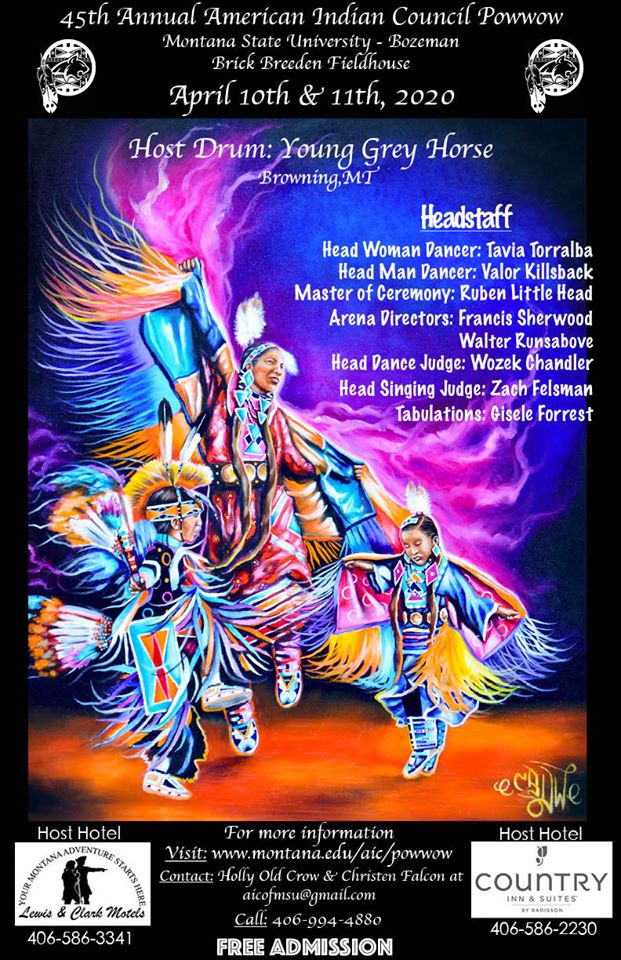 2019- 2020 Royalty:
Miss Indian MSU: Bree A. Deputee
Miss Teen MSU: Tyren Whiteman
Junior Miss MSU: Talon Mae Vigil
Miss Tiny Tot MSU: Azurene Reyos
2020 Head Staff
Host Drum: Young Grey Horse
Head Woman Dancer: Tavia Torralba
Head Man Dancer: Valor Killsback
Host Hotels:
Lewis and Clark Motel 406-586-3341 $99 plus tax and $119 plus tax for double. Call and ask "MSU Powwow" rate.
Country Inn & Suites 406-586-2230 $99 plus tax for double room. Call and ask for "MSU Powwow" rate before March 15th, 2020.
Jr. MSU Princess Special
A SPECIAL THANK YOU TO ALL THE HOST HOTELS FOR SUPPORTING THE 2020 AIC POWWOW!
For more general information on powwow contact:
Lisa Perry at (406)994-4880 or lisa.perry2@montana.edu