Do I need to register for Trailheads MSU?
Yes, space is limited for this program, so register early to secure your spot.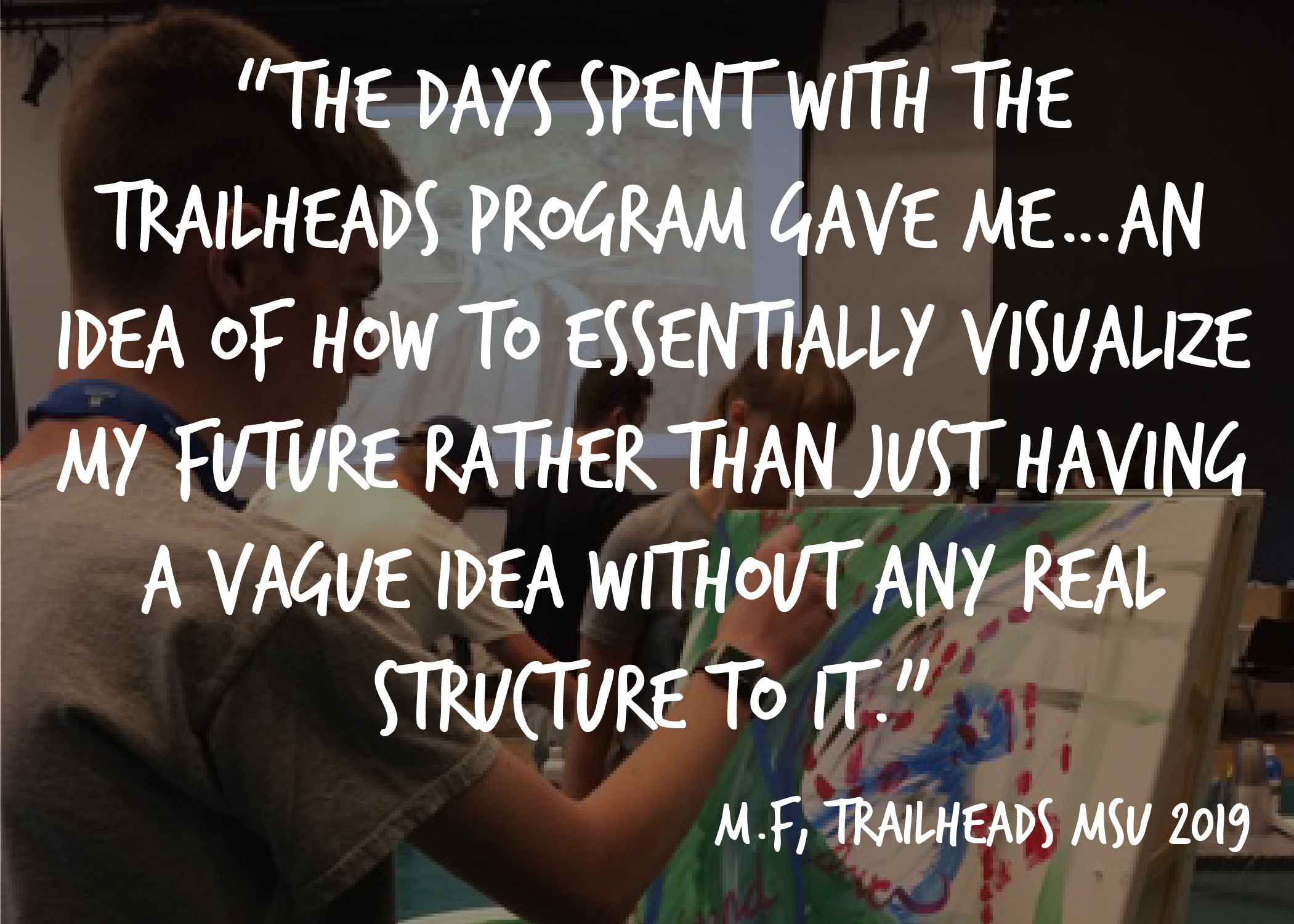 Is there a cost for this program?
The cost for this program is to be determined. The cost covers the following:
All meals starting with dinner Sunday evening, through dinner on Tuesday

Lodging (you will check in early to your assigned residence hall room prior to other incoming freshmen so you can get settled)

Program materials

High ropes course and float time on the Madison River

Transportation to and from program-related venues
Are there scholarships available for this program?
Yes, the scholarship application can be filled out here.
If I need to cancel my reservation, what is the refund policy?
We understand that life sometimes gets in the way of our plans, and things have to change. Howevr, because these programs are popular amongst our incoming students, we also need to ensure we are able to meet the demand of those students wanting to participate. Cancellations made within 10 days of registration will receive a 50% refund. Cancellations made 10 days after registration will not receive a refund. Please contact the Allen Yarnell Center for Student Success at [email protected], or at 406-994-4353 for additional details.
Who is this program targeted towards?
This program is for any incoming freshman who is unclear of their major or may be unsure if their major is the right fit for them and is committed to doing some exploration along the way. We will help them to start designing a life they love and begin building the skills to pair major with career possibilities down the road.
For Parents and Families:
Will I be able to contact my student during the program?
Yes, you will be able to reach your student by cellphone during the program. While they are participating in the mountain activities, cellphone reception will be limited. We do ask students to turn off their phones during active learning times out of courtesy and so they can be present in the experience and be part of the group.
How do you handle emergency medical situations?
Instructors and leaders will have cellphones at all times.
All participants will complete a medical form prior to the start of the program so that we can plan for any potential problems.
How will you support my student after the program ends?
Following the initial three-day course, there will be touch-points throughout the year with professional staff from Career Services. Your student will be asked to engage in these follow-up activities, career coaching appointments and other touch-points in order to earn one-academic credit and continue to explore major and career.
What are the residence hall move-in procedures for 2021?