Concert Day Timeline
9:00am - Ticket Office is open at the Bobcat Stadium

For questions you can call us at (406) 994-CATS (2287)

1:00pm - Parking lots open
4:00pm - XL Country Preshow begins
5:00pm -Stadium Gates open
6:00pm - Show starts
Getting In
Gate-Path
What section are you sitting in?
Use the WEST BLVD and enter through GATE #14.
Use the EAST BLVD and enter through GATE #5.
Use the EAST BLVD and enter through GATE #8.
FIELD ACCESS
Anyone with a SANDBAR ticket MUST ENTER in the designated lines at GATE 8. Ticket holders will receive the appropriate wristband needed to access the field and enter the sandbar area. NO EXCEPTIONS.
Anyone with a FIELD section ticket must obtain a field wristband to access the field seating. After scanning your ticket at GATE 8 you will be directed to the nearby wristbanding section. Each individual must be present and have a field seating ticket in hand.
All access to the floor and sandbar will take place through the field tunnel located at GATE 8.
Helpful Tips
The show will be at capacity, so arrive early and allow yourself ample time to enter. Expect Lines at entry.
Bags larger than small clutch purses 4.5" by 6.5" will not be allowed into the show. Carry only those items necessary for your enjoyment of the concert.

EMPTY WATER BOTTLES PERMITTED AND ENCOURAGED:Guests may fill their empty water bottles at the FREE water fill station located on the concourse under section 117. This is nearest stadium gate 8 and the XL Country Pre-Party

ALL PREVIOUSLY PURCHASED TICKETS ARE VALID FOR THE 2022 DATE. YOU DO NOT NEED TO HAVE TICKETS RE-ISSUED TO USE.
Security
ARRIVE EARLY – GATES OPEN AT 5:00PM
While we will do everything in our power to be as quick and efficient as possible, we encourage guests to please arrive in advance of the scheduled show start time in order to allow ample time to enter the facility.
Inspection
Be prepared for inspection as you enter the facility. This inspection will include the use of metal detectors. As you approach the screening station, please leave keys and phones in your pocket and leave belts on. If a prohibited item is found, including bags and purses, you will have the option of returning the item to your vehicle or throwing it away. Items will not be held for guests to return to later.
Travel Light
Carry only those allowed items necessary for your enjoyment of the show. Bags larger than small clutch purses 4.5" by 6.5" will not be allowed into the show. Diaper bags and medically necessary bags will be allowed, but subject to search. Jackets/Sweatshirts should be either on your body or carried in hand.
Not Permitted
Items not permitted include, but are not limited to:
Air Horns | Alcoholic Beverages | Bags larger than a 4" x 6" purse | Balls | Bikes | Coolers | Firearms | Glass Containers | Knives | Lawn Chairs |
Outside Food or Beverages | Animals Other Than Service Animals | Signs on Sticks | Skateboards | Scooters | Illegal Drugs/Substances
Selfie Sticks | Umbrellas | Tobacco Products | E-Cigarettes | Vaporizers | Laser Pointers
Cameras with removable lens, video cameras, Go Pro cameras, iPads, and recording devices are prohibited. Small point-and-shoot cameras are permitted into the show
Take Notice
Upon entry into the venue, make yourself familiar with the venue's layout, taking special notice of the nearest exit.
See Something Say Something
If you need any assistance at the concert, please ask a staff member or text the issue and your location to 406-413-9353.
Be Nice and Have Fun
Please respect those around you, as well as yourself.
Stadium Retail Locations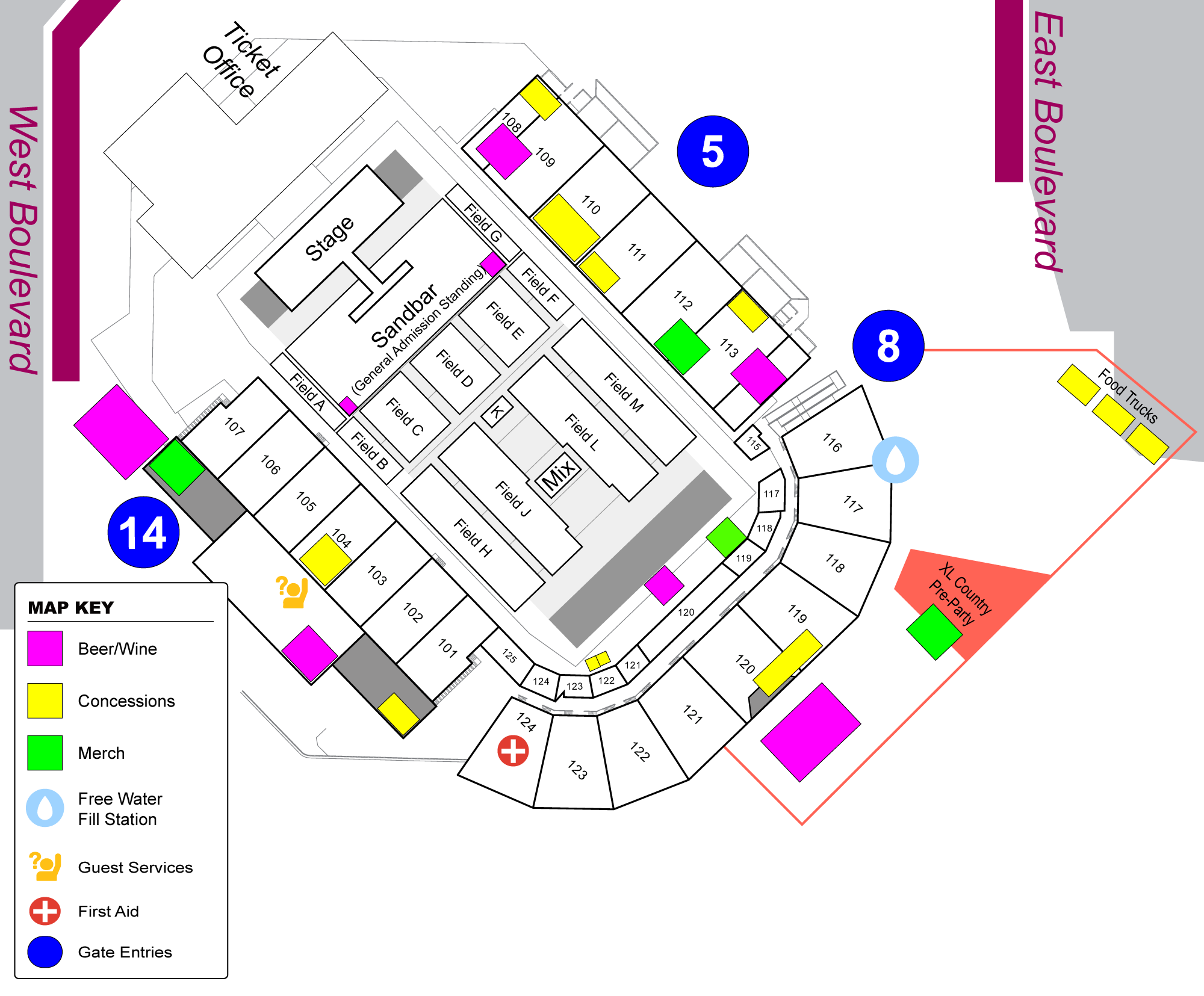 Transportation & Parking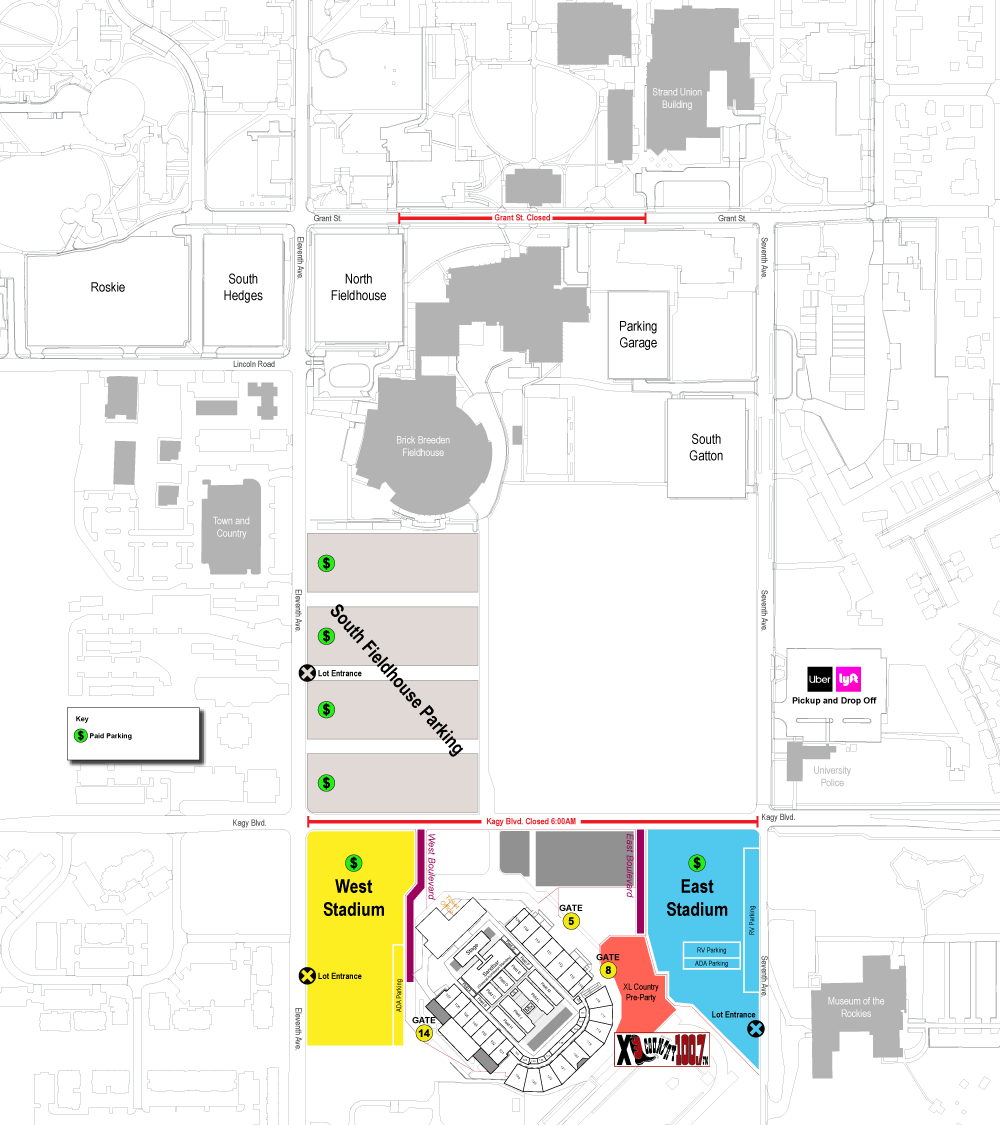 KAGY BLVD BETWEEN 11th and 7th AVE WILL BE CLOSED FROM 6AM ON SAT JULY 9th – 6AM ON SUN JULY 10th.
Bicycles: Bicycle racks will be located in the fields across from the East Boulevard. Please be sure to bring a lock, as racks will not be staffed. Bicycles chained to fences, posts or anything other than a designated bike rack may be removed.
Uber/Lyft: The Uber/Lyft pickup and drop-off at the parking lot near the University Police building at the corner of 7th and Kagy. Please wait until arriving at the lot before requesting your ride.
ADA Parking
ADA parking is available for purchase in West and East stadium lots. Parking lots open at 1:00pm. Once the ADA parking is full, there will be access to a dropoff and pickup area near the stadium. Located on the map above off seventh Ave and Kagy Blvd.
Free Parking
Free Parking will be available anywhere on campus that is not marked on the parking map above.