Marga Hosaeus Fitness Center
Students in physical education classes and intramural sports participants make good use of the gyms, swimming pool, racquetball and tennis courts, running track, and weight rooms in this complex. Shroyer Gym is home court for the Bobcat volleyball team.
Marga Hosaeus was a professor and director of physical education, 1945-79. George Shroyer was head of the physical education department, 1965-81. Built in 1973, the fitness center had major renovations which were completed in 2008, which included a new cardio fitness center, aerobics and martial arts room, a climbing wall, and new locker rooms. The Department of Health and Human Development's advising office is located at the west end of the newest addition.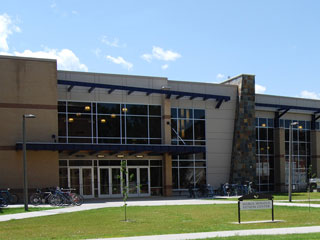 Upcoming events in Marga Hosaeus Fitness Center
There are currently no upcoming events