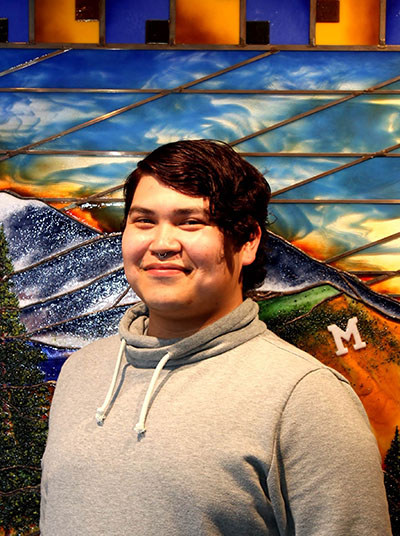 Terry Bradley- 2016-2018

Major: Elementary Education (Science Option)

Mentor: Dr. Jioanna Carjuzaa
Originally from Huntley, Montana, I am a first-generation college student majoring in Elementary Education with Science Option, within my senior year. With Dr. Jioanna Carjuzaa as my mentor, we are looking at how storytelling can be integrated into the classroom by building relationships to improve student success. Before being accepted into the McNair Scholar Program graduate school was never an option for me. While I am unsure specifically which field I will specialize in, I do know that I want to change the world. As a McNair Scholar, I have recognized my potential and can see nothing but opportunities for me. I spend my time working with children during summer schools and tutoring programs. I believe diversity of all forms is to be celebrated!
Danielle Morrison-2013-2015
Major: Secondary Education (Social Studies Broadfield)
Mentor: Dr. Jioanna Carjuzaa
My hometown is Helena, MT. My roots are with South Dakota as a member of the Oglala Lakota Nation. I am a proud mother of two amazing little girls, Ava (7) and Arlee (6), that keep me fueled for our future. I am currently a junior in the Social Studies Broad-field and secondary education program with a minor in Native American Studies. I have been working the last few years with my mentor Dr. Jioanna Carjuzaa in learning Indian Education For All(IEFA) and the large importance it plays to us educators. I am also a Hopa Mountain Native Non-Profit Fellow, and have been working diligently on a workshop called "Strengthening the Circle" which is focused for all specific lead, Native non-profit organizations within a regional area. My goal is to be able to contribute new ideas in seeking positive and effective ways of implementing IEFA to future educators in higher education. While also maintaining a relationship with my fellow Native non-profit organizations with the deepest acknowledgement of the hard work they put forth to their communities, so that I can better understand and address needs of Native people. After I graduate I plan on attending graduate school for Native American Studies with the hopes of continuing my education in Federal Indian Law.
Alyssa Sadner-2014
Major: Biotech. of Animal Systems
Mentor: Dr. Michele Hardy
I was born and raised in Corte Madera, CA and I am currently a Junior majoring in Biology with a teaching option. Upon graduating from Montana State University in 2014, I hope to earn my doctorate in education with an emphasis in teaching STEM courses at the university level. My first McNair summer project was conducted in the laboratory of my mentor Dr. Michele Hardy. We investigated the site-directed mutagenesis of rotavirus NSP1 strains OSU (porcine) and W161 (human). This experiment was designed to help further understand viral interactions with immune pathways through a series of mutations. I then worked with Dr. Carjuzaa on evaluating STEM curriculum for Non-Native English speakers.
Michael Fast Buffalo Horse-2012-2015
Major: Social Studies Broadfield
Mentor: Dr. Jioanna Carjuzaa
McNair Scholar and education student, Michael Fast Buffalo (Blackfeet) of Browning, was one of only 60 students from across the country invited to participate in "Posters on the Hill" in Washington, D.C., in April. Nominated by his mentor Associate Professor Jioanna Carjuzaa, Michael's poster showcased his research on endangered Native languages and why preserving them is so vital.
MSU senior to present research April 29 in Washington, D.C. --MSU News
MSU Senior Presents Tribal Language Research In D.C.-- FairField Sun Times
April/May 2014 McNair Scholar: Posters on the Hill, page 5