Official MSU Business Suite materials (business cards, letterhead and envelopes) can be ordered at University Printing.
Who We Are
As an in-house agency, Creative Services specializes in higher education at Montana State University, with clients in outreach, research and teaching. Our staff consists of a unique blend of talented people who understand the needs of the university and its various entities, and are known to take projects from conception to completion on-time, on-message/brand and on-budget.
Creative Services is a division of University Communications, which includes University Marketing, MSU News Service, MSU Web and Digital Communications and University Printing — all of whom are close partners with us.
Services and some of the projects we offer
If you don't see what you're looking for, fill out our Creative Services project form or call 406-994-5128.
Proofreading
Strategic design
Graphic design
Concept development
Print preparation
Production coordination
Illustration
Web graphics
Copywriting
Animation
Brochures
Annual reports
Packaging
Catalogs
Business cards, letterhead and envelopes
Newsletters
Banners
Trade show displays
Scientific journals
Research posters
Bookmarks, stickers and other promotional items
Educational materials
For video or photography related needs, the University Communications Visual Media team can be of assistance.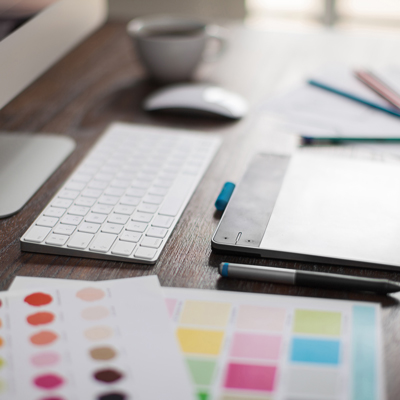 Rates
Design $85/hour
Projects requiring work to be done under 48 hours are subject to a rush fee.
Print/Production Management — Included at no charge.
We draw on the MSU library of photography as we are able. For custom photography, contact the Visual Media team.
MSU Business Suite — Non-standard and custom business suite materials can be ordered online as well and are subject to approval and charged at the $85/hour rate.
Electronic Letterhead $15 update/$25 new— The electronic letterheads (e-letterhead) were created with electronic and internal correspondence in mind. All printed external correspondence should be on official pre-printed letterhead, as the ink colors and paper convey quality and professionalism that the electronic version cannot. As with the other MSU business suite materials, electronic letterheads can be ordered online.
Frequently Asked Questions
We are communication specialists
We have strong relationships with vendors, including commercial printers around Montana and the U.S., and can often get prices for our clients that are much more competitive than an individual would receive with person-to-person service.
Please use the Creative Services Project form for a free consultation or project estimate. We can often help you find a cost-effective solution to your communications needs.
Timeline conscious
Access to University Communication's photo library, news stories and other university resources
Ability to work within your budget
Capable of meeting billing requirements that are typical of university departments
We are intimately familiar with MSU's branding goals, objectives and tools, and we can help you coordinate your strategy and materials with other events and campaigns currently in place on campus.
You will find our rates are lower or competitive with most outside agencies, and we do not charge for many of the standard services billed by agencies, including consultations and strategic planning and light editing. Plus, we can bill you directly through the Banner system.