Empowering Women in Agriculture 2019 Photography Contest
The Best 30 Photographs of the Contest!
Photography Contest Application
Goals
To engage students and community members (entrants) in a creative and reflective way to document the life, dreams, and achievements of women in agriculture through photography for increasing public awareness of the accomplishments and contributions of women to agriculture.
Photo Request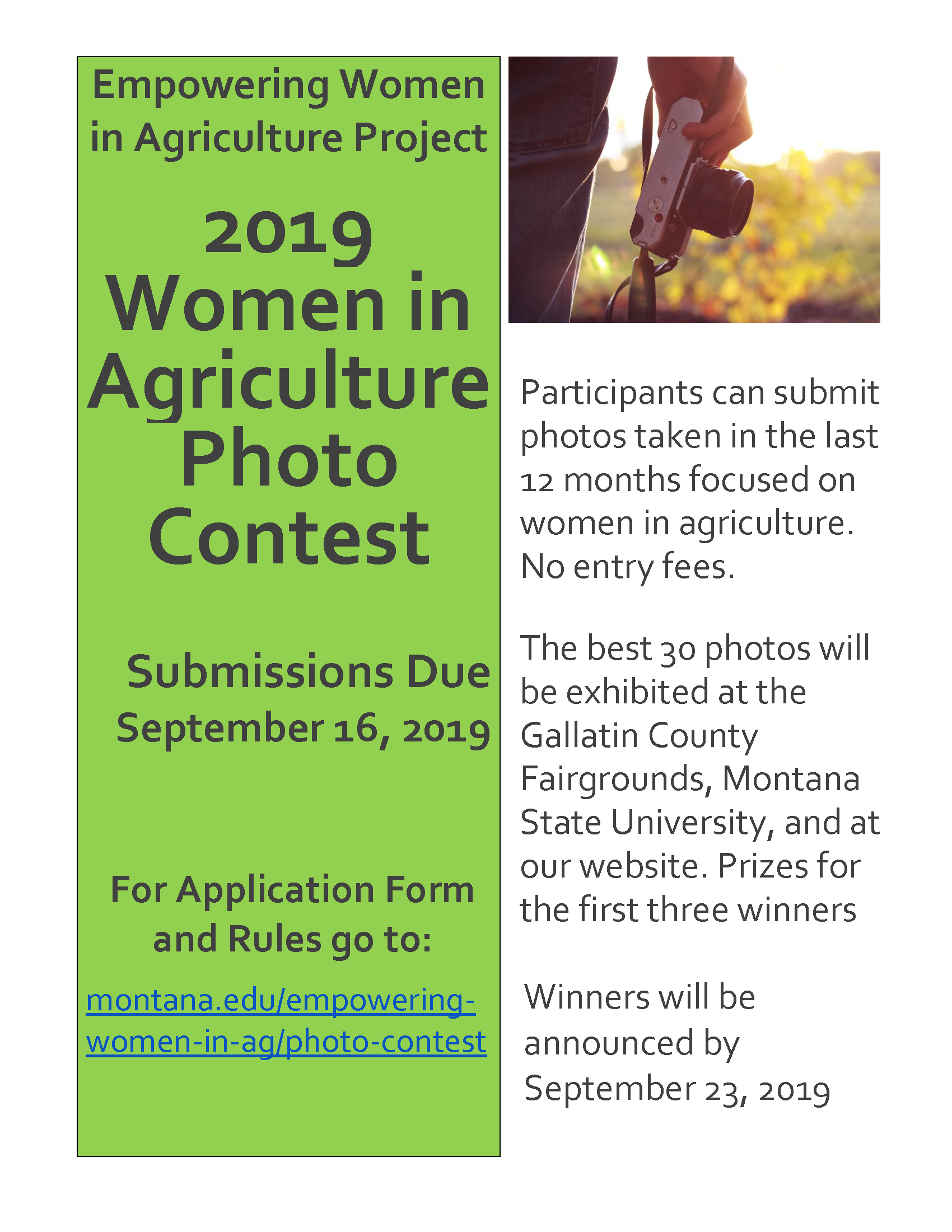 Entrants may submit photos taken in the last 12 months along with a statement and reflection on the picture. We ask that the photos are taken with the highest quality possible and be respectful of the photo subjects. If your picture includes people (Subjects), along with your submission you must send a signed Subject Release Form (please see below). Failure to provide a signed Subject Release Form will disqualify your photograph before review.
Rules and Guidelines
Entrants must be 16 years old or older.
Entrants might submit up to two photos, each one as a separate entry.
Photographs that have won other competitions, either online or in print are not eligible for submission.
Photograph Requirements
Must be the entrant's own work
Must focus on the theme of women in agriculture
Must be submitted electronically as a JPEG file between 2MB and 10MB in size. Photos should be no smaller than 2,000 pixels wide.
Contest administrators may ask for resubmissions if photo does not arrive in a format that allows printing as a poster (up to 24"x36") in 300dpi.
Must not contain material that violates or infringes upon another's rights, including but not limited to privacy, publicity or intellectual property rights, or that constitutes copyright infringement; entrants may be requested to provide a signed consent from each recognizable person in the photograph.
Must not contain brand names or trademarks.
Must be accompanied by the date you took the photograph, location, title, your name, and a statement. In the statement please indicate the rationale for what you choose to picture, and how it relates with your views on women in agriculture.
Must include the camera specification used to take the photograph.
If applicable, it must include a signed Subject Release Form.
We will not consider entries that contain material that (a) is unsuitable, obscene, defamatory, slanderous or libelous; (b) violates human rights and dignity; or (c) promotes bigotry, racism, hatred or harm against any group or individual or promote discrimination in any regard.
How to Enter
To enter your photographs please fill out the form here between August 16-September 16, 2019.
Your photo file should be named as follows:
LastName(entry number);
for example, a student named Smith 2nd entry photo would be indicated as Smith2. Each photograph must be sent as an individual file.
Once we receive your application with your e-mail address you will get an invitation to post your photograph in a Dropbox file.
Rights
By entering a photo in this competition, the entrant retains all rights.
However, entrants grant Empowering Women in Agriculture Project a nonexclusive, royalty-free, worldwide license to reproduce and publish the photo for any educational purposes and in production of publicity in any and all media now known without compensation, permission or further notification to the entrant. Photo credit will be provided to the entrant in all cases.
Each photographer must obtain a signed consent from all recognizable and identifiable persons who appear in the photo (or from their parents or legal guardians, if such persons are minors).
Winners
The best 30 photographs will be printed and displayed at the Women Stepping Forward for Agriculture Conference at the Gallatin County Fairgrounds in Bozeman, Montana, October 1-3, 2019; at the MSU Summit on Women in Agriculture in Montana State University on October 12, 2019 in Bozeman, Montana; on the Empowering Women in Agriculture website. First, second, and third place winners will be invited to attend the MSU Summit on Women in Agriculture on October 12, 2019 in Bozeman, Montana. Prizes will also be available for the entrants of the first, second, and third best photos.
Judging
Submissions will be judged on the picture's creativity and relevance to women in agriculture, and on the eloquence and depth of the picture statement and reflection. Photos will be voted on by a panel of three professional judges.
Announcement of Winners
The winners will be notified by e-mail by September 23, 2019 and announced in the MSU Summit on Women in Agriculture. The winners will be featured on the Empowering Women in Agriculture -a USDA supported project-website.
Submission Form
denotes required fields.