The Naming of Mount Everest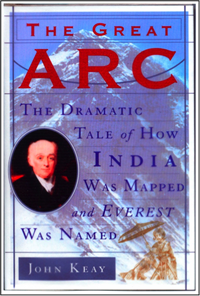 The Great Trigonometric Survey of British India, spanning several decades during the 19th century, identified "a stupendous snowy mass" through surveying instruments from above the hill resort of Darjeeling, over 140 miles away. The peak was initially named "Gamma" and then subsequently changed to "peak b" in 1847; it was suspected that "peak b" might be the highest mountain in the world, slightly higher than Kangchenjunga* which was considered to the highest mountain in the world at that time. After several more surveying measurements over the next few years, the great height of this new mountain was confirmed and "peak b" was renamed "Peak XV." After a delay of a few years to double-check their surveying measurements and mathematical calculations (correcting for light refraction, barometric pressure, temperature and tidal data), the British announced the official height of Peak XV to be 29,002 ft.** (8,839.8 m) in 1856, renaming it once again as "Mont Everest" (Andrew Waugh, report No. 29B, paragraph 9). The Royal Geographic Society subsequently pronounced the official name "Mount Everest" in 1865 based on the recommendation of Andrew Waugh, the British Surveyor General of India. Sir George Everest was Waugh's predecessor in the post of Surveyor General. Sir George Everest in fact did not want the peak named after him, believing it is important to use local names, but Tibet and Nepal were closed to foreigners and local names were claimed by Waugh to be unknown or unconfirmed at the time. In the early 20th century, the acclaimed Swedish explorer Sven Hedin uncovered the centuries-old Tibetan name of Cha-mo-lung-ma," which in fact had been published on a map in Paris in 1733 by the geographer D'Anville. Therefore, the historic, local Tibetan name for Mount Everest is Chomolungma, also spelled Qomolangma, meaning "Goddess Mother of the World." Chomolungma is pronounced "CHOH-moh-LUHNG-m?." The Nepali name for Mount Everest is Sagarmatha, meaning "Godess of the Sky." Some refer to the entire massif of peaks as Qomolangma (Everest, Nuptse and Lhotse), reserving the name Mount Everest for the highest peak. The name "Mount Everest" nevertheless persists as the most universally recognized name throughout the world, synonymous with "a stupendous snowy mass" on the border of Nepal and Tibet in Earth's greatest convergent orogenic belt.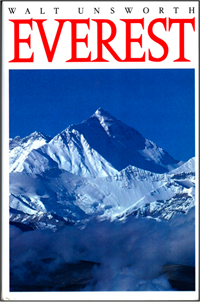 * Kangchenjunga is now known to be the third highest peak in the world at an elevation of 28,169 ft. (8,586 m).
** This elevation has been updated several times over the years by various countries using more modern techniques, such as GPS.
References
Gillman, Peter, editor, 2000, Everest: Eighty years of triumph and tragedy: Seattle, WA, The Mountaineers Publishing, p. 10-14.
Keay, John, 2000, The great arc: The dramatic tale of how India was mapped and Everest was named: New York, HarperCollins Publishers, 182 p.
Unsworth, Walt, 1989, Everest: Seattle, WA, Cloudcap Publishing, 2nd Edition, p. 546-550.