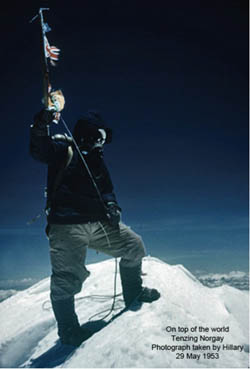 Sherpa is an ethnic group of people living in the Khumbu region of the Himalaya. In Tibetan, shar means East; pa is a suffix meaning 'people': hence the word sharpa or Sherpa. Although it is generally believed that Sherpa people migrated from Tibet into Nepal within the last few hundred years, the political distinction between Tibet and Nepal was not in existence in ancient times. Sherpas, like many other indigenous Himalayan groups, have moved from place to place through the region as alpine pastoralists and traders since ancient times. The more generic term, sherpa (lowercase), has evolved to refer to local people employed as porters or guides for mountaineering expeditions in the Himalayas. However, there are other regional castes other than Sherpa that are employed as porters and guides.
About the Photo: One of the most famous Sherpa of all time – Tenzing Norgay.
Reference
"Hero of Everest – Tenzing: A biography of Tenzing Norgay" By Ed Douglas, with introduction by Jan Morris Published by National Geographic, Washington D.C. (2003), 299 p.