The Remember Balloons
Reading Guide
---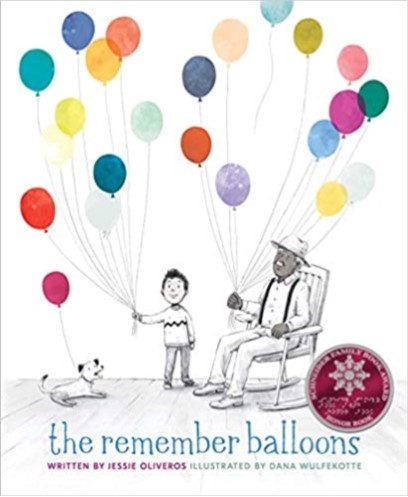 By Jessie Oliveros
Illustrated by Dana Wulfekotte
---
About this Program


The MSU Extension Alzheimer's Dementia Awareness for ChildrenStorybook program is designed to teach children about a form of dementia.

The goals of the program are:
1) increase awareness and knowledge about Alzheimer's (a form of dementia) and
2) provide supportive resources to children and families when they have a loved one diagnosed with Alzheimer's.

The authors of this reading guide are:


Jennifer Munter, Volunteer Program Coordinator. Jennifer is a former Early Childhood Educator and has worked with children and their families for over 15 years.


Marsha A. Goetting, MSU Extension Family Economics Specialist


Keri Hayes, MSU Extension Program Assistant
Brief Summary


This is a story about a young boy named James and his Grandpa. In the story, balloons represent memories. James notices he has more balloons than his younger brother but not as many as his mother or father. His grandpa has the most balloons. One day Grandpa's balloons start drifting away. James soon realizes some of Grandpa's lost balloons are now his to hold on to. This book has a creative way of explaining memory loss and can be useful when explaining the effects of Alzheimer's.
Questions to Ask


James, his little brother, Mom and Dad, and Grandpa are carrying around balloons. What do these balloons represent?


Grandpa has lived many years. He has more balloons than all of the family. What stories does Grandpa have inside those balloons?


James and his Grandpa share the same silver balloon. This is one of their favorite balloons. What memory does Grandpa and James share?


Grandpa's balloons start floating away and James tries to catch them. How does James feel when he cannot catch the balloons? Who explains to James why Grandpa can't hold on to his balloons anymore?


Eventually Grandpa looses all of his balloons. How does James react? Do you think Grandpa meant to let go of his balloons?
Activity Enrichment


Balloons Activity 1: Give a child a piece of paper and something to draw with. Have the child to think about a memory (it can be anything). Then, ask the child to draw a balloon with a picture of the memory inside the balloon. As the child explains the memory, write on the back of the picture what the memory is.


Balloons Activity 2: Buy some inexpensive balloons and blow them up. Use a marker to write a memory your child has about a loved one with Alzheimer's. For example, fun to be with, sings to me, reads book to me, make cookies with me, take walks with me, and so on.
Common Reactions


Concerned: A child may feel concerned for the well-being of the loved one with Alzheimer's.


Confused: A child may feel confused about why their loved one with Alzheimer's is losing their memories.


Sad or Mad: A child may feel sad or mad because their loved one with Alzheimer's loses the memories shared together.
Other Books in this Program


Additional information to assist caregivers with legal and financial resources is available at:
https://www.montana.edu/extension/alzheimers

For other tools and resources, go to: https://www.montana.edu/extension/alzheimers/alzheimertraining
---
Funding for purchase of the storybooks in this program have been made possible by a grant from the Montana Geriatric Education Center at the University of Montana, AARP Montana, and by the Endowment fund from National Extension Association of Family & Consumer Sciences (NEAFCS).