Cascade County 4-H Ambassadors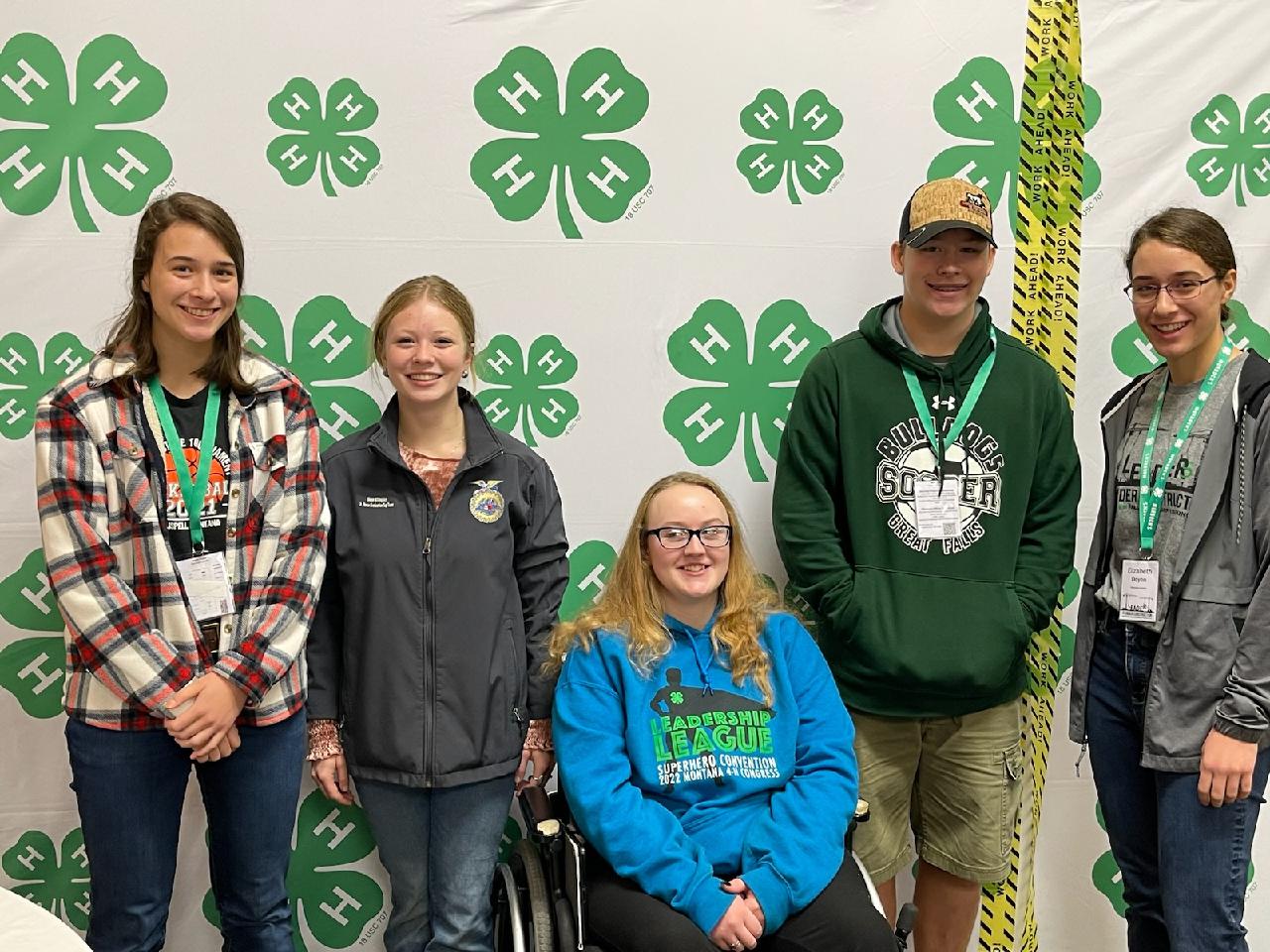 2022-2023 Cascade County 4-H Ambassador Team
About
The Cascade County 4-H Ambassador program provides opportunities for youth to represent 4-H through leadership and service at the county level. Ambassadors are a select team of Cascade County 4-H Members that have demonstrated leadership in their clubs, and who are interested in developing and refining skills to teach other 4-H youth about leadership, promotion, and service. Each Ambassador serves a one-year-term.
Expectations and Responsibilities
The Cascade County 4-H Ambassador program requires full participation in all required event activities in order to adequately fulfill the role.
Key Expectations Include:
To uphold and abide by the 4-H Code of Conduct throughout the duration of their appointment as a Cascade County 4-H Ambassador
To participate in 100% of all required Cascade County 4-H Ambassador events and activities
To be a positive role model and representative of all youth involved in Cascade County 4-H
To be willing to work with team members to establish and meet objectives
To be prompt in response to emails and other forms of communication
Ideal Skills of Applicants
The Cascade County 4-H Ambassador program is a youth development program that strives to exemplify the ultimate in youth citizenship and leadership in Cascade County.
Key Skills Include:
Interest in developing and/or enhancing skills related to leadership, such as: conflict resolution, facilitation, teamwork, decision-making, respect, and communication
Ability to accept and incorporate constructive criticism to enhance their own skill and the strength of the team
Willingness to explore and apply diverse concepts of leadership, service, and promotion
Basic skills in teaching others, facilitating discussions, and public speaking
Eligibility
Must be 14 years of age AND a freshman in high school by October 1 of the current 4-H year
Must have been enrolled in 4-H for at least 2 years and be enrolled for the current year
Must be, or have been, a club officer
Must have completed a record book in the previous 4-H year
Must have an enthusiastic desire to serve and accept the responsibilities outlined in the Cascade County 4-H Ambassador Handbook
Must be responsible and have time available to fulfill the role of Ambassador
Must be willing to travel, attend training sessions, and serve in the Ambassador roles when asked
Must have a minimum overall high school GPA of 2.5
Must have the support of parents and/or guardians
Must be capable and willing to get out of school on a limited basis for special programs
Potential Ambassador Events and Activities
Below is a general timeline of Ambassador events. Dates will be determined at the beginning of each 4-H year.
July
Plan and participate in the 4th of July Parade
Attend Montana 4-H Congress - Required
Assist, as needed, with Cascade County Livestock Show
Participate and assist with Fair activities - Required
Participate in Ambassador Team Celebration - Required
Assist, as needed, with Cascade County Horse Show
August/September
Promote 4-H at fairs, schools, 4-H groups, and service clubs - Ongoing throughout the year
Attend Cascade County 4-H Ambassador Retreat - Required
October
Lead special promotions during National 4-H Week
Attend Ambassador Fall Training - Required
Plan and participate in Cascade County Achievement Program
November
Submit Ambassador Plan of Action to the Cascade County Extension office
January
Attend Montana 4-H Legislative Breakfast
Assist with KMON contests and attend Great Falls Chamber of Commerce Ag. Banquet
February/March/April
Participate in National Volunteer Week/ Week of Service - Required
Assist, as needed, with Cascade County Communications Contest
Attend Rec Lab
May/June
Plan and participate in 4-H Camp - Required
Assist, as needed, with Cascade County Foods Festival Contest
Assist, as needed, with Cascade County Fashion Revue, Quilt Show, and Stir-Ups Contest
These dates are subject to change, and some events may be added at a later time.
Cascade County 4-H Ambassador Officers
Each Cascade County 4-H Ambassador will be selected to fulfill an officer position on the team. Each officer position is a one-year term with a one term limit. Ambassadors are eligible for different officer positions to ensure that each Ambassador has an opportunity to advance their career through leadership, perseverance, and dedication to the team. Officer selections will be made at the Ambassador Retreat in August of the 4-H year.
President
The President is the coordinator of the group and leads the group during meetings. The President works closely with the Team Adviser and 4-H Agent to plan meetings and set agendas.
Publicity Chair
The Publicity Chair writes and publishes the Ambassador News for the Extension Newsletter. The Publicity Chair arranges for and provides other county publicity related to the Ambassador program and serves as secretary to keep minutes of all meetings.
Cascade 4-H Foundation Representative
The Foundation Representative attends all Foundation meetings and reports activities of the Ambassador Team to the Foundation. The Representative also acts as the team's treasurer and presents a report to the team and identifies needs for fundraising.
Cascade County 4-H Leaders Council Representative
The Leaders Council Representative attends all Council meetings and reports activities of the Ambassador Team to the Leaders Council as well as promotes Council supported events.
Application
Submit your completed Cascade County 4-H Ambassador Application by May 14
For your application to be considered complete, you must send the following to the Cascade County Extension office

Resume which includes two personal references - separate from the letters of endorsement
A letter of endorsement from a 4-H Leader
A letter of endorsement from a 4-H peer
Send materials to the Cascade County Extension Office at 3300 3rd St. NE #9, Great Falls, MT 59404
Interview
An interview will be conducted by a selection committee at a date to be determined in May/June
In addition to the interview, Ambassador candidates must be prepared to present/recite the following

The 4-H pledge
The 4-H motto
A brief (2-3 minute) speech/presentation on how your experiences and characteristics would make you a suitable candidate for the Cascade County 4-H Ambassador Program

The selection committee may include the following people

Ambassador Team Adviser
4-H Extension Agent
Leaders Council Officer
Cascade County Foundation Member
Past Cascade County 4-H Ambassador
Cascade County 4-H is committed to ensuring the Ambassador program is represented by a team made up of youth who are exceptional in their leadership and service skills and can professionally represent the entire Cascade County 4-H Youth Development Program. Additionally, applicants will be scored on the applicant's written questions, interview, presentation, and recommendations.
The U.S. Department of Agriculture (USDA), Montana State University and Montana State University Extension prohibit discrimination in all of their programs and activities on the basis of race, color, national origin, gender, religion, age, disability, political beliefs, sexual orientation, and marital and family status.