Cascade County 4-H Expenditure Form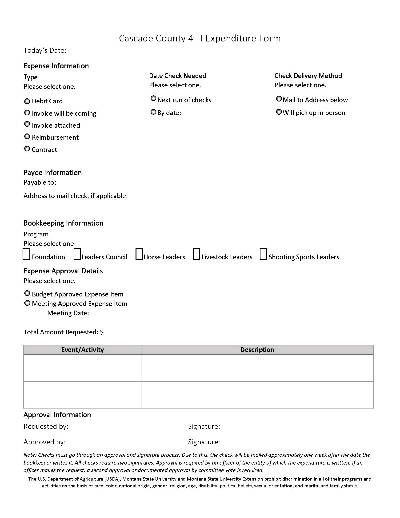 Download a printable version of the Cascade County 4-H Expenditure Form.
Today's Date:
Expense Information
Type
Please select one
Debit Card Purchase
Invoice is coming
Invoice attached
Reimbursement
Contract
Date Check Needed
Please select one
Next run of checks
By date:
Check Delivery Method
Please select one
Mail to address below
Will pick up in person
Payee Information
Payable to:
Address to mail check if applicable:
Bookkeeping Information
Program
Please select one
Foundation Leaders Council Horse Leaders Livestock Leaders Shooting Sports Leaders
Expense Approval Details
Please select one
Budget Approved Expense Item

Budget Approved Expense Item

Meeting Approved Expense Item
Total Amount Requested: $
Event/Activity

Description

First
Event/Activity

Second
Event/Activity
Approval Information
Requested by:
Approved by:
Please Note: Checks must go through an approval and signature process. Due to this, the check will be mailed approximately one week after the date the bookkeeper writes it. All checks require two signatures. Approval is required by an officer of the entity of which the expenditure is written. If an officer makes the request, a second approval or documented approval by committee vote is required.
The U.S. Department of Agriculture (USDA), Montana State University and Montana State University Extension prohibit discrimination in all of their programs and activities on the basis of race, color, national origin, gender, religion, age, disability, political beliefs, sexual orientation, and marital and family status.