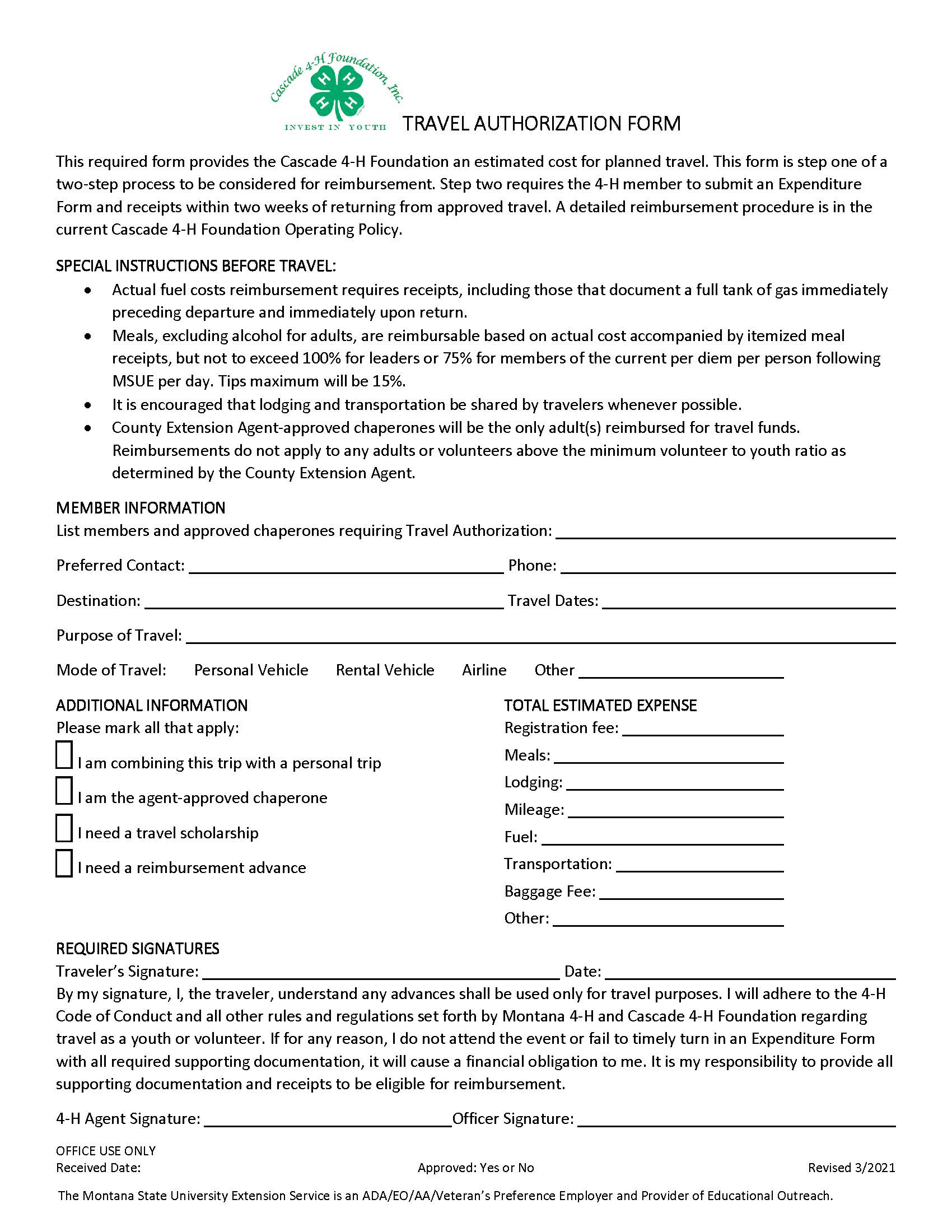 Alternatively, download a printable version of the Cascade County 4-H Travel Authorization.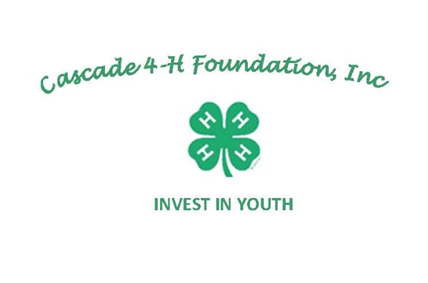 This required form provides the Cascade 4-H Foundation an estimated cost for planned travel. This form is step one of a two-step process to be considered for reimbursement. Step two requires the 4-H member to submit an Expenditure Form and receipts within two weeks of returning from approved travel. A detailed reimbursement procedure is in the current Cascade 4-H Foundation Operating Policy.
SPECIAL INSTRUCTIONS BEFORE TRAVEL:
Actual fuel costs reimbursement requires receipts, including those that document a full tank of gas immediately preceding departure and immediately upon return.
Meals, excluding alcohol for adults, are reimbursable based on actual cost accompanied by itemized meal receipts, but not to exceed 100% for leaders or 75% for members of the current per diem per person following MSUE per day. Tips maximum will be 15%.
It is encouraged that lodging and transportation be shared by travelers whenever possible.
County Extension Agent-approved chaperones will be the only adult(s) reimbursed for travel funds. Reimbursements do not apply to any adults or volunteers above the minimum volunteer to youth ratio as determined by the County Extension Agent.
MEMBER INFORMATION
List members and approved chaperones requiring Travel Authorization:
Preferred Contact:
Phone:
Destination:
Travel Dates:
Purpose of Travel:
Mode of Travel: Personal Vehicle, Rental Vehicle, Airline, Other:
ADDITIONAL INFORMATION
PLEASE MARK ALL THAT APPLY
TOTAL ESTIMATED EXPENSE
I am combining this trip with a personal trip
I am the agent-approved chaperone
I need a travel scholarship
I need a reimbursement advance
Registration fee:
Meals:
Lodging:
Mileage:
Fuel:
Transportation:
Baggage Fee:
Other:
REQUIRED SIGNATURES
Traveler's Signature:
Date:
By my signature, I, the traveler, understand any advances shall be used only for travel purposes. I will adhere to the 4-H Code of Conduct and all other rules and regulations set forth by Montana 4-H and Cascade 4-H Foundation regarding travel as a youth or volunteer. If for any reason, I do not attend the event or fail to timely turn in an Expenditure Form with all required supporting documentation, it will cause a financial obligation to me. It is my responsibility to provide all supporting documentation and receipts to be eligible for reimbursement.
---
The Montana State University Extension Service is an ADA/EO/AA/Veteran's Preference Employer and Provider of Educational Outreach.