Chouteau County 4-H & FFA Fair
August 17-20, 2023
Chouteau County Fairgrounds
Fort Benton
4-H and FFA Fair Events Schedule
4-H & FFA Youth Exhibitor Registration will open in July.
Registration for exhibiting and showing at the fair is required on-line at Fair Entry. All the details, a step-by-step how-to guide and a brief video were emailed to all 4-H and FFA families and are also available through your ZSuite account.
SILENT AUCTION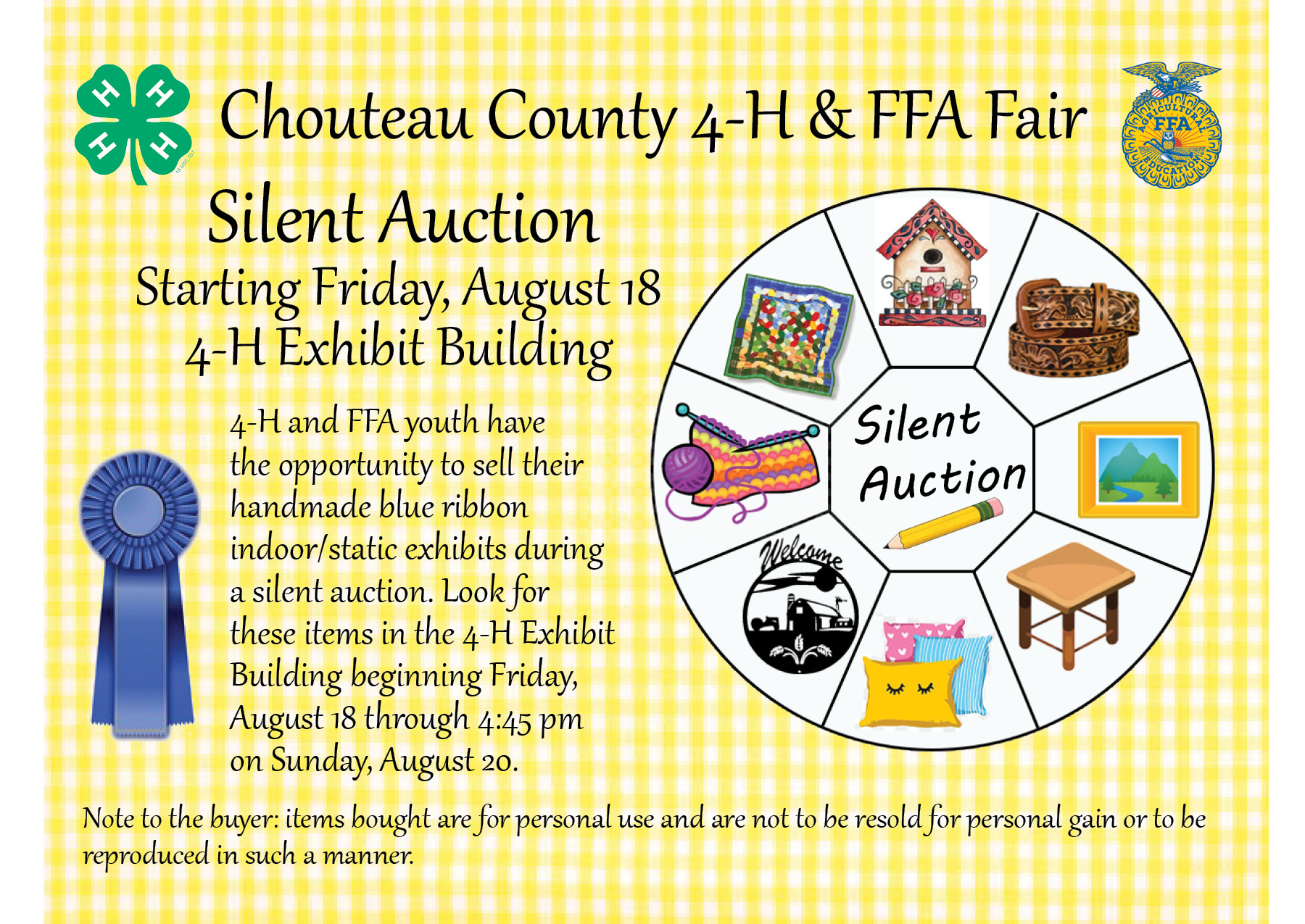 The Silent Auction will feature handcrafted static/indoor exhibits from the 4-H and FFA youth who receive blue ribbons. The exhibitor chooses to enter their item(s) in the silent auction, making them available for the public to silently bid on from Friday, August 18 through 4:45 pm on Sunday, August 20. Items will be displayed in the 4-H Building. Perishable items will not be permitted for the silent auction. Planted pot items may be the exception, as long as, they are maintained during the fair. Note to buyer: Items bought are for personal use and are not to be resold for personal gain or to be reproduced in such a manner.
MARKET LIVESTOCK SALE INFORMATION
Sunday, August 20, 2023
2:00 pm
Chouteau County Fairgrounds
Park Area (located between front entrances off 4th St)
Buyers are able to attend in person or online. If attending in person, please check-in at Buyer Check-In table to receive your buyer number. Online buyers will be able register, bid and view the animals at the Frontier Live Sale frontierlivesale.com/production-sales/chouteau-county-4-h-ffa-fair