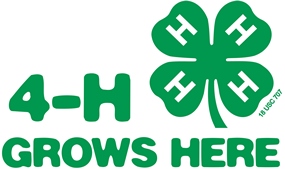 4-H, the nation's largest youth development organization, grows confident young people who are empowered for life today and prepared for career tomorrow. 4-H programs empower nearly six million young people across the U.S. through experiences that develop critical life skills. 4-H is the youth development program of our nation's Cooperative Extension System and USDA, and serves every county and parish in the U.S. through a network of 110 public universities and more than 3000 local Extension offices. Globally, 4-H collaborates with independent programs to empower one million youth in 50 countries. The research-backed 4-H experience grows young people who are four times more likely to contribute to their communities; two times more likely to make healthier choices; two times more likely to be civically active; and two times more likely to participate in STEM programs.
Want to get involved in this great youth program happening in your community?
JOIN 4-H!
4-H is open to all youth ages 6-19 years of age regardless of where you live. Six to eight year olds join as Cloverbuds. Call the Chouteau County Extension office for information on joining one of the four clubs in Chouteau County.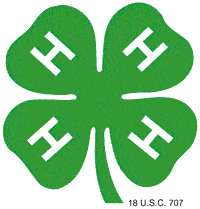 4-H Emblem
The national 4-H emblem is a four-leaf clover with the letter "H" on each leaf, denoting Head, Heart, Hands and Health. The four-leaf clover signifies "Good Luck."
Head, Heart, Hands and Health represent the four values members work on through fun and engaging programs.
4-H Colors - Green and White
Green is nature's most common color and is emblematic of springtime, life and youth. White symbolizes purity and high ideals.
4-H Motto
To Make the Best Better
4-H Pledge
I pledge...
my Head to clearer thinking,
my Heart to greater loyalty,
my Hands to larger service, and
my Health to better living.
For my club, my community, my country and my world.

The U.S. Department of Agriculture (USDA), Montana State University and the Montana State University Extension Service prohibit discrimination in all of their programs and activities on the basis of race, color, national origin, gender, religion, age, disability, political beliefs, sexual orientation, and marital and family status. Issued in furtherance of cooperative extension work in agriculture and home economics, acts of May 8 and June 30, 1914, in cooperation with the U.S. Department of Agriculture, Cody Stone, Director of Extension, Extension Service, Montana State University, Bozeman MT 59717