Flathead Reservation Extension

Welcome to the FREO Homepage!
---
The Flathead Reservation Extension Office is located in Polson on the corner of 1st Street East and 7th. Our offices are in the basement of the Senior Citizens Center.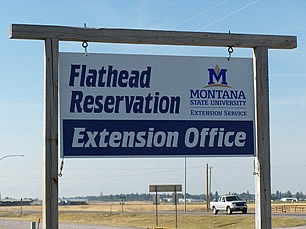 Traditional territories of the Confederated Tribes covered over 20 million acres. The 1855 Treaty of Hellgate established the 1.314 million acre Flathead Indian Reservation. In the Hellgate Treaty, the Tribes reserved these lands for the exclusive use and benefit of the Salish, Pend d'Orielle, and Kootenai Tribes. Through the years, the Tribes lost over a million acres of reserved lands. Today, approximately 61% of the reserved lands are owned and managed by the Confederated Salish and Kootenai Tribes. The Flathead Indian Reservation overlaps Lake County, Flathead County, Missoula County, and Sanders County.
MSU Extension, Flathead Reservation
Advisory Committee
Diane Grant, Chairwoman
Leroy Dumontier, Vice Chair
Oliver Dupuis
Maggie Goode
Jerry Hamel
Anita Matt
Purpose
The Federally-Recognized Tribes Extension Program (FRTEP) supports extension agents on American Indian Reservations and Tribal jurisdictions to address the unique needs and problems of American Indian Tribal Nations. Emphasis is placed on assisting American Indians in the development of profitable farming and ranching techniques, providing 4-H and youth development experiences for Tribal youth, and providing outreach on Tribally-identified priorities using a culturally sensitive approach, such as family resource management and nutrition.
Program Goals:
Continue to enhance Tribal member participation in agriculture including awareness of environmental stewardship and natural resources
Enhance and increase economic opportunities for agricultural producers to improve their quality of life and sustain their ranches and farms
Improve nutrition and health of consumers while protecting local food supplies by connecting consumers with local and traditional food sources
Help youth develop good decision making and leadership skills, and provide opportunities to improve their technical skills.