Agriculture and Natural Resources
Private Pesticide Applicator Initial Training
There will be a private pesticide applicator training November 29 in Browning, please register by November 17 with the registration form. At the conclusion of the program, attendees will be eligible to receive their private pesticide applicator license.
If you currently have your license and want to attend, the day will be worth all of your needed 6 renewal credits.
There will also be a training the following day in Shelby, November 30. Please call the Toole County Extension Office, 406-424-8350 or email [email protected] for more informaition on the Shelby training.
Online Master Gardener Class
This online course is self-paced, self-study format with 17 yard/garden modules. Course will cover Soils, Fertilizers, Plant Growth & Development,Vegetables, Ornamental Plants, Trees and Shrubs, LandscapeDesign, Pruning, Turfgrass, Irrigation, Small Fruit, Tree Fruit,Composting, and Integrated Pest Management.
Each modulecontains a presentation video, class notes, study guides andhandouts (if applicable).
After each module is complete, user willcomplete a quiz on the topic.
A Montana Master Gardener certification will be issued to the user upon completion of this course with a passing final grade andwhen 20 volunteer service hours have been achieved. Users have one year from course completion to obtain the required volunteer hours.
Cost: $100 per student.Students will need to make three separate payments for the following (outlined in registration process):
Montana Master Gardener textbook - $50

Master Gardener course fee to Glacier County Extension - $20

Brightspace online course user fee - $30
Students will receive the link for the online course once the registration form has been returned to Glacier County Extension with the $20 payment.
Pesticide Applicator Training Program
The Pesticide Applicator Training (PAT) Program is for individuals and/or their employees who wish to apply Restricted Use Pesticides (RUPs) to land they own, rent or lease for the purpose of growing an agricultural commodity. For complete information on the PAT Program, please visit their website.
To Become Licensed as a Private Applicator
Private applicators must be licensed prior to purchasing and using restricted use pesticides. To become certified an applicator has two options: (1) take an exam or (2) attend an Initial Private Applicator Training.
Montana Private Applicator Certification Exam
The Montana Private Applicator Certification Exam can be taken here at the Glacier County MSU Extension office. The exam has 50-questions and must be passed with a 70% or better. The exam is open book and not timed. Please contact our office to set up a time to take your exam.
Initial Private Applicator Training
An Initial Private Applicator Training is a seven-hour program covering the basics of pesticide use. Upon completion of the program applicators must take an ungraded 50-question exam. Initial Private Applicator Trainings must adhere to criteria set forth for initial programs. Contact our office for information about trainings.
License Fees
Private applicators must pay $12 for each year of the cycle for a total of $60 per each 5-year recertification cycle to the Montana Department of Agriculture. This fee is to be paid at the time of licensing and when the license is renewed. Glacier County is currently in the 4th year of the recertification cycle.
Recertification Cycle by District
Glacier County is in District 3. The current cycle ends on December 31, 2020. The fee for obtaining your license in the current cycle would be $24. The next cycle will run from January 1, 2021 - December 31, 2025.
Paraquat Training For Pesticide Applicators
An online paraquat training is available, created by pesticide manufacturers and approved by the EPA. This training provides information about paraquat's toxicity, personal protective equipment, new label requirements, restrictions, and the consequences of misuse. Applicators must print out certificates online and retain for their own records. In addition, the National Pesticide Safety Education Center (NPSEC) will retain certification records as well. In order to take this training you will need an email address to set up a guest account.
Pesticide Disposal Program
If you have unused pesticides that need to be disposed of, please visit the State of Montana website for the Pesticide Waste Disposal Program for more information on the free disposal program and state guidelines.
Palmer Amaranth
Montana, watch out for Palmer Amaranth!
Palmer amaranth is a competitive and aggressive weed that can grow 2 to 3 inches per day in optimum conditions. Palmer amaranth can easily reach 6 to 8 feet tall, has tremendously thick stalks, and produces up to 1 million seeds per plant! It emerges throughout the growing season and is very prone to herbicide resistance. Palmer amaranth has been reported to reduce yields up to 91 percent in corn and 79 percent in soybeans. Check out this NDSU guide for pictures and identification tips - https://www.ag.ndsu.edu/palmeramaranth/documents/PalmerAmaranth8.5x11.pdf. If you suspect Palmer Amaranth, please contact the Extension Office.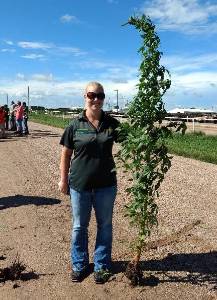 Stutsman County Extension agent Alicia Harstad with a
Palmer Amaranth plant (NDSU Photo)