Purchase Through the MSU Extension

Kenneth L. Weaver and Paul R. Lachapelle
This is the first and only text dealing exclusively and authoritatively with municipal and county government in the Big Sky state. The authors examine the architecture, politics and needed reforms of Montana's local governments within the context of the American federal system and within the constitutional framework of Montana state government. Also included in this work is a critical analysis of the Montana political system as it enters the Twenty-First Century and a detailed description of how local politics shapes the policy decisions of county and municipal officials. Other chapters detail local taxes and finances, typical functions of county and municipal governments and special districts, community development strategies and self-government powers. Also includes the U.S. Constitution and the Montana State Constitution.
Kenneth L. Weaver, Editor
Recently updated with 2013 MCA and a chapter on Land Use Law, Part I of the Montana Municipal Officials Handbook provides essential information on defining and governing the municipality, human resource management, budgeting, financial management, property and contracts, and citizen participation in local government. The 3-ring binder handbook contains 181 pages with tabs for easy reference. Part II is a procedures manual written by Montana's clerks, treasurers and finance officers for their peers. The 78 page manual includes chapters on council procedures, administrative duties, licenses and permitting procedures, updated public records management information and budget and finance.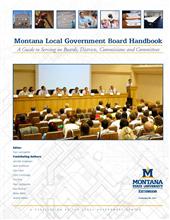 A 75-page resource for people supervising, serving on or interested in public boards across the state. This updated and expanded handbook covers municipal, county, and cross-jurisdictional boards as well as special districts; among the topics covered are Montana's open meetings law, code of ethics, board liability, effective meeting techniques, and leadership and team building skills.