Online Extension Education Account
Please ONLY CREATE ONE ACCOUNT. You will use the same login information to confirm online registration for trainings such as Municipal Institute, Regional Trainings, Pre- League Conference Sessions, Webinars, and Online Courses.
This account will be linked to you, not your position, to track your education points. Do not use your work email if it is not specific to you. For example, if you use an email address such as cityclerk@townofsomewhere, it will be confusing to update email addresses later if someone takes over that email address. It may cause complications with logging in and tracking your education points. Please use an email address that is unique to you.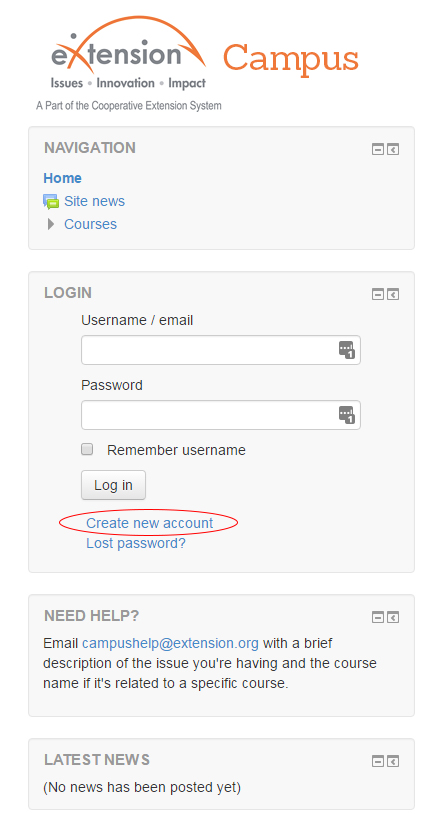 Figure 1
HOW DO I CREATE AN ACCOUNT?
1.
Open your web browser to https://campus.extension.org/login/signup.php?.
2. Complete the "New Account" form (See Figure 1).
Choose "No" when asked if you are an Extension or USDA employee.

Do not enter anything in the eXtension ID box.
3.

Click the "Create My New Account" button. 4. Check your email account for a confirmation email from eXtension Campus Help Desk.
*If you do not see a confirmation email within 2 hours check your junk/spam folders first, then email

[email protected]

with your username and email address, and ask for a manual confirmation.

5. IMPORTANT: Open the email and click on the confirmation link provided to confirm your account.

6. A web page will open indicating that "Your registration has been confirmed".