Plant Pathology Resources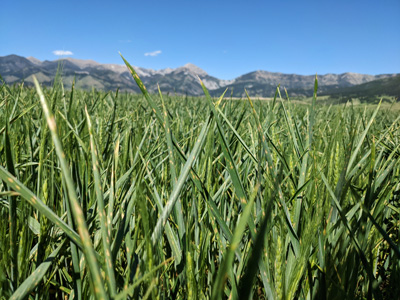 Physiological leafspots on winter wheat. Field study conducted in Bozeman. Photo by Uta McKelvy. Larger image (473KB)
This page contains research-based plant pathology resources. Information is categorized into 6 primary sections, which can be found in the page contents.
We collaborate with agricultural professionals to develop and deliver unbiased, research-based information on field crop diseases and their management.
Under each heading on this page is a list of links that relate to the title of the section. There is also a selection of embedded Extension Plant Pathology videos toward the bottom of the page.
Please direct field crop pathology-related inquiries, questions, and comments to Uta McKelvy.
Contents
Plant Diseases and Management
This section contains resources for plant diseases, including how to manage and identify crop issues. There are sub-sections for both small grains and pulse crops.
Small Grains
Pulse Crops
Fungicides
This section contains resources for fungicides, including information on use and prevention, seed treatments, and foliar fungicides. Visit the Extension Pesticide Education Program to learn more about fungicide safety.
Fungicide Use and Resistance Prevention
Seed Treatments
Foliar Fungicides
Production Guides
Production guides for Montana wheat, barley, and chickpea, along with a pulse crop math game.
Plant Pathology Tools
Tools to assess Montana wheat crop issues. Links may lead away from this MSU website, but they provide additional information that is consistent with field crop pathology.
AWaRe: Assessment of Wheat Streak Mosaic Risk

AWaRe is an interactive, online learning tool that demonstrates the most important risk factors for wheat streak mosaic disease in Montana and the Northern Great Plains.

Fungicide Decision Tool

This tool is intended to assist growers in making a decision about whether to apply fungicide to dryland wheat in Montana
Useful Links
More useful field crop pathology resources. Links may lead away from this website.
Extension Plant Pathology on YouTube
Selecting a title will expand the page to reveal a YouTube player and video summary, clicking the title a second time will again collapse the section, but does not stop the video. Stay up to date with the latest IPM video releases by subscribing to the MSU Extension YouTube channel.
Further Information
Check back often, because new content is regularly created. Use the links below to explore more of this website. Please direct field crop pathology-related inquiries, questions, and comments to Uta McKelvy.