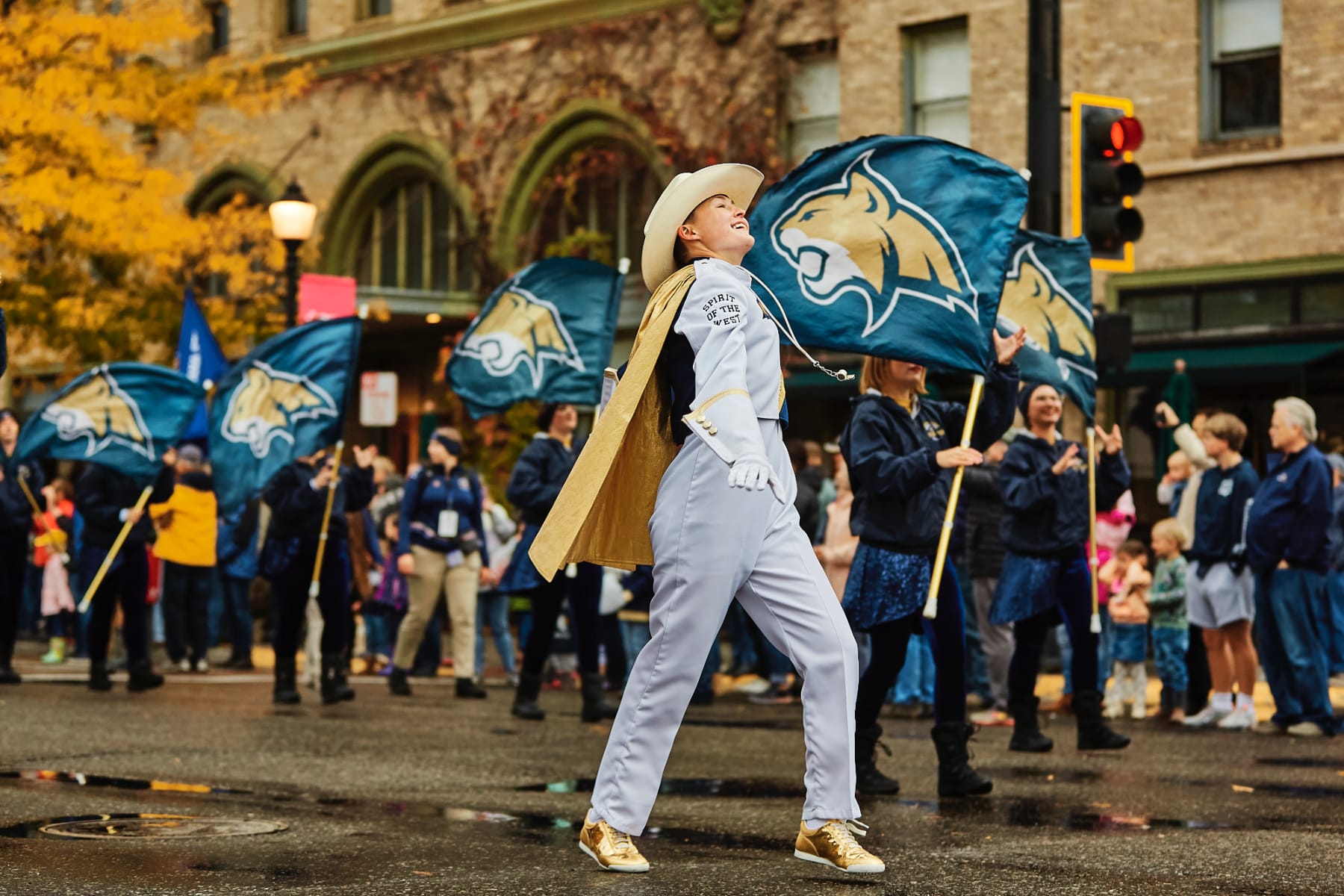 2023 Theme: Bobcats Through the Decades!!
Homecoming is a time for students, parents, faculty, staff, alumni and the Bozeman community to show their Bobcat spirit.
Calendar of Events
Monday, Sept. 25
Homecoming BBQ
Come enjoy lunch under the Allen Yarnell Center for Student Success tent, just east of Montana Hall, 11 a.m. to 2 p.m.
Tuesday, Sept. 26
Lighting the M
Look up to the College M around sunset and enjoy a luminous sight! Student leaders will be placing LED lights around the perimeter of the M to celebrate homecoming week. The "M" will be lit at approximately 7:40 p.m.
Lighting the M Watch Party – 7-9 p.m. at Story Mill Park
Watch Party Bike Parade – 7 p.m. on the Malone Centennial Mall
Thursday, Sept. 28
Go Cats lighting – 7-9 p.m. at South Hedges Hall
Join University Student Housing and MSU's Office of Student Engagement for a fun tradition at the residence halls.
Friday, Sept. 29
Pep Rally – 6-7 p.m. at Main Street and Willson Avenue in downtown Bozeman
Head to downtown Bozeman to meet the coaches, players and the Homecoming Ambassador candidates and get pumped up for Saturday's game.
Saturday, Sept. 30
Serenade Before the Parade – 9:30–10 a.m. at Holy Rosary Catholic Church
Hear a "Serenade Before the Parade" in the sanctuary of Holy Rosary Catholic Church, 220 W. Main St. The MSU Voces Luminis and the Montanans will perform a brief recital just before the Homecoming parade.
Homecoming Parade - 10:00-11:30 a.m. on Main Street in downtown Bozeman
Stake out a prime spot early to join in the celebration of MSU tradition. To enter a float or for parade questions, use the Homecoming 2023 Parade Registration form or contact the Office of Student Engagement with questions.
Alumni Foundation Bobcat Tailgate – 11:30 a.m. to 1:30 p.m. on the Kagy practice fields
Bust out your blue and gold and join the MSU Alumni Foundation for its festive tailgate! All friends, parents, faculty, staff, students, fans and alums are welcome. Tickets are $25 for adults, $10 for kids ages 5-20. See more details and RSVP.
Football vs. Portland State – 2 p.m. at Bobcat Stadium
For ticket information, contact the Bobcat Ticket Office at 409-994-CATS or visit TicketsWest. The game will be broadcast on MTN TV and ESPN+.
For even more events and activities, visit the MSU Alumni Foundation's Homecome page.
Homecoming Parade Floats
Please register using the Homecoming 2023 Parade Registration form.