Areas of focus
Materials Science News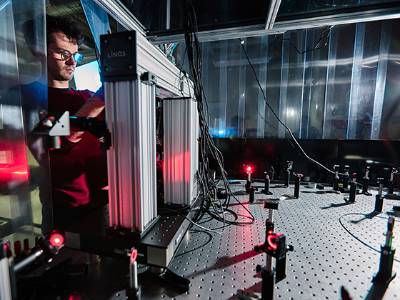 Congratulations to Pierce Fix. Pierce will spend his summer at the 2D Crystal Consortium-Materials Innovation Platform (2DCC-IMP) at Penn State University as part of NSF's 2-Dimensional Crystal Consortium Resident Scholar Visitor Program (2DCC RSVP). Pierce is a 4th year PhD student in the Materials Science program at MSU and researches in the lab of professor Nick Borys (Physics). While at the 2DCC-MIP facility, Pierce will learn how to grow 2D crystal alloys in bulk and in single layer form under controlled conditions to improve the quality of the resulting materials. His training will also focus on characterizing and quantifying the grown materials for subsequent studies at MSU. Pierce is a member of the MonArk Quantum Foundry, a co-led NSF sponsored program between Montana State University and the University of Arkansas, studying 2D materials to advance quantum technologies. Pierce's advisor, Prof. Nick Borys is the associate director of the Foundry.
Poster Session Highlights from the MUS Materials Science Symposium - Montana Tech Campus -March 31, 2023.
Materials Science Symposium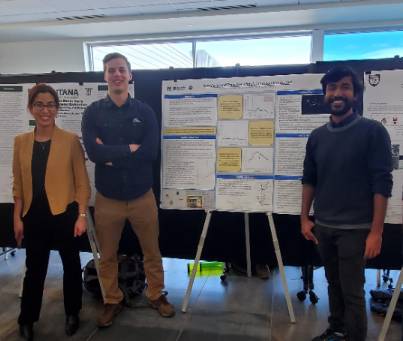 MSU Materials Science Students Sajia Afrin, and Sheikh Parvez discuss Adam Olivera's research on semiconductors.
Materials Science Symposium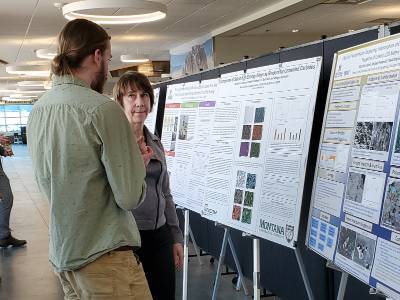 Materials Science Students Matt Lessmeier (MSU) and Jannette Chorney (MTech) discuss high entropy alloys.
Materials Science Symposium
Materials Science Student Emmanuel Osuagwu (MSU) with Prof. Mario Caccio (MTech).