About WINHEC Accreditation
The Department of Native American Studies is currently engaged in the process of accreditation under the World Indigenous Nations Higher Education Consortium (WINHEC) including development of our own inter-tribal model of Indigenous Student Well-being, Indigenous Research Standards, and advancement of the Indian Education for All Act in higher education. WINHEC Accreditation increases MSU's credibility with Indigenous communities while addressing issues of cultural relevancy in Indigenous education & research.
You may learn more about WINHEC and current WINHEC accredited institutions on their website.
Making MSU a home away from Home
The Department of Native American Studies is engaging tribal communities around the question of "What is the highest education we can offer Indigenous students?" Collectively, we are examining how the Department can build an educational space that is' home away from Home'—a protected and nurturing space that supports Native communities' values for their students' education.
WINHEC Eligibility Application Approved!
In July 2019, The NAS Department's Eligibility Application was presented and approved at the WINHEC Annual General Meeting in National Dong Hwa University, Hualien, Taiwan. This completes phase two of the WINHEC Accreditation process. Phase three, the Department's Self Study, is underway as of Fall 2019. To read the Eligibility Application in full, click the image below.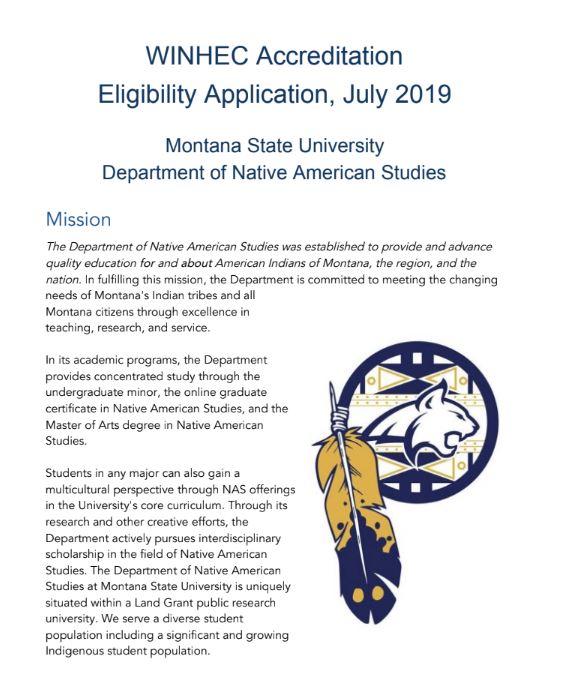 Community Feedback- We need your help!
Every Native community and culture knows what each student (person) needs as a foundation for life. MSU NAS is interested in knowing what you want us to instill, build, and protect for you (or your students) at MSU.
denotes required fields.
---
Department of Native American Studies
Montana State University
P.O. Box 172340
Bozeman, MT 59717-2340
Tel: (406) 994-3881
Fax: (406) 994-3343
E-mail: [email protected]
Location: 239 American Indian Hall
Department Chair
Walter Fleming