MSU Police Department Bicycle Regulations [superceded by Personal Transportation Device Policy March 2020]
---
For all emergencies occurring on campus, contact the University Police Dept. at 911 from any campus telephone or 994-2121 from a telephone in Family or Graduate Housing. The University Police Department is staffed 24 hours a day and responds to all requests for emergencies as well as for information.
---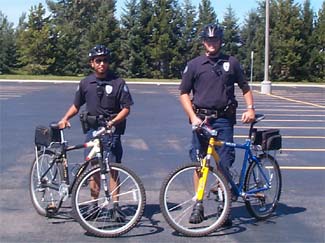 PREVENTION
The purpose of the Montana State University bicycle program is to promote an environment in which bicycles, pedestrians, and motor vehicles can safely co-exist. Bicycles are an efficient, enjoyable, and environmentally sound way to go around campus, and we encourage the safe and courteous use of bicycles.

The following is provided to inform bicycle riders of important information regarding bicycle use at Montana State University-Bozeman.
If you will be riding a bicycle at MSU, please take a few moments to become familiar with this information.
---
100.00 Introduction
The University Bicycle Program
This program is a section of the Vehicle Regulations of MSU.
Purpose
To set forth the regulations that govern the use of bicycles, and to promote the safe operation of bicycles on campus.
Scope
University bicycle regulations are issued supplemental to all applicable State laws and city ordinances. Users of the Montana State University campus are advised that City of Bozeman ordinances regulating bicycles will be enforced in addition to these regulations. These regulations are in effect at all times, including vacations, weekends, and other times when school is not in session, and apply to all persons operating a bicycle while on the university campus.
It shall be the duty of the Montana State University Police Department, unless otherwise provided herein, to enforce these regulations.
110.00 THEFT PREVENTION
Some food for thought regarding bicycle theft:
Bicycle theft is a nationwide problem, particularly on university campuses. Unfortunately, MSU it not immune to this problem.
Bicycles are among the most frequently stolen type of property at MSU. Most of the bicycles stolen at MSU were either UNLOCKED or had been secured with POOR QUALITY LOCKS at the time of the theft.
It takes only a few seconds for a thief to get away with your bicycle when it is left unlocked.

Here are some suggestions which may help you in preventing a bicycle theft:

KEEP your bicycle locked at all times. Check with a bicycle dealer for an appropriate lock.
ALWAYS secure the bicycle to a bicycle rack! If your bicycle is not secured to a solid object, all a thief has to do is pick it up and carry it away. This has happened before, don't let it happen to you.
REGISTER your bicycle with the MSU Police. This provides important information to help recover your bicycle if it is stolen, and helps the police get it back to you if it is recovered.
REPORT SUSPICIOUS ACTIVITY -- particularly persons loitering around bicycle racks.
120.00 RIDE SAFELY
Scan the road behind. Learn to look back over y our shoulder without losing your balance or swerving left. Some riders use rear-view mirrors. Always look back before changing lanes or changing positions within your lane, and only move when no other vehicle is in your way.
Go slow on sidewalks and bicycle paths. Pedestrians have the right-of-way. By law you must give pedestrians audible warning when you pass. Don't cross driveways or intersections without slowing to walker's pace and looking very carefully for traffic from behind, especially traffic turning right.
Ride in a straight line whenever possible. Ride with the traffic. Keep to the right, but stay about a car door-width away from parked cars.
Avoid road hazards. Watch out for parallel-slat sewer grates, slippery manhole covers, oily pavement, gravel and ice. Cross railroad tracks and speed bumps carefully at right angles.
Choose the best way to turn left. There are two ways to make a left turn: 1) Like an auto, signal, move into the left lane, and turn left. 2) Like a pedestrian, right straight to the far-side crosswalk. Walk your bicycle across.
Obey traffic signs and signals. Cyclists must behave like other vehicles if they are to be taken seriously by motorists.
Ride a well-equipped bicycle. Always use a strong headlight and taillight at night and when visibility is poor. Be sure your bicycle is adjusted to fit you properly. For safety and efficiency, outfit it with bells, rear-view mirrors, fenders (for rainy rides), and racks, baskets or bicycle bags.
PUSH-DON'T RIDE AREA -- The "push-don't ride" bicycle area was created at the center of campus for the express purpose of limiting bicycle/pedestrian conflict and to preserve the aesthetic nature of the Centennial Mall. (Please refer to thecampus mapfor the location of the push don't ride area as well as bicycle routes that provide multiple access points to the various bicycle racks available for parking.)
---
200.00 Definitions
Bicycle
Bicycle means a device upon which any person may ride, propelled by human power through a belt, chain, or gears, and having one or more wheels.
Pedestrian Walkway
A pedestrian walkway is a route utilized for pedestrian travel. Any surface not deemed bicycle way or roadway shall be considered a "walkway".
Impoundment
Impoundment means towing, storage, and/or locking with university lock.
Dual-Use Area
Dual-use areas are pathways upon which both bicycles and pedestrians are permitted. Pedestrians always have right-of-way in dual use area.
Bicycle Path
Bicycle paths are pathways designated for bicycles and upon which bicycles have right-of-way.
Registration Decal
A registration decal means Montana State University issued decal that is the uniquely numbered adhesive sticker supplied as evidence of a bicycle registration and designed for attachment to the registered bicycle as indication of its registration.
Regulatory Sign
A regulatory sign means all traffic control devices, signs, signals, and markings, placed or erected for the purpose of regulating, warning or guiding traffic and parking.
---
300.00 General Regulations
All bicycles operated on the Montana State University Campus must be registered with the MSU Police. All bicycles must display a valid registration sticker.
The person to whom the Montana State University bicycle registration sticker is registered to is responsible for any non-moving violations of these regulations and the associated fines in which the bicycle is involved.
Montana State University assumes no responsibility for the care and protection of any bicycle, attached accessories, or contents at any time. However, bicycle theft prevention information is available through the Montana State University Police Department.
Counterfeiting, altering, defacing or transferring the registration sticker to another person or bicycle or person to whom the registration sticker is not issued, and/or giving false information in any application or hearing are in violation of the bicycle regulations and will be investigated as criminal matter by the Montana State University Police Department.
Bicycles parked on campus must be parked in a bicycle rack.
Parking a bicycle in any manner which creates a hazard or impedes access will be subject to immediate ticketing and impoundment.
---
400.00 Bicycle Registration
Decal Fees

Bicycle registration fees are set by the University and subject to change. Please check with the University Police for the current registration fee amount; bicycles registration is a one-time fee, but the registration is not transferable.

Registration Procedure

Montana State University bicycle registration decals are available through the MSU Police Department.
The bicycle registration card must be completed and the serial number must be provided to the MSU Police Department.

Display of Decals

Registration decals shall be totally attached with all the supplied adhesive on the main frame, center post below the seat post insert, and be totally visible.
---
500.00 Regulations
Pedestrians have the right-of-way in dual-use areas.
A bicycle shall stay to the right when on a designated dual-use area.
On any dual-use area a bicyclist, when ready to pass or change direction of travel in any way, must do so safely.
Every person operating a bicycle is required by Section 61-807 of Montana Codes Annotated to obey the same traffic regulations as the driver of an automobile.
A light must be used when traveling at night. Per Montana Statute, bicycles must be equipped with a "...lamp in front which is visible for a distance of 500 feet..." and a reflector on the rear which shall be visible from 500 feet to the rear".....
No person shall park, store, or leave a bicycle in such a manner as to cause said bicycle to block or otherwise impede normal entrance to or exit from any building on campus, or in a manner that constitutes a safety hazard.
---
600.00 Traffic Violations
The following are violations of the Montana State University Bicycle Regulations:
Violations -- $10.00 fines

Operating a bicycle in excess of posted speed limits.
Operating a bicycle on pedestrian walkways.
Operating a bicycle in a careless manner on bicycle paths, dual-use areas, and/or roadways, without due regard to safety with respect to visibility, local traffic, weather, and surface conditions, or in a manner that endangers the safety of any person or property.
Failure to yield the right-of-way to a pedestrian on a dual-use area or roadway.
Operating a bicycle on any University property posted for no bicycles.
Failure to obey parking and traffic control devices, signs, and/or equipment.
Failing to heed lawful directions of a Montana State University Police Officer. Violators may also be subject to criminal penalty.
Failure to register a bicycle and display decal as required by these regulations.
---
700.00 Parking Violations
The following are violations of the Montana State University Bicycle Regulations:
Violations -- $10.00 fines
Parking outside any bicycle rack, including:


Parking on or locked to trees, or other living objects, railings, fences, posts, signs, fire hydrants, trash receptacles.
Parking in or on any service drive, building entrance, driveway, bicycle way, ramp, or any other passageway to which emergency equipment, wheelchairs, pedestrians or service equipment may need access. Bicycles parked in violation of this section are subject to being impounded and charged an additional impound fee.
Parking inside a building.
Parking in a posted, reserved, or restricted area.
---
800.00 Impoundment
Any MSU Police Officer, or other person authorized specifically by the Chief of Police may move, relocate or impound any bicycle by removal of securing devices as necessary which is:
Blocking or otherwise impeding traffic in any street, highway, roadway, path or sidewalk, stairway, or handicapped access rail, or creates any safety hazard. If bicycles are not in a rack, are subject to impoundment.
Blocking or impeding normal entrance to or exit from any building on the University.
Abandoned or apparently abandoned.
Has been reported stolen to a law enforcement agency.
Montana State University reserves the right to remove any bicycle which impedes performance or maintenance or construction to University property.
The University or University Police officials authorized to remove and impound a bicycle shall not be liable to the owner of the bicycle for damage or the cost of repair or replacement of any securing device.
Any bicycle impounded pursuant to any section of this chapter shall be stored in a secure facility designed for such purpose by the Chief of Police a $10.00 fee shall be charged to the owner prior to the release of any impounded bicycle. This impounded fee is in addition to fines for other violations.
Release of an impounded bicycle requires an appeal or payment of outstanding citations. Unregistered bicycles must be registered prior to release.
---
900.00 Penalties and Appeals
Collection and Payment of Fines.

Fines for bicycle violations are payable in person or by mail to Montana Station University Police Department, Bozeman, MT 59717, unless an appeal has been filed.
Any fine shall constitute a debt owed the University and be subject to collection. This could include, but is not limited to, payroll deduction, withholding of transcripts, and denial of registration privileges.
Failure to pay the fine by the date specified on the citation will constitute a second offense subject to a $10.00 fine.

Appeals

Appeals can be picked up at the University Police Department. They must be typed or neatly written with the citation attached and returned to the University Police 7 days from the date of the violation so it can be submitted to the Traffic Appeals Committee. Requests for personal appearances are only granted at the discretion of the Appeals committee.
The committee shall either grant, deny, or table each appeal within 7 days of the date it is filed and shall send written notification of such action to the person concerned.
Fines for appeals which have been denied must be paid within 7 days of the date of the letter informing the applicant of the action of the Traffic Appeals Committee.
---
1000.00 Indebtedness
In addition to any other provisions of these regulations, any violator who incurs any monetary indebtedness to Montana State University will have that indebtedness treated as any other bill due and owing to the University.
Students will be billed for delinquent fines and must clear their accounts before they are permitted to register for the next semester, or in the case of graduation students before they receive their diploma or copies of their transcripts.
Faculty/staff members will be billed for delinquent fines and can expect to have any unpaid amounts withheld from their paychecks.
---
1100.00 Use of Revenue
All revenues derived as a result of these regulations shall be paid into the Parking and Traffic Revenue Fund of Montana State University to be used in meeting the costs of the bicycle parking and safety programs.
---
BICYCLISTS -- PLEASE RESPECT THE RIGHTS OF THOSE WHO CAN'T GET AROUND AS EASILY AS YOU CAN!!!
Many students on campus have disabilities which limit their hearing, vision, or mobility. They may not be able to see or hear your approach, or be able to quickly move out of the way of a speeding bicycle. THEIR SAFETY DEPENDS ON YOUR COURTESY! When passing pedestrians, please bear this in mind.
Handicapped access rails have been provided near the entrances to many buildings to help people with disabilities to get into those buildings. The visually impaired use them as a guide to the door, and people with impaired mobility use them for support and balance. Bicycles chained to access rails effectively block certain people from being able to get into the building, and disabled students have been injured over carelessly placed bicycles. Even under the best of circumstances, it can be a challenge for some students to get around campus -- please don't add to their difficulty. Never chain a bicycle to a handicapped access rail.