Undergraduate Tutor Employment
Hiring for Spring semester 2023 will begin in November.

The Writing Center offers tutors a paid co-curricular experience.
Peer tutors earn money, gain professional experience, and enrich their own education in the process.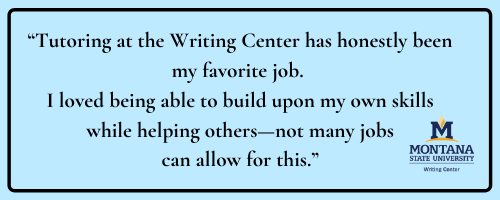 The Writing Center is a unique multi-disciplinary community.
Peer tutors develop their interests in writing and communication while participating in a student-centered community.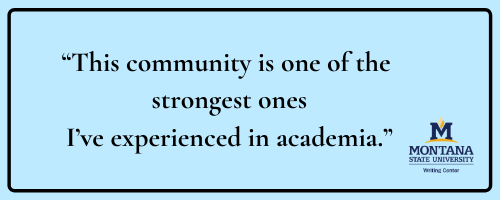 The Writing Center values and depends on diverse voices and perspectives.
Our tutors and our writers come from a wide range of identities, life experiences, backgrounds, and majors.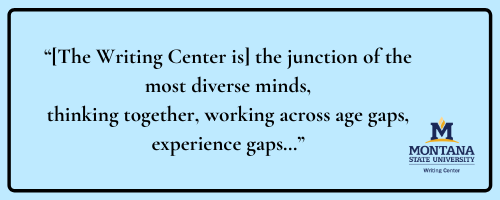 Read
Tutor Spotlights
to learn more about what tutors gain from their time in the Writing Center.
What do Writing Center tutors do?
Specifically, tutors
work one-on-one with peers from diverse disciplines and backgrounds at any stage in their writing process;
facilitate writing groups, studios, and workshops;
work in person and online;
participate with fellow tutors in ongoing tutor training and education (including reading, discussion, collaborative research & inquiry); and
contribute to Writing Center operations and outreach.
Through their work at the Writing Center, tutors gain and share writing skills and strategies; study writing theory, as well as writing practice; contribute to the creation of new knowledge and programming; and build relationships with peers, faculty, and staff across campus.
What are the job qualifications?
Prior tutoring experience is not required; we provide on-the-job education and training. We encourage work-study students to apply, but a work-study award is not required.
We only have a few job requirements. Applicants must
currently be enrolled at MSU or Gallatin College, part-time or full-time,
have a 3.0 minimum GPA*,
be available to work 12-18 hours/week,
have visited the Writing Center as a writer, and
be a committed and curious learner.
Preferred qualifications include
Sophomore or junior standing
Familiarity with multiple languages, dialects
Diverse life and/or work experience
Experience with writing in multiple disciplines
*GPA is a blunt measure of student's academic health. If you have extenuating circumstances that have caused your GPA to drop below 3.0 and you'd still like to apply, please explain your situation in your cover letter.
Are tutors paid for their work?
Yes. Peer tutors earn $15/hour. All tutor education and training hours are paid.
How do I apply?
Come in and find out what we're all about! All applicants should try out a session as a writer before applying to be a tutor. You can even meet with a tutor to get some feedback on your tutor application (it's not cheating).
Ask a faculty member or mentor to write a letter of recommendation in support of your application. Direct your recommender to the Faculty Recommendation link (you may also find the link in the top-right corner of this page). Recommendations are due the same day as the rest of your application. Please make sure your recommender knows the deadline.
Follow the Tutor Application link to submit your application materials. You will need the following to apply to the Writing Center:
your resumé,
a cover letter explaining why you want to be a Writing Center tutor, and
a 3-5 page academic writing sample from a college course. An excerpt of a longer piece is acceptable. Please do not submit work from a high school course.
(Optional) If you like, you may also ask a peer to write a brief Peer Recommendation in support of your application. Peer recommenders should address your ability to engage with peers collaboratively, respectfully, and successfully. Again, peer recommendations are due the same day as the rest of your application. Please make sure your recommender knows the deadline.
We accept applications at any time, but we typically hire twice a year, in April and November.
---
Montana State University is committed to providing a working and learning environment free from discrimination.
As such, the University does not discriminate in the admission, access to or conduct of its educational programs and activities nor in its employment policies and practices on the basis of an individual's race, color, religion, national origin, creed, service in the uniformed services (as defined in state and federal law), veteran's status, sex, age, political ideas, marital or family status, pregnancy, physical or mental disability, genetic information, gender identity, gender expression, or sexual orientation. In support of the University's mission to be inclusive and diverse, applications from qualified minorities, women, veterans and persons with disabilities are highly encouraged.

Montana State University makes accommodation for any known disability that may interfere with an applicant's ability to compete in the hiring process or an employee's ability to perform the duties of the job. To request an accommodation, contact the Human Resources Office, PO Box 172520, Montana State University, Bozeman MT 59717-2520; 406-994-3651; [email protected] .

In compliance with the Montana Veteran's Employment Preference Act, MSU provides preference in employment to veterans, disabled veterans, and certain eligible relatives of veterans. To claim veteran's preference please complete the veteran's preference information located in the Demographics section of your profile.

MSU's Non-Discrimination Policy and Discrimination Grievance Procedures can be located on the MSUWebsite: http://www.montana.edu/hr/disability_accommodation/complaints_grievances.html
Verification of Employment Eligibility: Montana State University employs only U.S. citizens and aliens lawfully authorized to work in the United States. Pursuant to the Immigration Reform and Control Act of 1986, we require all new employees to submit an Employment Eligibility Verification Form (I-9) which documents their identity and employment eligibility. The I-9 form must be completed and the appropriate documentation provided within three (3) days of the date employment commences.