Meet the Cadre
Commander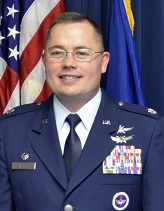 Lieutenant Colonel David L. Weide
Lieutenant Colonel David L. Weide is the Commander of Air Force ROTC Detachment 450 and Professor and Department Chair of Aerospace Studies at the Montana State University (MSU). He is responsible for the all detachment and cadet programs including the recruiting, training and commissioning of all AFROTC cadets on the MSU campus. Lt Col Weide also instructs the AS400 senior-level course on National Security Strategy, Active Duty Preparation and the AS200 sophomore-level course on Air Power History.
Operations Officer
Major William Klumpp
Major William Klumpp is the Operations Officer at Detachment 450. He is responsible for motivating and training cadets as prospective Air Force Officers. He acts as a liaison between the unit commander and the cadet corps and directs and supervises all leadership laboratories, corps military training and field training preparation activities. Maj Klumpp also instructs a junior-level course on Leadership and Management.
Recruiting Flight Commander
Major Darrel DeLeon
Major DeLeon arrived at AFROTC Det 450 on 10 July 2014. His biography and photo will be posted when available.
NCOIC of Personnel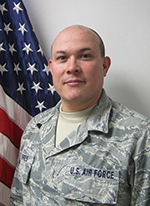 Technical Sergeant Anthony Torres
Technical Sergeant Anthony Torres is the NCOIC of Personnel Operations at Detachment 450. His responsibilities include, but not limited to, managing cadet life-cycle personnel actions such as records, medical/physicals, enlistments, categorization and commissioning.
NCOIC of Knowledge Operations Management
VACANT
This position is vacant - TSgt Torres currently manages all KOM functions.
Department Liaison
Mr. William Van Horn
Mr. William Van Horn is the Department Liaison at Detachment 450. He is involved in day-to-day office management of Air Force Reserve Officer Training Corps and Montana State University business as well as academic support to the students in the program and the department staff.
Click Here for Privacy and Security Notice
Last updated 5/02/2014