Internships, Jobs and Recruiting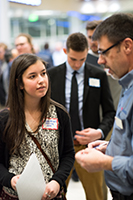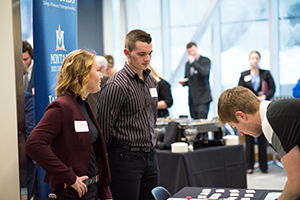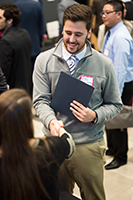 Where to find Jobs and Internship Opportunities
The Bracken Center has a bulletin board where you will find some jobs and internships and announcements on the first floor of Jabs Hall.
The Bracken Center emails out opportunities to students on a weekly basis, keep an eye out for those emails!
Check and register with Career, Internship & Student Employment Services—SUB 177.
Internships for credit
You can get up to 3 upper division business elective credits for your qualifying internship.
Internship guidelines and application forms, click here.
Career Services Events & Job Postings
---
Recruiting Events
The Jake Jabs College of Business & Entrepreneurship (JJCBE) hosts two events each Fall and one in the Spring for students and business recruiters.
Spring Meet the Business Recruiters
Past:
Wednesday, February 20, 2019
5:30 pm in Jabs Hall, MSU campus
This event is offered the evening before each Career Fair (one in the fall, one in the spring). The evening offers business recruiters an opportunity to meet and mingle with JJCBE students in an informal setting. Recruiters may have internship or career positions available or just want to connect and network with students.
For more information on recruiting in the JJCBE, please email The Bracken Center at brackencenter@montana.edu.
UPDATE:
We had a fantastic Spring 2019 Meet the Recruiters event. There were over 180 students in attendance and 42 companies who participated in the event. The students really impressed everyone with their professionalism.

Click here for the Spring 2019 video.
Click here for the Fall 2019 photos.
Click here for the Fall 2018 photos.
Meet the Accounting Recruiters
Accounting firms and recruiters are invited to attend this event and meet current students and some recent graduates in the undergraduate Accounting program, the Master of Professional Accountancy and the Finance programs. This event offers recruiters the opportunity to introduce students from JJCBE to internships and careers available in their organization. The vast majority of students attending the fall 2018 event were seeking summer leadership, internships or employment for spring, summer and fall of 2018.
For more information on recruiting in the JJCBE, please email The Bracken Center at brackencenter@montana.edu.