Internships, Jobs and Recruiting
Internships & Jobs
Career Services Events & Job Postings
---
Recruiting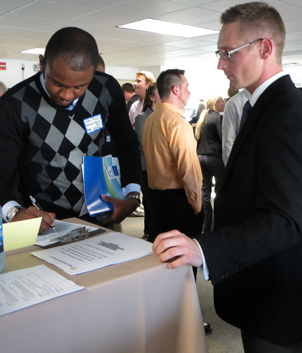 The Jake Jabs College of Business & Entrepreneurship (JJCBE) hosts two events each Fall for students and business recruiters. One is for all business majors and one is for accounting majors.
The Meet the Business Recruiters event offers business recruiters an opportunity to meet and mingle with JJCBE students in an informal setting. Recruiters may have internship or career positions available. The 2016 event is slated for Wednesday, October 5 from 5:00-6:30 p.m. at the 3rd Floor of the MSU Stadium Club. There is no cost for this event. RSVP here if you plan to attend.
The Meet the Accounting Recruiters event offers recruiters the opportunity to introduce undergraduate accounting and Master of Professional Accountancy students from the MSU JJCBE to internships and careers available in your organization. The vast majority of students attending the event will be seeking internships or employment starting in 2016-2016.
The 2016 accounting recruiting event will be held on Wednesday, September 22 from 5:00-6:00 p.m. for recruiters and faculty and 6:00 p.m. - 8:00 p.m. for recruiters and students, at the 3rd Floor of the MSU Stadium Club. A $250 registration fee entitles recruiters to the use of a skirted table to display promotional materials and refreshments. To register for this event, click HERE.
For more information on both events please contact: Chantelle Mahan, Associate Director of the Bracken Center, (406) 994-4438 or chantelle.mahan@montana.edu.