Information for New Students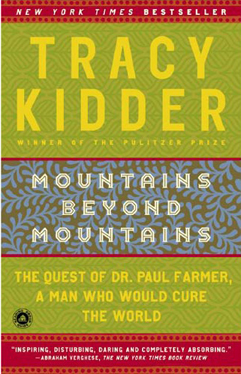 Mountains Beyond Mountains by Tracy Kidder, recommended summer reading.
Welcome!
We heard you have decided to join us in the Department of Cell Biology and Neuroscience.
Wondering what to do over the summer?
Excellent books to read:
Mountains Beyond Mountains by Tracy Kidder
Genome by Matt Ridley
Wondering about the above books, which one to read? Read both, or go check out book reviews on the internet.
This suggestion is a bit out there, but I enjoyed it one summer. Get your hands on a very old edition of a college chemistry or algebra-based physics book and enjoy slowly reading it and doing all the problems at the end of each chapter. Make sure you get them all correct; this should be viewed as fun, like crossword puzzles. Make sure the book has at least half the answers somewhere in the back.
Want to stay current about science and medical information? Get used to surfing the web:
Recommended Sites:
For explanations of scientific topics, directly type topic into Google or Wikipedia. For medical topics you will often be directed to:
With experience you will find information right to the level you desire.
Sites for:
Health professions:
Neuroscience:
Computational biology and bioinformatics:
Getting ready for college study:
Welcome again. We look forward to seeing you on your arrival, and being your professors as you pass through on your way to bigger and better things.
The Department of Cell Biology and Neuroscience.