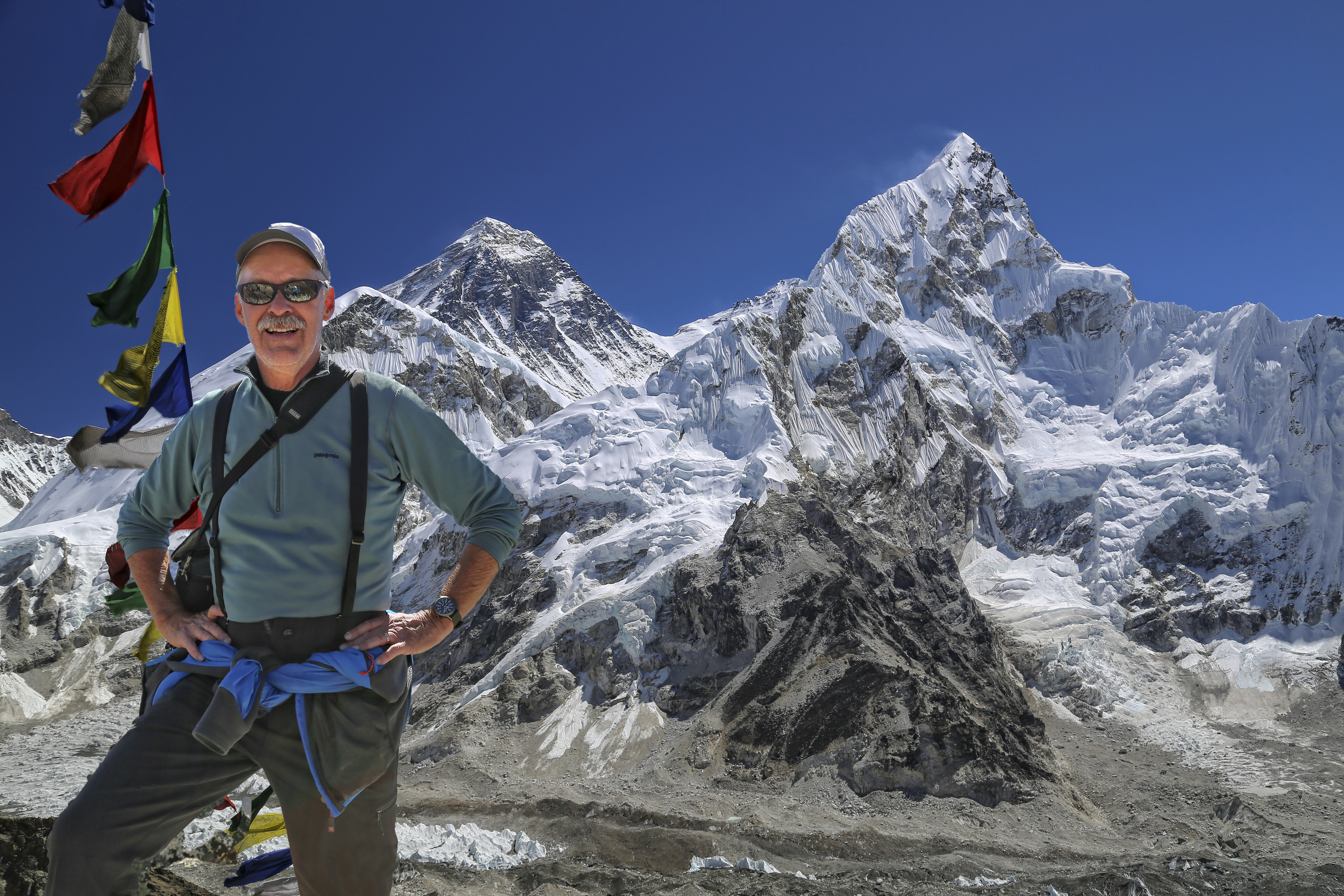 Professor of Structural Geology
Contact Information
Office: Traphagen Hall, 108-108A
Phone: (406) 994-6913
Email: lageson@montana.edu
Education
B.A., Geology - Western State College of Colorado, 1973
M.S., Geology - University of Wyoming, 1977
Ph.D., Geology - University of Wyoming, 1980
Research Interests
Structural geology and tectonic evolution of mountain belts (fold-and-thrust belts)
Structural controls on pluton emplacement in contractile (fold/thrust) tectonic settings
Active tectonics and the geology of earthquakes (U.S. Northern Intermountain Seismic Belt and, most recently, the Himalaya)
Over the years, my research program has focused on various aspects of the structural geology and tectonic evolution of the Northern Rocky Mountains, focusing on the Sevier fold-and-thrust belt and Laramide province, as well as active tectonics of the Northern Intermountain Seismic Belt (Montana-Idaho). Recent (and ongoing) work in the Greater Himalaya (Solukhumbu District) focuses on the deformation/metamorphism of summit rocks on Mount Everest, the overall structural geology of the Everest-Lhotse-Nuptse massif, and structural/metamorphic discontinuities within the Greater Himalayan slab (with Dr. Mary Hubbard, MSU).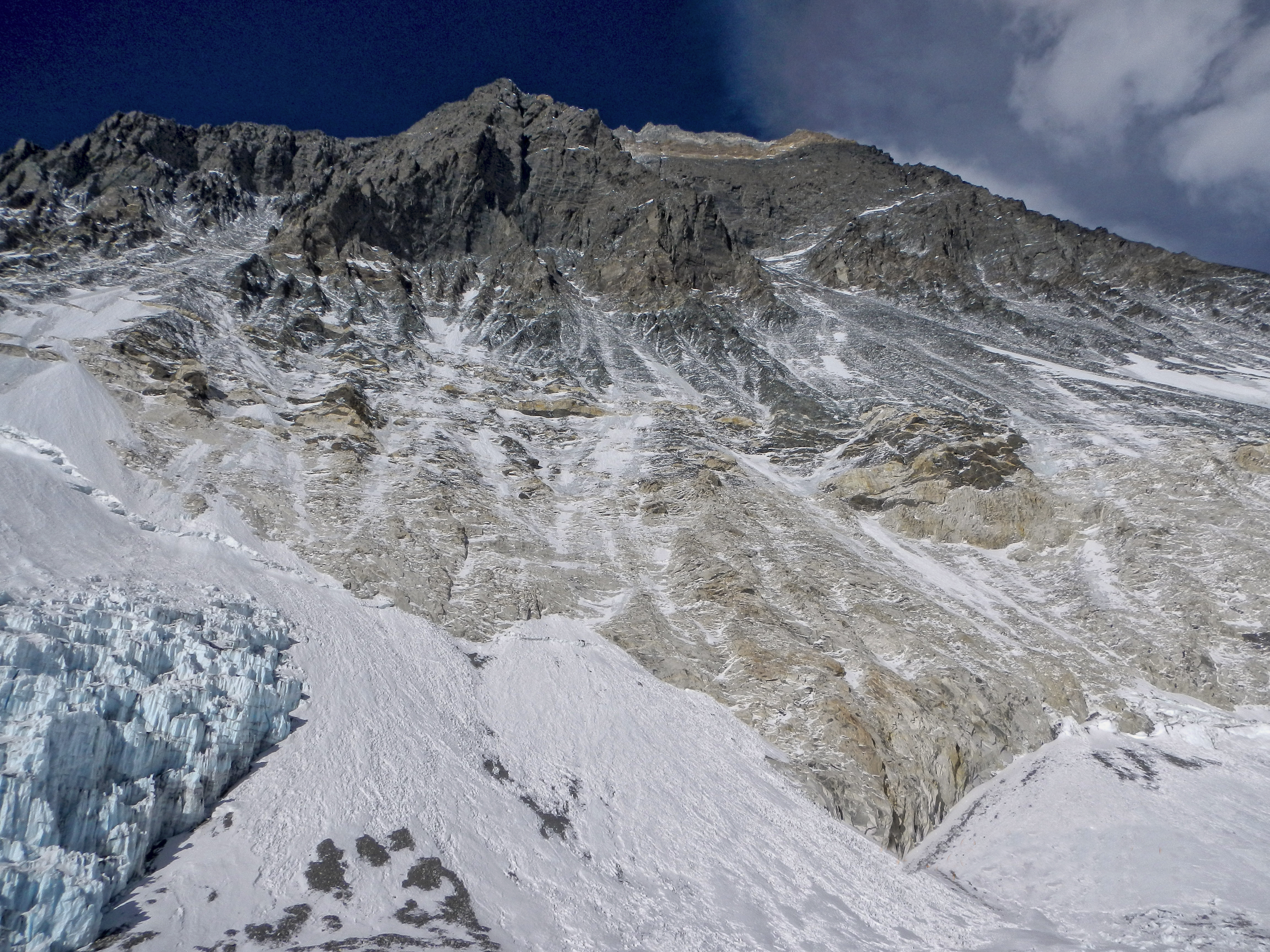 Southwest face of Mount Everest photographed in mid-April, 2012 from Camp II in the Western Cwm (uppermost Khumbu Glacier) during our expedition with Conrad Anker and The North Face climbing team (Everest Education Expedition - MSU/National Geographic/The North Face).
Bottom-to-top succession: Miocene leucogranite sills, Lhotse shear zone, Everest Series (North Col Fm.), Yellow Band, Qomolangma detachment, summit limestone pyramid. This is the top of the Greater Himalayan slab in the Solukhumbu Himalaya - the roof of the world!
I am accepting new graduate students in structural geology/tectonics for 2017-2018. I will be looking for a strong background in structural geology at the undergraduate level, evidence of field-based training and mapping experience, and a STRONG desire to pursue structural geology with a field-based project in graduate school.
Current Graduate Students
Colter Anderson (M.S. candidate)
Anita Moore-Nall (Ph.D. candidate)


Publications and abstracts selected to show collaborative research topics over recent years (not a complete list):
Corthouts, T.L., Lageson, D.R., and Shaw, C.A., 2015, Polyphase deformation, dynamic metamorphism, and metasomatism of Mount Everest's summit limestone, east central Himalaya, Nepal/Tibet: Lithosphere, published online on 16 November 2015 as doi:10.1130/L473.1.
Lageson, D.R., and Lynn, H.B., 2010, Characterization of CO2 reservoirs in the Absaroka thrust sheet, Idaho-Wyoming fold-and-thrust belt: Geological Society of America, Abstracts with Programs, vol. 42, no. 5, p. 608
Larsen, Martin, and Lageson, D.R., 2010, Digital geologic and structure mapping of the Hebgen Dam and Mount Hebgen 7.5-minute quadrangles, SW Montana, using global positioning system (GPS) and geographic information system (GIS) applications: Geological Society of America, Abstracts with Programs, vol. 42, no. 5.
Lynn, Helen, and Lageson, D.R., 2010, Structural controls on subsurface fluid migration through thrust sheets of the Stewart Peak culmination, northern Salt River Range, Wyoming: Geological Society of America, Abstracts with Programs, vol. 42, no. 5.
Moore-Nall, Anita, and Lageson, D.R., 2010, Hydrothermal influences for U-V mineralization in the Madison Limestone and adjacent units, Pryor Mountains, Montana-Wyoming and a possible link to elevated Pb and Hg in the Big Horn River in Montana: Geological Society of America, Abstracts with Programs, vol. 42, no. 5.
Wong, I., Olig, S., Dober, M., Wright, D., Nemser, E., Lageson, D., Silva, W., Stickney, M., Lemieux, M., and Anderson, L., 2005, Probabilistic earthquake hazard maps for the State of Montana: Montana Bureau of Mines and Geology, Special Publication 117, 72 p., 28 plates.
O'Neill, J. Michael, Lonn, Jeff D., Lageson, David R., Kunk, Michael J., 2004, Early Tertiary Anaconda metamorphic core complex, southwestern Montana: Canadian Journal of Earth Sciences, vol. 41, issue 1, p.63, 10p.
Stickney, M.C., and Lageson, D.R., 2002, Seismotectonics of the 20 August 1999 Red Rock Valley, Montana earthquake: Bulletin of the Seismological Society of America, v. 92, p. 2449-2464.
Lageson, D.R., Schmitt, J.G., Horton, B.K., Kalakay, T.J., and Burton, B.R., 2001, Influence of Late Cretaceous magmatism on the Sevier orogenic wedge, western Montana: Geology, v. 29, no. 8, p. 723-726.
Kalakay, T.J., John, B.E., and Lageson, D.R., 2001, Fault-controlled pluton emplacement in the Sevier fold-and-thrust belt of southwest Montana, USA: Journal of Structural Geology, vol. 23 (6-7), p. 1151-1165.
Lageson, David R., and Stickney, Michael C., 2000, Seismotectonics of northwest Montana, USA, in Schalla, R.A., and Johnson, E.H., eds., Montana/Alberta thrust belt and adjacent foreland: Montana Geological Society, 50th Anniversary Symposium, vol. 1, p. 109-126.
Lageson, D.R., Adams, D.C., Morgan, L., Pierce, K.L., and Smith, R.B., 1999, Neogene-Quaternary tectonics and volcanism of southern Jackson Hole, Wyoming and southeastern Idaho, in Hughes, S.S., and Thackray, G.D., eds., Guidebook to the geology of eastern Idaho: Idaho Museum of Natural History and the ISU Press, Idaho State University, Pocatello, ID, p. 115-130.
Skipp, B., Lageson, D.R., and McMannis, W.J., 1999, Geologic map of the Sedan quadrangle, Gallatin and Park Counties, Montana: U.S. Geological Survey Geologic Quadrangle Map, I-2634, 1:48,000 [with tectonic history].
Burton, B.R., Lageson, D.R., Schmidt, C.J., Ballard, D.W., and Warne, J.R., 1998, Large magnitude shortening of the Lombard thrust system, Helena salient, Montana fold and thrust belt: Implications for reconstruction of the Belt Basin, in Berg, Richard B., ed., Belt Symposium III: Montana Bureau of Mines and Geology Special Publication 112, p. 229-243 and Plate 3.