Department of English Graduate Program Application Requirements & Deadlines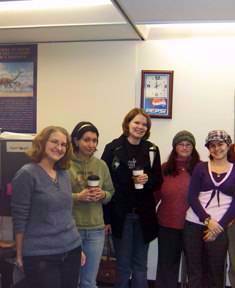 Applications for the graduate program are available at The Graduate School's website:
Application for Graduate Admission
Applicants must be prepared to submit (upload) the following application materials:
Official undergraduate transcripts from all universities attended. Un-official transcripts can be uploaded by the student during this online process, however MSU must receive official transcripts directly from the university(s) attended. Have official transcripts sent electronically to: mkhansen@montana.edu or through the mail to: MSU, Department of English - Graduate Studies, P.O. Box 172300/2-176 Wilson Hall, Bozeman MT 59717. (Applicants who have a bachelor's degree conferred and who are alumni of MSU do not need to submit their transcripts).
Three (3) professional references.

During this online process, applicants will be asked to provide information about their references.

The electronic process will prompt each reference to submit a signed reference letter. Be sure that you request letters from people who can comment on your potential success for a graduate program in English.
Personal essay. Discuss your reasons for pursuing the Master of Arts in English. Applicants who are interested in being considered for a GTA position should indicate past experiences or training that would qualify them for a position teaching first-year students in the English Department's Writing Program.
Writing Sample. Upload a 10-15 page writing sample.
International students. In addition to the above, international applicants will be required to submit the following:
— English proficiency scores (i.e., TOEFL or IELTS)*
— Evidence of Financial Support
— Proof of funds (if self-funded)
— Copy of applicant's passport
— Degree certificates as well as an English translation for all non-English academic transcripts and credentials. Photocopies can be used to initiate the application process, however official transcripts/credentials are still required upon admission.
*International Students should consult the Graduate School's website for more information about English Proficiency requirements (see link:http://www.montana.edu/international/admissions/englishproficiencygraduate.html). The Graduate School has set minimum scores for the following proficiency tests: TOEFL of 80 and IELTS of 6.5. The Graduate School also accepts the PEARSONS (PTE) as a third English Proficiency test; the minimum score for PTE is 54.
The deadline for application of and consideration for a teaching assistantship is January 31st.
The final deadlines for applications only are July 15 (fall semester) and November 1 (spring semester). Deadlines for international students are May 15 (fall semester) and September 15 (spring semester).
Incomplete applications cannot be considered.
Contact Information
If there are additional questions, please contact the Department of English at:
Tel: (406) 994-3768 | E-mail: english@montana.edu | Location: 2-176 Wilson Hall