Global Innovation Bootcamp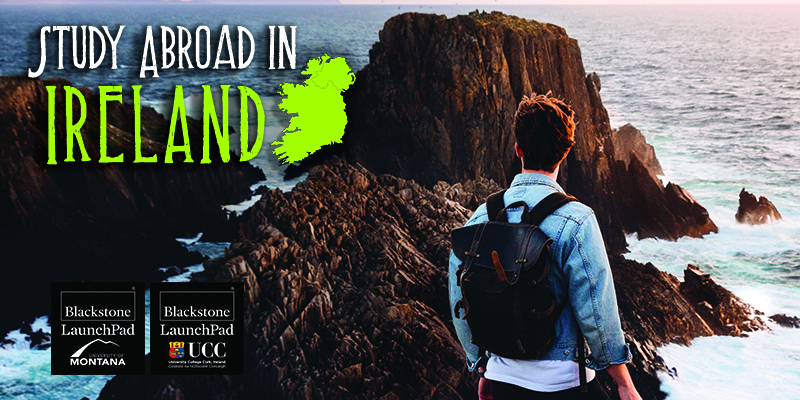 Study Abroad in Ireland
Spend two weeks in Cork, Ireland with faculty from the University of Montana and University College Cork learning about research, innovation, and entrepreneurship. Work in interdisciplinary teams to solve real-world problems with early stage startup businesses.

Learn from research scientists, visit research institutes and Irish start-up companies, and network with entrepreneurs, venture capitalists and economic development organizations. Experience Irish culture, including its entrepreneurial business environment. Gain an understanding of the strong ties between Cork and Montana, particularly in the start-up sector. Ultimately, you will finish this course with a broadened international perspective and a strong understanding of Ireland's economic role in the European Union.

Get to know historic Cork, home to Hurling, Boolean Algebra, and Murphy's Irish Stout!
Course Details
June 3 - 14, 2019

3 credits, Spring 2019

$1,950 (that coverssingle apartment room, travel to site visits, instruction, and student insurance - does not include airfare or MSU tuition if taking less than 12 credits).

First come, first served, and spots are limited!

The course will be led by the University of Montana Blackstone LaunchPad Director Paul Gladen.

MSU students should enroll in our travel registry: http://bit.ly/2TypBAB and attend the OIP orientation session on Monday, February 25 at 4:30 in Jabs 103.
Possible to earn up to 3 credits of Independent Study through MSU. For questions regarding MSU course registration and credits, contact Susan Dana (sdana@montana.edu).

Deadline is March 15th, 2019

.
International Fellowships are available to those formally admitted to the College of Business. Contact Linda Ward (lward@montana.edu) for details.



Click here to apply through the University of Montana's website.

For more information, visit the related University of Montana page at http://www.umt.edu/launchpad/courses/study-abroad.php.
Email course director Paul Gladen (paul.gladen@mso.umt.edu) for any further questions related to this program.