Facilities - Music Technology
Montana State Transmedia and Electroacoustic Realization (MonSTER) Studios
Computer Lab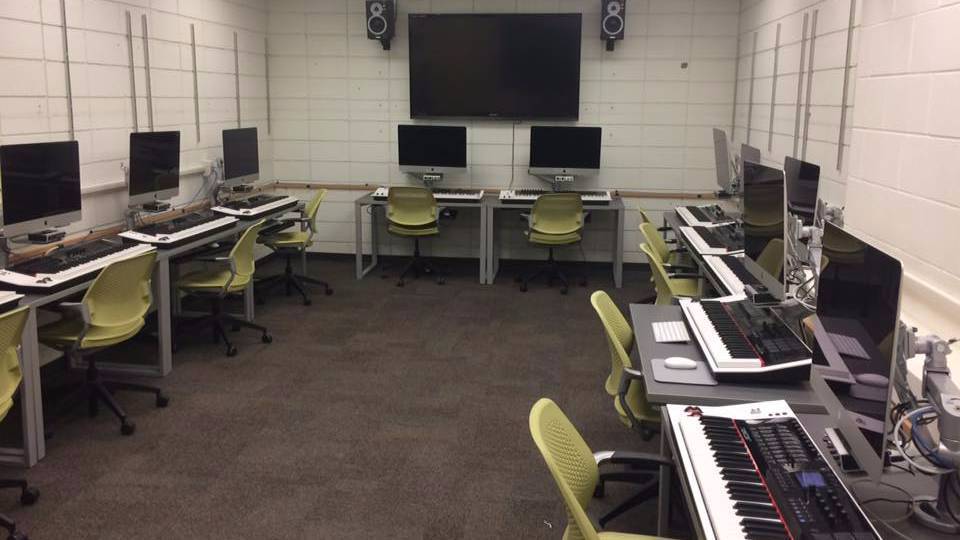 The lab is the primary classroom for the Music Technology program and serves as a collaborative space for musical creation and expression through the use of technology. The Computer Lab houses twelve (12) Macintosh computer stations with Native Instruments K6 audio interfaces and Nektar P6 MIDI controllers. The computers are loaded with software used throughout the music technology program, including Avid Protools, Apple Logic, Abelton Live, Propellerheads Reason, Cycling '74 Max, Make Music Finale, East/West Symphonic Orchestra Silver, Amadeus Pro, Adobe Creative Suite, Waves, and more. The lab is staffed by student monitors and is available during open hours to all students taking courses in the School of Music.
---
Studio A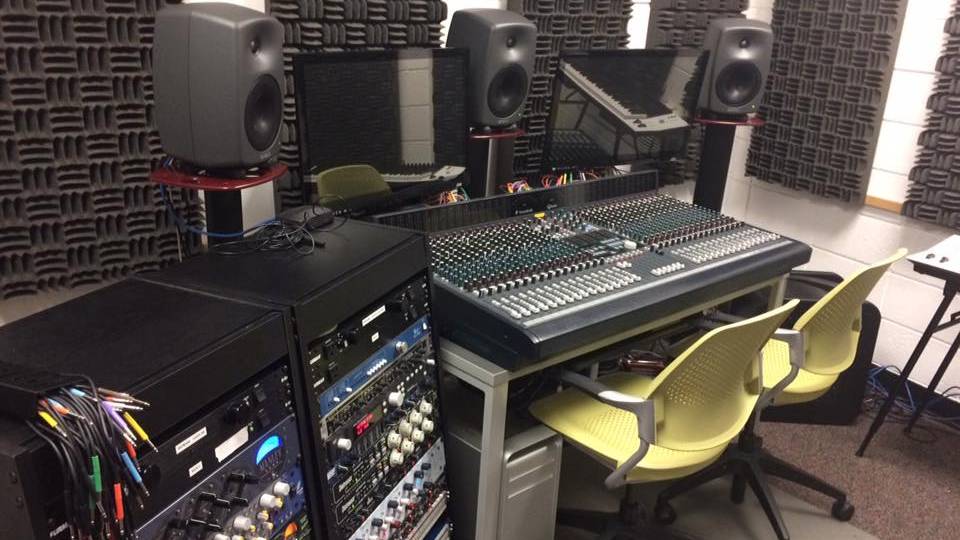 Studio A is the primary individual workspace for upper-level Music Technology students. The studio features a 5.1 Genelec surround-sound monitoring system, 32 Channel Soundcraft Ghost mixing console, Focusrite RedNET Dante audio network Interfaces, Mini Moog Voyager analog synthesizer, Eurorack Digital/Analog hybrid modular Synthesizer, Nektar MIDI controller, and outboard gear by Manley, Focusrite, Rupert Neve Designs, Bricasti, dbx, Coleman, Empirical Labs, Warm Audio, and TC Electronics. The Macintosh computer includes all software installed on the Computer Lab computers, plus MetaSynth, Arturia ARP2600V, Native Instruments Komplete Ultimate, Wavelab, East/West Symphonic Orchestra Gold, Waves Gold Bundle, mcDSP, iZotope, and more.
---
Studios B, C, & D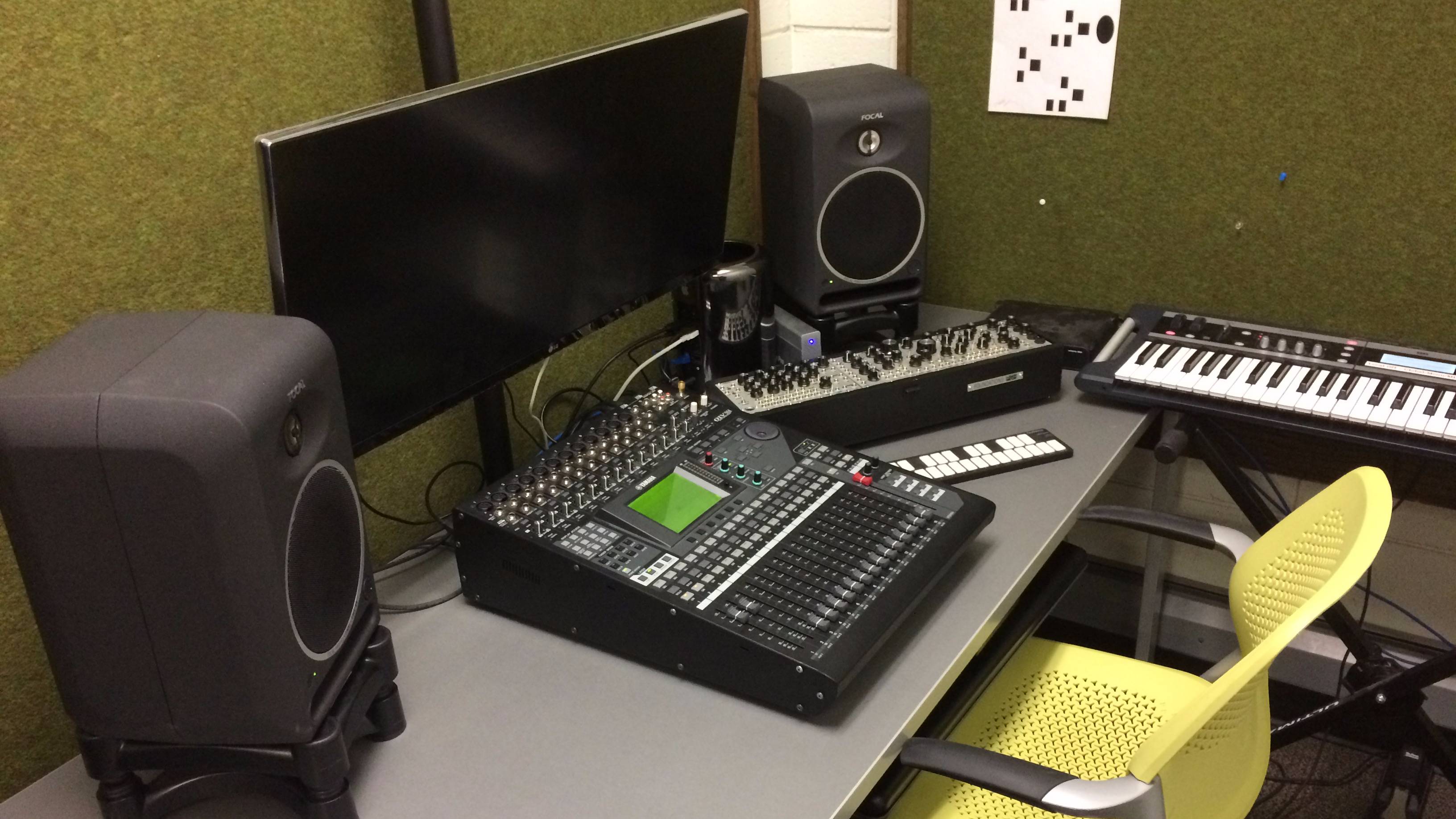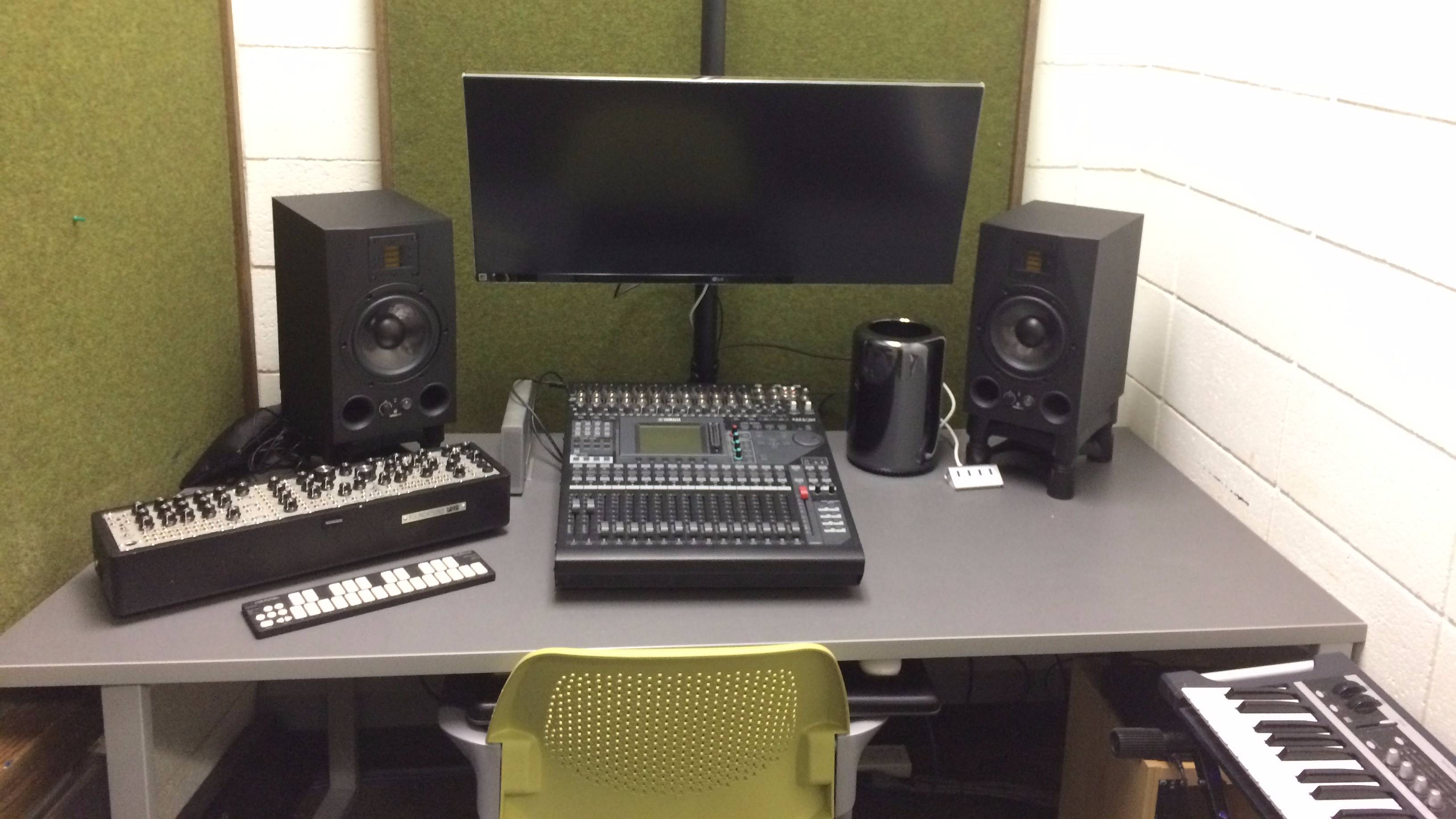 Studios B, C, & D are small stereo studios equipped with Macintosh computers, Yamaha 01V96i digital mixers with Dante audio network cards, Korg X50 keyboard synths, and ADAM A7Xs, Focal CMS65s, and Genelec M040 monitors respectively. The identical software installed in Studio A is also available on the Macintosh computers located in Studios B, C, & D. Students affectionately refer to Studio C as Cookie MonSTER.
---
Tracking Room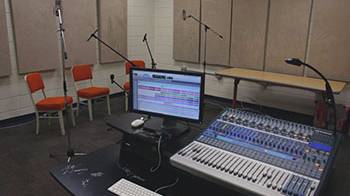 The tracking room features Focusrite RedNET Dante interfaces and a Macintosh computer configured with a variety of major Digital Audio Workstations (DAW's) that ensures that the recording experience transfers across multiple platforms.
Student designed and built acoustic treatment that is installed throughout the room. This adaptable treatment provides control over absorption/reflection and creates an adjustable and customizable acoustic space, allowing the room to be tuned as needed for various recording situations.
Microphones are available from the following manufactures: AKG, Aston, Audio-Technica, Audix, Beyerdynamic, Blue, Cascade, Countryman, DPA, Earthworks, Electro-Voice, Miktek, Neumann, Oktava, Rode, sE Electronics, Sennheiser, Shure, Studio Projects, and T.H.E.
---
Reynolds Recital Hall
Reynolds Recital Hall is the main performance venue for the School of Music and home of the Multimedia Series, MSU's concert series combining electronic music, multichannel audio and sound diffusion, video, animation, and live performance. The Multimedia Series features an international selection of multimedia works alongside compositions by MSU students. The series features a multi-speaker sound diffusion system made up of Yamaha DXR Series Speakers and a Behringer X32 digital console.
Major upgrades to Reynolds Recital Hall were completed in the summer of 2016, including an upgraded smart podium and HD video projector for large lecture classes and multimedia performances. The house audio system is composed of JBL AM6215 speakers, QSC amplifiers, Behringer X32 Rack, and Shure wireless microphones.
---
Black Box Theatre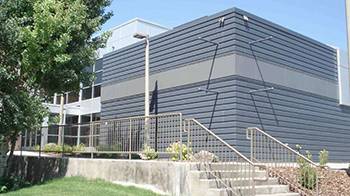 The Black Box Theater, part of the School of Film and Photography, was completed in 2008. Music Technology students have contributed music and sound design for Black Box productions starting with the inaugural production in October 2008. Starting in Spring 2009, an Interdisciplinary Projects course has enabled Music Technology and Film majors to study hands-on technical theater, focusing on lighting and sound design for theatrical and concert productions.
---
Peach Street Studios
http://peachstreetstudios.com/
Peach Street Studios is a commercial studio located in downtown Bozeman. Peach Street Studios host two courses for the Music Technology program. MUST 112 - Basic Home Recording, taught by Doc Wiley, and MUST 320 - Recording II, taught by Jeremiah Slovarp, began meeting at Peach Street Studios in 2011. Through our partnership with Peach Street, Music Technology majors and non-majors gain valuable hands-on experience working in a professional recording studio. Peach Street Studios is home to the radio program Live from the Divide "A Celebration of the American Songwriter." Peach Street Studios and Jerico Studios are also home to several Music Technology Internship placements including Big Sky's Music in the Mountains and the Emmy award-winning PBS program 11thand Grant with Eric Funk, which showcases the music of Montana.