Video Guidelines
Video has become an effective media to showcase the excellence of Montana State University and help the university and its departments achieve their goals. Just like other mediums, it is important to properly represent and include MSU branding. Videos should be professional and appropriate to a wide audience. Videos should communicate a clear message that is consistent with MSU's mission and brand.
Important: All videos produced using MSU resources must have MSU branding applied.
Several tools are available to brand MSU videos.
Branding Components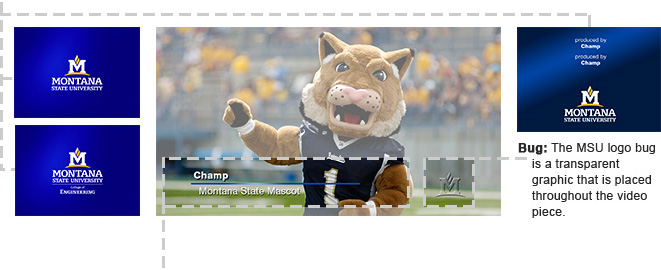 Bumper
An opening bumper includes the MSU logo and should be placed at the head of any video project to brand it as an MSU production. The closing bumper identifies that the production is the intellectual property of MSU and should appear at the end of the production. Custom bumpers with college brand extension graphics are available upon request.
Lower Thirds
To identify subjects in video productions, use a lower third bar in the MSU branded video style.
When adding subtitles to the video, use Arial or Helvetica font
When showing a name and title use:
First Name Last Name: Jane Doe
Department Name: MSU College of Business
The graphic is an editable file so text can be updated. However, the selected font (Arial or Helvetica) should be used, as this is part of the MSU branding. Once finished, the graphic should be saved as a TIFF file with 'layers' and 'alpha channels' selected. This file should be compatible with most video editing applications. The graphic can be placed at the bottom of the image-safe area of the screen using keyframes or your editor's particular option for moving graphic layers.
Bug
The bug identifies the production as an MSU production. This graphic is placed in the lower-right corner of the image-safe area of the video and should remain on the screen for the production between the opening and closing bumpers. The bug is intended for video purposes only and is not appropriate for other print or online uses.
Posting Videos
MSUTube is the central source for all MSU videos. Individuals wishing to have their videos included in the MSUTube feed must adhere to the above branding guidelines. University Communications has final sign-off on all video projects. Requests to post videos to MSUTube should be directed to: websupport@montana.edu.
Photography Guidelines
The following guidelines apply to all communications such as brochures, posters, direct mail and websites.
The MSU photography style mirrors our brand personality-natural, authentic and focused on people. Photos should be high quality and highlight students and professors engaged in their dynamic learning and living environment. Imagery featuring students and mentors actively involved in research, creative projects and community involvement are preferred to snapshots of individuals or groups in static poses.
MSU photography and videos are:
Personal-focused on the individual in their environment
Active-highlights students and professors actively involved in learning, discovery and engagement.
Simple, balanced, natural
Showcases ambitious, friendly people
Vibrant and captures diversity
In-focus
Properly exposed
Composed and framed appropriately
Appropriate for a wide audience
MSU photography and videos are not:
Quirky or silly
Dark or moody
Rude, obscene or insulting