President's Commission on the Status of University Women
In the fall of 2011, President Waded Cruzado announced the formation of the President's Commission on the Status of University Women (PCOSUW) at Montana State University. The 28-member commission was created to study, evaluate and advise the president on issues related to diversity and gender equity.
Through meetings each semester, and the monthly meetings of sub-committees, the commission will identify institutional strategies to improve campus climate, alleviate the isolation of women in academic and work units through hiring and retention initiatives, and accommodate the needs of diverse workers.
Mission
In an advisory capacity, the Commission evaluates and works to improve issues related to gender equity and diversity on Montana State University's four campuses.
It is the Commission's pledge to facilitate the creation and sustainability of an environment of accountability, integrity, and optimism through collaboration between and among the MSU campuses, ensuring an atmosphere of equity, support, and balance.
Through its continued efforts, the Commission will work toward the discovery and elimination of institutional barriers to the success of women and inspire women to become leaders, problem solvers, and innovators making meaningful contributions to MSU, the state of Montana, and society at large.
In the News
MSU celebrates first woman doctoral graduate in mechanical engineering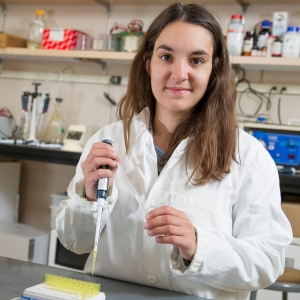 Former PCOSUW Member, Sarah Mailhiot is the first woman to graduate with a doctorate from MSU's mechanical engineering program. She served as the graduate student representative on the President's Commission from 2015-2016. Mailhiot, who is the first person in her family to go to college, studies innovative applications of MRI technology and completed her Ph.D. in engineering with mechanical engineering option in the College of Engineering in July. Read more
Sponsored Events
"Resources for Talking about Workplace and Pay Equity" Lunch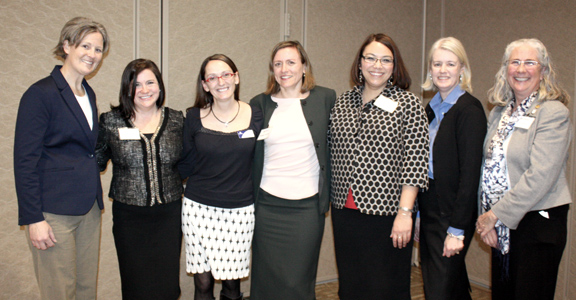 The President's Commission on the Status of University Women hosted a lunch on January 26, 2017, featuring several MSU faculty and staff, who spoke on "Resources for Talking about Workplace and Pay Equity." Jessi Smith, professor of psychology and director of ADVANCE Project TRACS, shared research on the role of self-promotion, norms, and situational factors that can hinder or help women advance within the pay structure. Professors Graham Austin, Virginia Bratton, and Amber Raile from the Jake Jabs College of Business presented research on equity theory and language choice for more welcoming and effective discussions on pay, and Cathy Hasenpflug, chief human resources officer at MSU, shared HR tools to help supervisors address equity issues. The presentation concluded with a panel Q & A session.
It Doesn't Make Cents: The Social Psychology of Women's Pay Inequity
Managing Conversations about Pay Equity
Resources for Talking about Workplace and Pay Equity (MSU HR)
WebEx Recording of Presentation
A Workshop and Lunch for Deans and Department Heads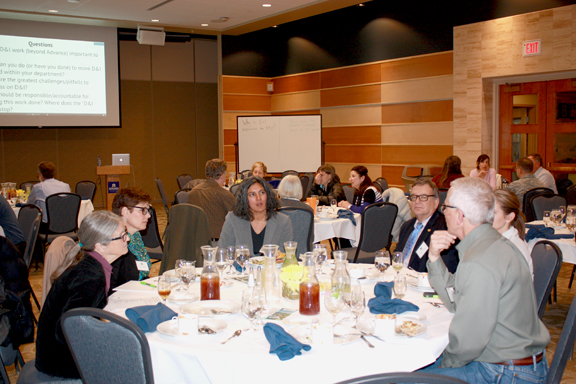 On January 20, 2016, in SUB Ballroom B, PCOSUW held an informational lecture for department heads and deans on diversity and inclusion. "Lessons Learned About Diversity and Inclusion at the National Outdoor Leadership School (NOLS)" was presented by Aparna Rajagopal-Durbin, instructor in the Department of Education at MSU and former chief diversity officer at NOLS. She shared five lessons she learned about diversity and inclusion while she worked at NOLS. After her presentation, the audience broke into small groups to discuss why diversity and inclusion are important to MSU, challenges and pitfalls to progress, what we can do to further diversity and inclusion in departments, and who should be responsible for getting this important work done.
PCOSUW Member Awarded at Spring Convocation 2016
Anne Camper, Montana University System Regents Professor, professor in the MSU Department of Civil Engineering and associate dean for faculty and administration in the College of Engineering, received the President's Commission on the Status of University Women Award given to a member of the faculty or staff who has established a record of working to improve issues related to gender, equity and diversity on any of MSU's four campuses. The award includes a $2,000 honorarium. Above photo is Provost Martha Potvin, Dr. Anne Camper, and President Waded Cruzado at spring convocation 2016.
How to Write a Winning Nomination for Student Scholarships and Awards
In October, Ilse-Mari Lee, dean of the Honors College, and Betsy Danforth, director of the Women's Cneter at MSU, presented a session on how to write a winning nomination letter for students for scholarships and awards. Lee, who has had tremendous success in writing letters for students who have won national awards such as Goldwater, Fulbright, Marshall, and Truman, provided tips for letter writers, Danforth discussed inclusive, unbiased language in letters of support and nominations. Co-sponsored by the Center for Faculty Excellence and the President's Commission on the Status of University Women.
PCOSUW Sponsored Lectures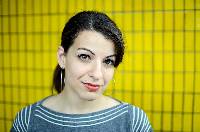 PCOSUW was excited to co-sponsor, along with the MSU's Women's Center, Anita Sarkeesian, prominent feminist video blogger and public speaker, who visited our campus as the 2016 presenter for the Shannon and Frances Weatherly Memorial Lecture. The lecture was on March 2 in SUB Ballroom A. Other sponsoring Montana State University entities were: Department of Computer Science; Jake Jabs College of Business and Entrepreneurship; College of Engineering; College of Agriculture; College of Letters and Science; College of Nursing; College of Education, Health and Human Development; Office of Activities and Engagement; Diversity Awareness Office; VOICE Center, and The Leadership Institute.
Ms. Sarkeesian's lecture: "I'll Make a Man Out of You: Redefining Strong Female Characters," gave the audience an exciting opportunity to learn about and question gender roles in video games and the popular media.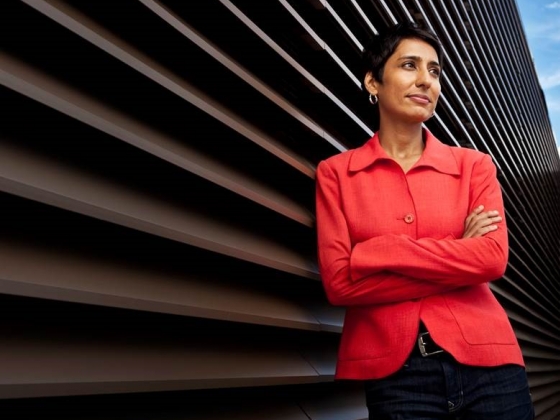 Best-selling author and inspirational speaker, Irshad Manji, addressed a packed house when she presented a lecture and panel discussion on February 22 at MSU. Manji is a Muslim reformist and founder of the Moral Courage Project,which seeks to empower people of all religious backgrounds to stand up for human rights. For more information, go to http://www.montana.edu/news/15920/irshad-manji-muslim-reformist-and-moral-courage-project-founder-speaks-feb-22-at-msu
MSU is one of only 83 institutions from across the nation – and the only university in Montana – to receive the 2014 Higher Education Excellence in Diversity, or HEED, award from INSIGHT Into Diversity magazine, the oldest and largest diversity-focused publication in higher education. Read more.
Distinguished Guest Joan Williams after her keynote "What Works for Women at Work: How to Spot Subtle Bias and How to Eliminate it." She is standing with (L to R) Allie Hay, Senior in Psychology; Lexie Kambich, ADVANCE Student Research Assistant; Dr. Sara Rushing, Co-Director of ADVANCE Project TRACS; Joan Williams, Director of UC Hastings Work Life Law Center; Dr. Waded Cruzado, President, MSU; Dr. Nicol Rae, Dean of the College of Letters and Sciences.
updated 8/2/2016