Student Awards
This award is designed to honor a student who has worked to improve issues related to gender, equity, and diversity on any of MSU's four campuses. There can be up to one undergraduate winner and one graduate winner and each award carries a $500 scholarship.
2018 Micah McFeely
Micah McFeely is most recently known for her work as the ASMSU Vice President. What you may not know about Micah is that she was instrumental in developing ASMSU's position for a Student Director for Diversity and Inclusion, that she is a SafeZone Trainer and a Sustained Dialogue Facilitator. When Micah first arrived at MSU, she hit the ground running--running to forge lasting change that would challenge the institutions of racism, sexism, and intolerance. She has worked with the VOICE Center, the Leadership Institute, and Forward Montana. Micah was an RA with Residence Life, and served on Governor Bullock's Equal Pay Task Force. Micah proudly wears the labels of "ambitious", " lively", and "feminist", but notes that her experiences have transformed her into an inter-sectional-thinking feminist-- as both an ally and an advocate.
2018 Marena "Bright Eyes" Mahto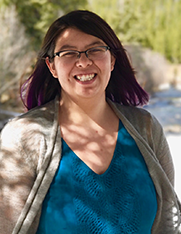 Marena Mahto is first and foremost, an indigenous activist here in Bozeman. Most recently, her attention has been focused on the Missing and Murdered Indigenous Women and Girls (#MMIW) project to bring awareness to the shocking rates of interpersonal and sexual violence crimes against Native women in this country. While she was a freshman, Marena was able to attend the Native American and Indigenous Studies Association Conference in Vancouver which led her to become active in the Standing Rock/Dakota Pipeline protests. Marena hopes to continue working with people who promote an agenda of equity and social justice through research and activism.
Read about the previous awardees
President's Commission on the Status of University Women Award
This award is designed to honor an individual (faculty or staff leader) who has established a record of working to improve issues related to gender, equity, and diversity on any of MSU's four campuses.
2019 Chatanika "Nika" Stoop
In 2019, Chata
nika "Nika" Stoop won the President's Commission on the Status of University Women Award. As part of MSU's ADVANCE Project TRACS and then research resources coordinator in the Center for Faculty Excellence, Stoop has spent her career working to improve gender equity and diversity at MSU. Since she arrived on the MSU campus, Stoop has become known for her ability to organize complex projects with creativity and grace. Her work training faculty on the grant-writing and submission process has enhanced the research capacity among women and other junior faculty in STEM fields. Another example is her work as one of the organizers of the recent 125 Extraordinary Ordinary Women event, which was a part of MSU's 125th anniversary celebration. Stoop displayed leadership, commitment, dedication, drive and an ability to stay calm under pressure, which made the Extraordinary Ordinary Woman celebration a success. Her work on behalf of women at MSU has been groundbreaking and will be long-lasting as MSU embarks on its next 125 years.