MSU has a campus has a limited number of campus licenses for Acrobat DC Pro and Creative Cloud software packages. Software can only be installed on university-owned computers.
Availability
Adobe CC and Acrobat DC Pro licenses are limited and only available to MSU employees for use on university-owned computers.
Request a license
Acrobat DC Pro -
Licenses for Acrobat DC Pro are available to faculty and staff for installation on MSU-owned computers at no cost.

Contact the UIT Service Desk to request a license.
Creative Cloud -
A limited number of Creative Cloud licenses are available for academic and business purposes at no cost for installation on MSU-owned computers.
Faculty and Staff


Complete the Adobe CC Request form to request a license.

Students


Visit Adobe Creative Cloud for MSU students to learn how to get Creative Cloud apps on your computer today.
Training
Acrobat DC Pro Essentials - tutorial on Lynda
Adobe Creative Cloud
NOTE on logging into Lynda.
MSU has a campus subscription that allows faculty and staff to use Lynda at no cost. After clicking one of the Lynda tutorial links above follow these instructions:
Click the Sign In button (not Sign Up), then click Continue(see image below).
Log in with your MSU NetID and password.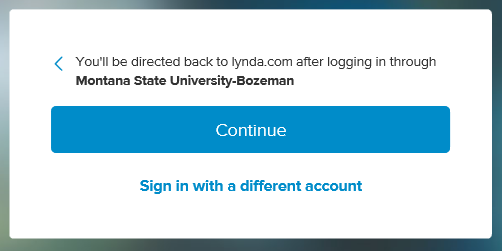 IMPORTANT: If you are not prompted with the box shown above, go to http://guides.lib.montana.edu/lynda. Enter your NetID and Password when prompted. When the Lynda page opens enter Adobe DC Pro or Creative Cloud into the Search field to find tutorials.