MSU has a limited number of campus licenses for Acrobat DC Pro and Creative Cloud software packages. Software can only be installed on university-owned computers.
IMPORTANT NOTE: Acrobat DC Reader is available to all faculty and staff and does not require a license. Please visit the Acrobat DC Pro vs Acrobat DC Reader feature comparison chart to see which product your business needs require.
Request a license
Acrobat DC Professional - A limited number of licenses for Acrobat DC Pro are available to faculty and staff for installation on MSU-owned computers at no cost.
Contact the UIT Service Desk to request a license.
Visit the Acrobat DC Pro vs Reader comparison chart to see features offered by each product.
Creative Cloud - A limited number of Creative Cloud licenses are available for academic and business purposes at no cost for installation on MSU-owned computers.
System Requirements for Creative Cloud
Apple/Mac: OS 10.10 or above is required for all packages.
Windows: 64 bit OS is required on all packages except for the Design package which can be used a 32 bit OS system.
Training
Acrobat DC Pro Essentials - tutorial on Lynda
Adobe Creative Cloud
NOTE on logging into Lynda.
MSU has a campus subscription that allows faculty and staff to use Lynda at no cost. After clicking one of the Lynda tutorial links above follow these instructions:
Click the Sign In button (not Sign Up), then click Continue(see image below).
Log in with your MSU NetID and password.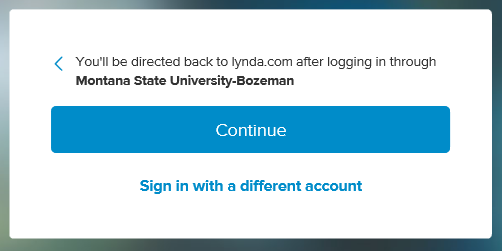 IMPORTANT: If you are not prompted with the box shown above, go to http://guides.lib.montana.edu/lynda. Enter your NetID and Password when prompted. When the Lynda page opens enter Adobe DC Pro or Creative Cloud into the Search field to find tutorials.