Welcome and Farewell
In May, Dr. Zbigniew Lewandowski retired from the Department after 35 years of service. Dr. Lewandowski received undergraduate and graduate degrees from the Silesian University of Technology in Poland. After appointments in the Polish Institute of Environmental Protection and various research appointments in Europe, Dr. Lewandowski came to MSU in 1985 to join a group of researchers at the Institute for Biological and Chemical Process Analysis. In 1989 that research group was awarded a National Science Foundation grant to create an Engineering Research Center dedicated to studying microbial processes at surfaces, which is currently known as the Center for Biofilm Engineering. Dr. Lewandowski became head of the Biofilm Structure and Function research area and in 1996 he was promoted to the rank of full professor at MSU. Throughout his tenure at MSU, Dr. Lewandowski has advanced the knowledge of biofilms and expanded the capability and reputation of Montana State University. He is a scholar of international standing. For his contributions the Board of Regents confered the rank of Professor Emeritus of Civil Engineering on Dr. Zbigniew Lewandowski this spring.
A hiring freeze imposed in response to COVID-19 has stalled the recruitment to fill Dr. Lewandowski's position and our vacant transportation faculty position.
Awards and Recognitions
The students, faculty and staff of the Department of Civil Engineering continue to excel both in and outside of the university. Individuals receiving specific recognition since our last newsletter include:
Ellen Lauchnor and Dr. Adrienne Phillips were promoted to Associate Professor and granted tenure this spring. Congratulations on achieving this significant academic career milestone.
Ellen Lauchnor recieved the Norm Asbjornson College of Engineering Excellence in Outreach Award. Combining outreach that involves students characterizes Dr. Lauchnor's work at MSU. She has incorporated outreach into her graduate classes providing her students with hands-on experience with field investigations, data collection and engineering analysis at actual sites in Montana undergoing contaminant investigation and clean up. Dr. Lauchnor has also integrated research into outreach to Montana's tribal communities. Working with the Montana Tribal College PACE (Pursuit of Educational Advancement toward Careers in Environmental Fields) program, she teamed MSU graduate students with students from the Little Big Horn College on an assessment of potential heavy metal contamination of soil on the Crow Reservation.
Kathryn Plymesser received the Norm Asbjornson College of Engineering Excellence in Diversity Award. Since joining the faculty in 2016, Dr. Plymesser has consistently been a leader in expanding the diversity of the department, college and MSU. Her ability to work across disciplines, her rapport with students and her unique contributions to the success of women in engineering, both on campus and in the professional community made her an ideal choice for this award.
Adrienne Phillips received the Norm Asbjornson College of Engineering Excellence in Research Award. Dr. Phillips conducts research of national importance on biomineralization processes in environmental and energy application. Since joining the faculty in 2014, Dr. Phillips has consistently been one of the Department and College's most productive scholars. The significance of her work, her unique ability to apply fundamental principles to engineering problems at all scales, and her extraordinary ability to collaborate with scientists, engineers and professionals from all backgrounds made her an ideal choice for this award.
Bret Martin, faculty in the Construction Engineering Technology program, and adjunct faculty member Chad Welborn, traveled with 32 students the annual Associated Schools of Construction (ASC) estimating competition held in Reno, Nevada in January. The "Reno Competition" requires students prepare a construction estimate, schedule and construction plan for real-world projects in approximately 12-16 hours, then present and defend their work in front of an industry panel. The competition is intense, highly competitive and it requires an extraordinary commitment from our students, faculty and industry supporters. Our students competed against the biggest construction schools in the country (over 54 schools participated). Due to Bret's and Chad's commitment to our students, we took second place in the mixed-use category and first place in the alternate competition. Our teams were also competitive in the heavy civil, commercial and concrete solutions competitions.
Unfortunately, almost all of the competitions our student compete in each spring were cancelled due to COVID 19 restrictions.
Research Spotlight

Civil Engineering Department faculty continue to conduct relevant research in a wide variety of civil engineering specialties, including transportation, geotechnical, fluids, water resources, environmental, structural and engineering mechanics. This issue's research spotlight highlights the work Dr. Kirsten Matteson is conducting on investigating structural applications for non-traditional, more sustainable materials.
One such material is hempcrete, a cementitious material that is currently primarily used as an insulation material and is traditionally composed of lime, water, hemp hurd, and sometimes hemp fibers. Her research has shown that by decreasing the lime content and introducing cement into the mix design, both the compressive strength and modulus can be at least doubled compared to an otherwise identical mix with a primarily lime-based binder. With other adjustments to traditional mix designs, the research has also shown that batches with over 500 psi strengths can be consistently produced without using any sort of pneumatic compaction, mimicking what a builder could do onsite in tight spaces.
Collaborating with other faculty members in the department, the next phase of the project will investigate using biocementation techniques to further improve hempcrete material properties and eventually test larger members. Another research project led by Dr. Matteson is focused on investigating material properties of recycled HDPE thermoplastics with talc filler for potential use in structural applications. The research has revealed that recycled HDPE/talc blends are a viable alternative material with comparable tensile properties to the virgin counterparts. The next steps of the project include testing under different loading and temperature conditions and eventually using the recycled material in metal/plastic composite members for structural applications.
These projects are examples of the relevant, interdisciplinary research being conducted in the Civil Engineering Department at MSU.
Focus on Facilities
This issue's focus is on Geotechnical Engineering Lab, a state-of-the-art laboratory dedicated to thermo-hydro-mechanical testing of soil/frozen soil and other granular materials. The geotechnical engineering lab has standard soil testing equipment including soil classification, compaction, consolidation, direct shear, permeability, unconfined compression and stress and strain controlled monotonic triaxial devices. Specialized research equipment includes:
Two TruePath automated stress path systems (a GEOTAC product) designed specifically for monotonic testing of soil samples with 5 and 10 cm diameters under saturated conditions.
DigiChill triaxial system (a GEOTAC product) designed specifically for monotonic testing of soil/frozen soil samples with 5 cm diameter under saturated conditions.
ELDYN dynamic triaxial testing system (a GDS product) capable of thermo-hydro-dynamic testing of soil/frozen soil samples with 5 and 10 cm diameters under saturated and unsaturated conditions.
TEMPOS Thermal Properties Analyzer package to measure thermal properties of soil including conductivity, resistivity, and volumetric heat capacity.
The Geotechnical engineering lab is available for projects by Department and University faculty as well as private industry.
Announcements
Career Services will be hosting our 33rd Annual Fall Career Fair on Wednesday, October 7 and 8, 2020. Like most everything else these days, the event will be virtual. If you are looking to Hire a Bobcat, consider attending the fair. For more information visit the career fair website.
Philanthropic Opportunities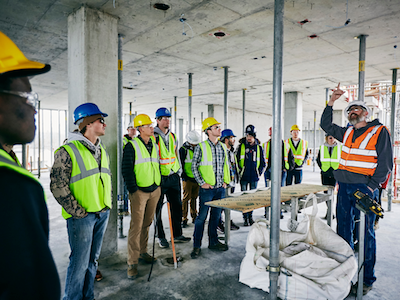 The future of civil engineering, environmental engineering and construction engineering technology is changing quickly. Aging infrastructure, new materials, climate risks and a convergence of technologies are reshaping how we design, build, operate and maintain our infrastructure. There has never been a more exciting time to be a student in the Department of Civil Engineering. And there has never been a more challenging time to educate tomorrow's engineers with the technical and power skills they need for success.
Our Building the Future initiative is an effort to build a collaborative partnership between Montana State University's Civil and Environmental Engineering and Construction Engineering Technology programs and our partners in the industry. Our goal is to provide a workforce of well-prepared engineers ready to work in Montana and beyond.
As a partner, you can provide transformational support for:
Scholarships at both the undergraduate and graduate level. Scholarships make it financially viable for students to focus on coursework and participate in educational activities outside the classroom. Many students could not complete their degrees without the financial support provided through scholarships.
Provide high quality, high impact experiences that includes supporting student participation in professional societies and engineering competitions, conducting field trips to engineering and construction projects, supporting student participation in professional conferences and training events and provide opportunities for international exchange programs.
Ensuring our faculty are trained on new engineering tools, techniques and industry trends. With the current pace of change, faculty need to continually update their knowledge and skills to provide relevant education.
Enhancing our curriculum by bringing practitioners into the classroom. Many practicing professionals are eager to share their knowledge with MSU students. Resources to facilitate the development and delivery of courses (existing and new) by practicing professionals keeps our curriculum current and unique. And it allows us to rapidly respond to evolving workplace needs.
Improving our laboratories, equipment and software to stay current with industry needs.
If you would like more information about the Department's Partners Program, please contact Craig Woolard at 406-994-7402 or by email at [email protected]