Hiring for Fall 2021
Culinary Services Associate positions range from entry level to student managers, and from front line positions such as baristas to behind-the-scenes roles in warehouse and cleaning. No experience? We'll provide all the training you need. Work Study is accepted!
Departments that you can work with include: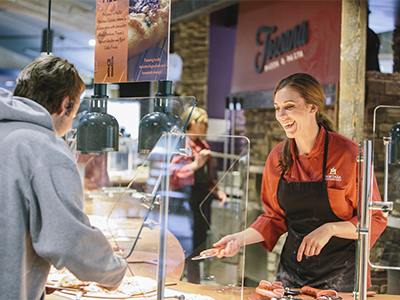 Bobcat Concessions
Indulge Bakery and Salad Department
Residential Dining Halls: Rendezvous Dining Pavilion or Miller Dining Commons
Retail Coffee Shops
SUB Retail Operations
University Catering
Incentives include:
Learn culinary and baking skills
Opportunity to learn management skills
Active work environment
Choose the schedule that works for you
Starting wages vary per position: $9/hour to $11/hour
Work up to 20 hours/week during the academic year, with potential to work up to 40 hours/week during the summer
denotes required fields.