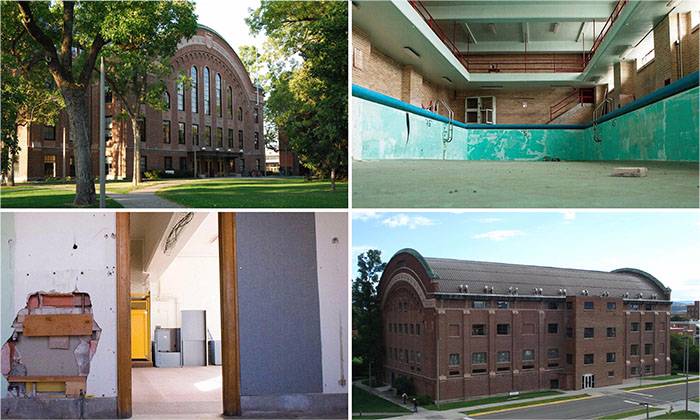 Legislature approves $25 million for renovating and repurposing Romney Hall
April 18, 2019
Dear MSU Community,
I have some exciting news this afternoon. The Montana Legislature has approved $25 million for the renovation and repurposing of Romney Hall, $4.25 million for the expansion of the dental hygiene program at Great Falls College MSU and $2 million for the construction of four greenhouse laboratories for agricultural research around the state as part of our Montana Agricultural Experiment Station.
The projects were part of House Bill 652, which also contains funds that will help school districts, towns and counties across the state repair important infrastructure like water systems, sewers, bridges, roofs, and boilers, as well as many other needs.
Montana State has been attempting to get funding for Romney Hall since the fall of 2010. Today's final vote has been hard won and a long time coming. With these funds, Romney will go from a marginally useable building with only four classrooms to a pivotal academic building for the campus with 19 classrooms and more than 1,000 classroom seats. It will have a writing center, math center and a greatly expanded center for our veterans. This will be a building that nearly every MSU student will use for generations to come.
I want to say some special thank yous: Rep. Mike Hopkins, R-Missoula, was the sponsor of House Bill 652 and worked tirelessly to get it passed this session. Sens. Ryan Osmundson, R-Buffalo, and Cary Smith, R-Billings, made an important amendment that helped move the entire infrastructure package forward. Senate Majority Leader Fred Thomas, R-Stevensville, worked doggedly to move his caucus to support infrastructure for the benefit of the state. And today, during the final vote on House Bill 652, Sen. Mike Cuffe, R-Eureka, rose to the defense of Romney on the Senate floor.
Please know that during its final vote, 40 out of 50 members of the Montana Senate voted to pass House Bill 652. Democrats in both the House and the Senate were a stalwart block of support, particularly under the guidance of Sen. Jon Sesso, D-Butte, who is respected by both sides of aisle and is ending his legislative career after serving a remarkable eight sessions. Finally, none of this would have been possible without the unwavering support of Gov. Steve Bullock, who believed in Romney and put it into his original budget proposals session after session. More legislators than I can name here helped the university system on this important piece of legislation over the years and on behalf of our students, and they have my heartfelt thanks.
Thanks also goes to the ASMSU Senate, which, over the years, has passed important resolutions in support of Romney, and to successive ASMSU presidents and vice presidents who have worked on the issue. This session, I want to say thank you to Geneva Zoltek, ASMSU lobbyist, and Sam Forstag, lobbyist for the Montana Associated Students. They both did incredible work this session representing students not just on Romney but on a huge range of issues. They were a great team with Tracy Ellig, our man in Helena for these past four sessions, who can give a tour of Romney blindfolded. Please join me in thanking Tracy for his extraordinary dedication and tenacity toward these efforts.
To our alumni and friends, thank you for your work in advocating for this project. You've been there for MSU and our students in countless ways, especially those of you who have worked with Alison Hupp, of the MSU Alumni Foundation, in taking the time to be educated about important issues facing the university and then helping find solutions.
I will end with one final, big, piece of news. While a final vote on the bill has not been taken, it appears the Legislature will appropriate enough funds in House Bill 2 for resident undergraduate tuition to remain frozen for the next two years. This is an incredible vote of confidence in our students and the potential they hold for making our state, our nation and our world a better place.
Again, my thanks to all who have worked so hard in the Montana Legislature on behalf of our students.
Sincerely,
Waded Cruzado
President, Montana State University
---
Constructed in 1922 as MSU's original state-funded and physical education building, Romney Hall is now obsolete and in need of a complete renovation.
Romney Hall currently has four marginal classrooms with 140 classroom seats. Thousands of square feet in the building are unusable. Post-renovation Romney Hall will have 18 classrooms with more than 1,000 seats – this is a 12 percent increase (significant) to the campus' classroom seat inventory. Those 1,000+ seats will be used at least nine hours a day, which means the building will be providing 9,000 to 10,000 classroom-seat hours for students per day, or more than 1 million classroom-seat hours per academic year.
A renovation of Romney Hall will improve programs that directly serve students by adding classrooms, a new veterans' center, new disabilities services center, new writing and math centers and new student study rooms. MSU currently serves the largest number of Montana residents in its 123-year history, 10,177, from all 56 counties of the state.
For questions or comments, please contact Tracy Ellig, vice president of University Communications, at [email protected] or (406) 994-5607.
Romney Hall Renovation
The Need for Romney Hall
The renovation of Romney Hall will repurpose a 1922 nonfunctional gym into much needed instructional space — more than 1,000 classroom seats — that will benefit students that come to Montana State University from every corner of the state of Montana. Romney Hall's renovation is focused on adding classrooms and space for three high-impact centers with a demonstrated record of helping students stay in school and graduate.
Record Student Enrollment
MSU is the largest, fastest growing university in Montana. It has grown 37 percent, or 4,533 students, in the past 10 years.
Veteran enrollment at MSU is 539 students. MSU's current Veterans Center is a 750-square-foot room in the basement of the Strand Union Building. The center is so heavily used by veterans that at peak times many are turned away because of crowding.
Emphasis on Student Success and Graduation
MSU has the highest retention and graduation rates in the past 30 years. At MSU, we know that our job is not only to recruit students, but to help students stay in school and graduate.
The renovation of Romney Hall will offer students dedicated services for math, writing and veteran's centers. The data clearly shows that these three centers help students improve their academic performance and graduate on time; the data also shows that these services have met and exceeded their capacity due to space constraints.
The MSU Math Learning Center has grown more than 19 percent in just the last five years. We know that success in math courses is a key factor in students staying in school and graduating on time. MSU's Math Learning Center in Wilson Hall can't meet the demand. For example, calculus review sessions are attracting 100 to 180 students in a room that has a seating capacity for 50 students.
The demand for the MSU Writing Center has grown more than 36 percent in the last five years. This fall demand grew so much the center extended its hours until 8:30 p.m. The center has no room to handle walk-in appointments or group sessions. Faculty have reported that students using the Writing Center score a full letter grade higher than their peers who did not use the center.
Space Utilization
MSU has the least amount of gross square feet per student of any campus in Montana. While MSU Bozeman operates at 119 GSF/student, the Montana University System average is 180 GSF/student, or 33 percent more space than the Bozeman campus.
MSU has the highest classroom utilization rate in Montana and among the highest in the nation. Utilization averages in the 70 percent range and reaches highs of 90 percent during the week.
Romney Hall's current classroom seat capacity is 140. Post renovation, the building would have more than 1,000 classroom seats.
Additional space for faculty and staff from the College of Education Health & Human Development who currently use Romney Hall is needed. To repurpose current space into more than 1,000 classroom seats means finding new space for faculty and staff who currently use the building: the renovation of Romney Hall would add space for Education, Health & Human Development and for ROTC storage in different locations on campus.
To address its growth, MSU has either raised from private donors and grants, or bonded itself, more than $308 million in the past eight years to address its needs for classrooms, residence halls and dining halls. None of these dollars came from Legislative appropriations.