Youth Aware of Mental Health
Suicide Prevention Month

#BeThe1To is the National Suicide Prevention Lifeline's message for National Suicide Prevention Month and beyond, spreading the word about actions we can all take to prevent suicide. The Lifeline network and its partners are working to change the conversation from suicide to suicide prevention, to actions that can promote healing, help and give hope. Together, we can prevent suicide by learning to help ourselves, help others, seek consultation from trained providers (hotlines and clinicians), and to seek hospital care when necessary. Check out their website for additional information.
Resources at MSU
Training Programs: Recognizing the Warning Signs of Suicide
If you are interested in participating in training programs offered to increase awareness of warning signs, learn how to refer a friend or fellow student for support, please visit the Suicide Prevention Programming website. Sessions start September 9!
How to Help Yourself and Others
MSU Assist: A community guide on how to help someone who is struggling
If you are concerned about the welfare of another student and it is not an emergency, you can complete a Care Referral and someone from MSU will reach out to the student to offer resources or other support.
If you or a friend are ever in crisis or are thinking of acting on suicidal thoughts, please use the following 24-hour crisis resources:
University Police Department – 911
Bozeman's Help Center - 406-586-3333
Crisis Text Line - 741741
Suicide and Crisis Lifeline - 988
Youth Aware of Mental Health- Newsy Interview
YAM was recently featured in Newsy! YAM Program Manager Kelley Edwards sat down with Newsy Correspondent Maritsa Georgiou, to discuss the concerning decline of youth mental health in Montana and to highlight what YAM and other organizations are doing to help.
Check it out: https://www.newsy.com/stories/swedish-program-fights-teen-suicide-in-montana/
Youth Aware of Mental Health Program
In 2019, Montana had the highest suicide death rate in the nation at 26.17 suicide deaths per 100,000 (the national rate was 13.93/100,000). This means that more than four times as many people died by suicide than in alcohol-related motor vehicle accidents.
For Montana's youth, the reality is particularly grim as suicide is the second leading cause of death for youth ages 15-24. From 2012-16, the Montana youth (ages 11-17) suicide rate was 12.6/100,000; this was almost triple the national rate for the same age group (4.5/100,000). The 2021 Youth Risk Behavior Survey conducted by the Montana Office of Public Instruction (OPI) found that during the 12 months before the survey:
41.4% of grades 9-12 students reported feeling sad of hopeless for more than 2 weeks
10.2 of grades 9-12 students made a suicide attempt
17.6% American Indian students attempted suicide one or more times
21.7% of grades 9-12 students seriously considered suicide
What is Youth Aware of Mental Health?
Youth Aware of Mental Health (YAM) is a universal classroom mental health promotion program that aims to raise mental health awareness about risk and protective factors associated with suicide, including knowledge about depression and anxiety, and to enhance the skills and emotional resiliency needed to deal with stress and crisis. The adolescents learn from both a professional and from each other through a mix of cognitive, emotional, and experiential learning.
The YAM program is taught by a YAM certified instructor and assistant in five one-hour highly interactive sessions to middle school and high school students. YAM provides an opportunity for students to delve into relevant topics through active discussion and role-play. These activities allow students to find solutions to difficult situations and common stressors in a fun and nonthreatening environment. Each student receives a YAM booklet that includes mental health information, coping strategies, and local and national resources.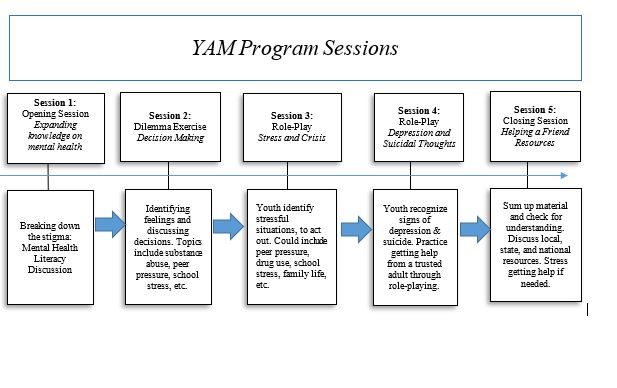 How Will My Students Benefit from the YAM Program?
The YAM program stands out among youth suicide prevention programs based on its strong research foundation of research evidence. The Saving and Empowering Young Lives in Europe (SEYLE) study was a multicenter, cluster-randomized controlled trial that studied YAM and two other intervention. The SEYLE sample consisted of 11,110 adolescent pupils, median age 15 years (IQR 14-15), recruited from 168 schools in ten European Union countries. At the 12-month follow-up, YAM was associated with a significant reduction of incident suicide attempts and severe suicidal ideation compared with the control group. Other recent studies on YAM have shown the effectiveness and sustainability of YAM in Montana.
MSU Extension: Feasibility, Acceptability, and Fidelity: Extension Agents teaching Youth Aware of Mental Health
What are the Risks?
In previous studies of YAM, no major risks were posed to the youth participants. If a student were to have a problem while participating in YAM, our certified instructors and assistants are trained to respond appropriately. Instructors will work with school counseling personnel or administration to ensure the students' needs are meet when participating in the program.
YAM in Montana
Since 2016, over 11,000 Montana students have participated in YAM. Over these last 5 years, we have been able to develop three different ways to offer YAM in schools.
In the MSU Model, the certified YAM Instructor and Assistant are employees of MSU who will come to your school to teach YAM.
In the Extension Model, the certified YAM Instructor and Assistant are local MSU Extension Agents who will come to your school to teach YAM.
In the School-Based Model, the certified YAM Instructor and Assistant are district personnel who do not have direct instructional oversight of the participating class.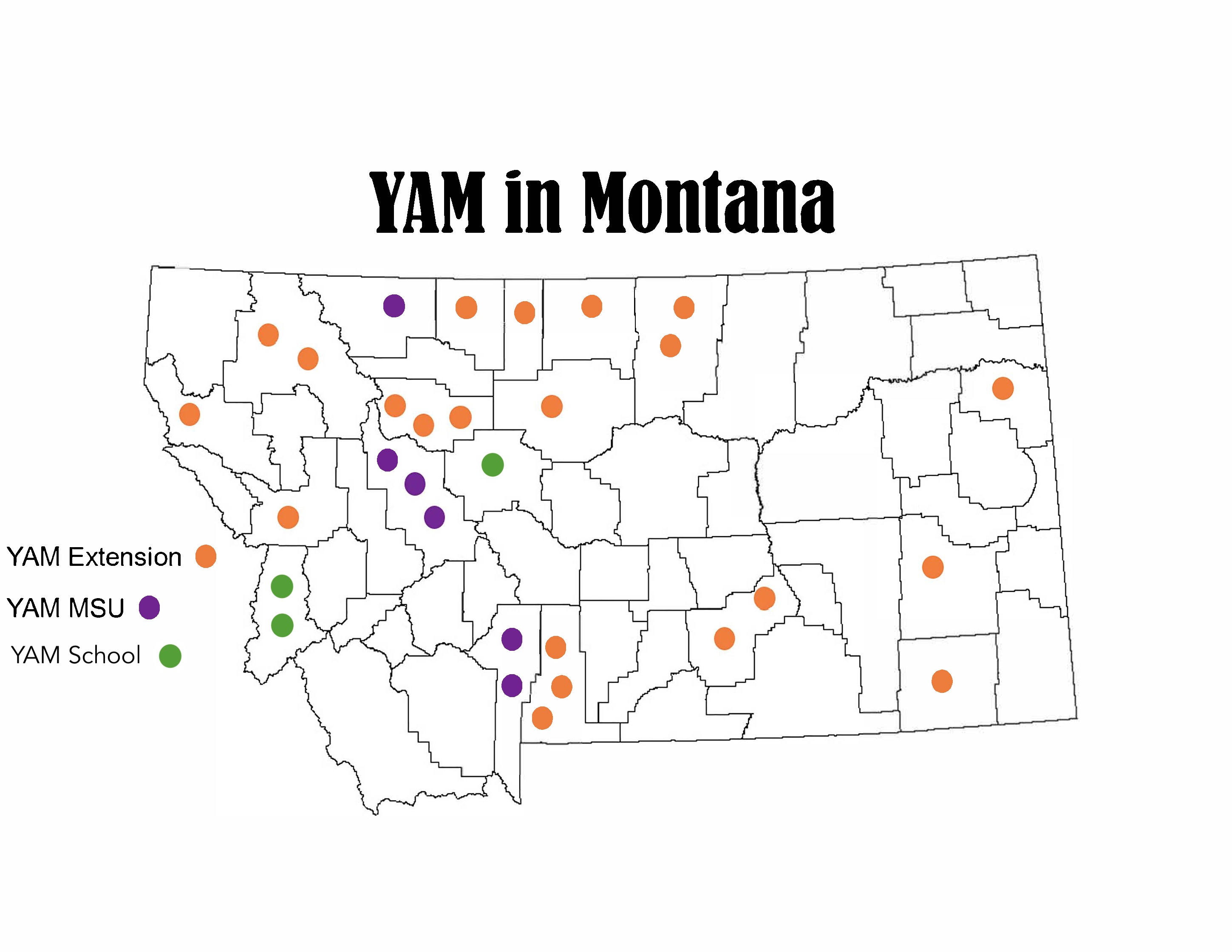 [