Working Ranch Horse Finals
The Montana 4-H Working Ranch Horse Project is a heritage-based, activity-rich program designed to pass on to today's youth traditional practices of safe livestock handling from horseback. This is not a rodeo project, but instead a practical and exciting opportunity for youth to use horses for handling, sorting and moving cattle. This project also teaches mounted roping skills as a humane and useful livestock handling tool as well as branding techniques, housing and care of cattle and horses. Like all 4-H projects, Working Ranch Horse members will develop the qualities of leadership and responsibility that come with being engaged in4-H. In today's world, managing cattle from horseback is a disappearing tradition. Ranches are increasingly automated, using four-wheelers and other machines instead of horses. Many of the skills once learned for necessity are being lost. The 4-H Working Ranch Horse Program is designed to teach and preserve the age-old skills and traditions.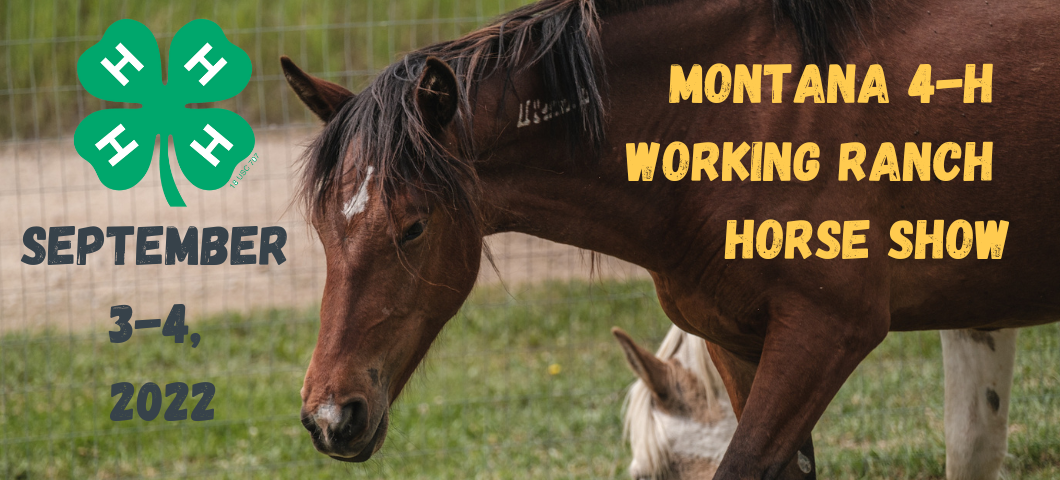 Photo Credit: Tom Aldrich
The 4-H Ranch Horse Competition will be Saturday, September 3rd starting at 9:00AM and the Versatility Ranch Horse Show will be on Sunday, September 4th starting at 8:30AM.
Saturday's competition is open to any 4-H youth enrolled in the 4-H Working Ranch Horse project (Levels 1-4). There is no requirement that youth compete at a county level or qualifying show to participate in WRHF. The 4-H youth is required to be enrolled in the same county level as the level entered in at WRHF and be in good standing as a 4-H member. One horse must be used for all classes within the level. Horse must be an approved project horse for the current 4-H year.
Each competitor will exhibit in 5 classes:
Knowledge Test

Riding a Pattern

Sorting Cattle

Roping Heading

Roping Heeling
Sunday's competition will be a Versatility Ranch Horse Show (VRH) and is open to all youth. Youth do not need to be enrolled in 4-H but will enter the appropriate age groups to compete. Age groups are based on the age of the child as of October 1, of previous calendar year. Age categories for youth are:
Juniors: 8-10 years old

Intermediate: 11-13 years old

Senior: 14-18 years old
Colt classes are for horses 5 years old and younger.
The WRHF VRH events are formatted in accordance with the Montana 4-H Working Ranch Horse project and styled after the American Quarter Horse Association (AQHA) Versatility Ranch Horse (VRH) and Stock Horse of Texas (SHOT) organizations. Rules are adapted from these organizations.
Classes include ranch pleasure/riding, ranch reining, working cow horse, and ranch trail. Exhibitors may enter any number of classes. Different horses may be ridden for separate classes. However, for overall competition winners in each division, points will only be counted from one horse/rider combination that demonstrates exceptional versatility in many areas. Exhibitors show by age or enter by age of horse in colt classes.
Working Ranch Horse Finals 2022 Results
Congratulations to our finalists!
VRH TRAIL Class Results - Sponsored by Associated Veterinary Services

| Category/ Place | Junior | Intermediate | Senior | Colts 2 & 3 | Colts 4 & 5 |
| --- | --- | --- | --- | --- | --- |
| 1st | Ariana Banner | Reagan Jassen | Leann Murphy | Dakota Woordring | Reagan Fink |
| 2nd | Kiley Wilkins | Avery Banner | Clayton Jassen | Avery Banner | Clayton Jassen |
| 3rd | Connor Fryberger | Keegan Kennedy | Anna Tretter | Carter Fryberger | Lane Smart |
| 4th | Taylor King | Ella Fryberger | Lane Smart | Asa Jassen | Carter Fryberger |
| 5th | Luke Jassen | Norah Stromberg | Dakota Woodring | Reagan Jassen | Dakota Woodring |
| 6th | Amya Otto | Aspen Smart | Carter Fryberger | Madelena Preston | Kiarra Kennedy |
VRH PLEASURE Class Results - Sponsored by Montana Cowboys Association
| Category/ Place | Junior | Intermediate | Senior | Colts 2 & 3 | Colts 4 & 5 |
| --- | --- | --- | --- | --- | --- |
| 1st | Ariana Banner | Kiley Ohs | Allie Uecker | Aspen Smart | Kiarra Kennedy |
| 2nd | Luke Jassen | Reagan Fink | Kiarra Kennedy | McCoy Banner | Reagan Fink |
| 3rd | Jimmy Fryberger | Caden Brooks | Asa Jassen | Mariah Olson | Carter Fryberger |
| 4th | Amya Otto | Keegan Kennedy | Carter Fryberger | Madelena Preston | Hannah Goffena |
| 5th | Hunter Fryer | Maddy Taylor | Clayton Jassen | Avery Banner | Clayton Jassen |
| 6th | Logan Kellom | Avery Banner | Madelena Preston | Clayton Jassen | Lane Smart |
VRH REINING Class Results - Sponsored by Cowan Select Horses
| Category/ Place | Junior | Intermediate | Senior | Colts 2 & 3 | Colts 4 & 5 |
| --- | --- | --- | --- | --- | --- |
| 1st | Ariana Banner | Makenze Woodring | Hannah Goffena | Aspen Smart | Carter Fryberger |
| 2nd | Kylee WIlkins | Reagan Fink | Asa Jassen | Madelena Preston | Hannah Goffena |
| 3rd | Connor Fryberger | Ella Fryberger | Mariah Olson | Avery Banner | Reagan Fink |
| 4th | Jimmy Fryberger | Norah Stromberg | Dakota Woodring | Clayton Jassen | Dakota Woodring |
| 5th | Logan Kellom | Keegan Kennedy | Kiarra Kennedy | Coleman Otto | Kiarra Kennedy |
| 6th | Amya Otto | Reagan Jassen | Allie Uecker | Dakota Woodring | Lane Smart |
VRH COW WORK Class Results - Sponsored by Stockman Bank
| Category/ Place | Junior | Intermediate | Senior | Colts 2 & 3 | Colts 4 & 5 |
| --- | --- | --- | --- | --- | --- |
| 1st | Arianna Banner | Reagan Fink | Hannah Goffena | Avery Banner | Hannah Goffena |
| 2nd | Connor Fryberger | Makenze Woodring | Carter Fryberger | McCoy Banner | Asa Jassen |
| 3rd | Jimmy Fryberger | Reagan Jassen | Mariah Olson | Madelena Preston | McCoy Banner |
| 4th | Emma Brown | Caden Brooks | Coleman Otto | Asa Jassen | Carter Fryberger |
| 5th | Kylee Wilkins | Avery Banner | McCoy Banner | Dakota Woodring | Reagan Fink |
| 6th | Luke Jassen | Norah Stromberg | Anna Tretter | Mariah Olson | Kiarra Kennedy |
VRH Overall Placings
| Category/ Place | Junior | Intermediate | Senior | Colts 2 & 3 | Colts 4 & 5 |
| --- | --- | --- | --- | --- | --- |
| 1st | Ariana Banner | Reagan Fink | Carter Fryberger | Avery Banner | Reagan Fink |
| 2nd | Connor Fryberger | Reagan Jassen | Hannah Goffena | Madelena Preston | Carter Fryberger |
| 3rd | Jimmy Fryberger | Avery Banner | Mariah Olson | Dakota Woodring | Hannah Goffena |
| 4th | Kylee Wilkins | Caden Brooks | Kiarra Kennedy | Asa Jassen | Kiarra Kennedy |
| 5th | Amya Otto | Keegan Kennedy | Lane Smart | McCoy Banner | Clayton Jassen |
| 6th | Luke Jassen | Makenze Woodring | Anna Tretter/ Asa Jassen | Carter Fryberger | Asa Jassen / Lane Smart |
TOP HAND AWARDS
| Category/ Place | Junior | Intermediate | Senior |
| --- | --- | --- | --- |
| 1st | Luke Jassen (811 points) | Caden Brooks (770 points) | Carter Fryberger (813 points) |
| 2nd | Jimmy Fryberger (785 points) | Reagan Jassen (768 points) | Asa Jassen (776 points) |
| 3rd | Connor Fryberger (742 points) | Kiley Ohs (741 points) | Leann Murphy (768 points) |
| 4th | Logan Kellom (739 points) | Avery Banner (732 points) | Clayton Jassen (767 points) |
| 5th | Kylee Wilkins (719 points) | Reagan Fink (730 points) | Mariah Olson (765 points) |
| 6th | Mesa Scalese (714 points) | Norah Stromberg (714 points) | Coleman Otto (761 points) |
4-H Pattern Class Results
| Category/ Place | Level 1 | Level 2 | Level 3 | Level 4 |
| --- | --- | --- | --- | --- |
| 1st | Kylee Wilkins | Leanne Murphy | Aspen Smart | Carter Fryberger |
| 2nd | Luke Jassen | Kiley Ohs | Dakota Woodring | Caden Brooks |
| 3rd | Connor Fryberger | Reagan Fink | Mariah Olson | Asa Jassen |
| 4th | Logan Kellom | Hannah Goffena | Clay Stott | Clayton Jassen |
| 5th | Jimmy Fryberger | Keegan Kennedy | Anna Tretter | Coleman Otto |
| 6th | Mesa Scalese | Carson Fryer | Norah Stromberg | Lane Smart |
4-H Heading Class Results
| Category/ Place | Level 1 | Level 2 | Level 3 | Level 4 |
| --- | --- | --- | --- | --- |
| 1st | Logan Kellom | Shealyn Berner | Avery Banner | Caden Brooks |
| 2nd | Luke Jassen | Kora McCray | Tanner Stott | Coleman Otto |
| 3rd | Mesa Scalese | Taylor Kellom | Clay Stott | Carter Fryberger |
| 4th | Jimmy Fryberger | Kaylee Otto | Mariah Olson | Reis Speer |
| 5th | Connor Fryberger | Samantha Lee | Dakota Woodring | Asa Jassen |
| 6th | Kylee Wilkins | Kiley Ohs / Reagan Jassen | Kiarra Kennedy | McCoy Banner |
4-H Heeling Class Results
| Category/ Place | Level 1 | Level 2 | Level 3 | Level 4 |
| --- | --- | --- | --- | --- |
| 1st | Luke Jassen | Reagan Jassen | Aspen Smart | Clayton Jassen |
| 2nd | Jimmy Fryberger | Taylor Kellom | Mariah Olson | Carter Fryberger |
| 3rd | Connor Fryberger | Cale Fryberger | Norah Stromberg | Asa Jassen |
| 4th | Kylee Wilkins | Carson Fryer | Kiarra Kennedy | Coleman Otto |
| 5th | Taylor King | Kiley Ohs | Clay Stott | McCoy Banner |
| 6th | Lynsie Pond | Regan Jassen | Tanner Stott | Caden Brooks |
4-H Knowledge Test Results
| Category/ Place | Level 1 | Level 2 | Level 3 | Level 4 |
| --- | --- | --- | --- | --- |
| 1st | Mesa Scalese | Reagan Jassen | Kiarra Kennedy | Asa Jassen |
| 2nd | Luke Jassen | Leann Murphy | Tanner Stott | Carter Fryberger |
| 3rd | 3rd / 4th: Jimmy Fryberger | Hannah Goffena | Anna Tretter | Clayton Jassen |
| 4th | 3rd / 4th: Justine Curry | Shealyn Berner | Mariah Olson | Allie Uecker |
| 5th | 5th / 6th: Kylee Wilkins | Madelena Preston | Clay Stott | Coleman Otto |
| 6th | 5th / 6th: Talon King | Kiley Ohs / Keegan Kennedy | Norah Stromberg | Caden Brooks |
4-H Overall Placings
| Category/ Place | Level 1 | Level 2 | Level 3 | Level 4 |
| --- | --- | --- | --- | --- |
| 1st | Luke Jassen | Reagan Jassen | Clay Stott | Carter Fryberger |
| 2nd | Jimmy Fryberger | Leann Murphy | Mariah Olson | Coleman Otto |
| 3rd | Logan Kellom | Kiley Ohs | Tanner Stott | Asa Jassen |
| 4th | Mesa Scalese | Taylor Kellom | Dakota Woodring | Caden Brooks |
| 5th | Connor Fryberger | Hannah Goffena | Norah Stromberg | Clayton Jassen |
| 6th | Kylee Wilkins | Shealyn Berner | Kiarra Kennedy | Reis Speer |