Ferguson the Forgetful Frog: A Story About Dementia
Reading Guide
---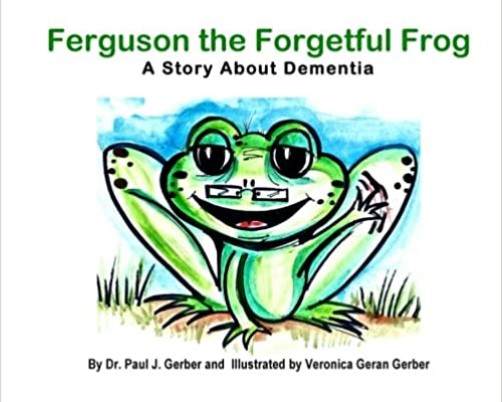 By Dr. Paul J. Gerber
Illustrated by Veronica Geran Gerber
---
About this Program


The MSU Extension Alzheimer's Dementia Awareness for ChildrenStorybook program is designed to teach children about a form of dementia.

The goals of the program are:
1) increase awareness and knowledge about Alzheimer's (a form of dementia) and
2) provide supportive resources to children and families when they have a loved one diagnosed with Alzheimer's.

The authors of this reading guide are:


Jennifer Munter, Volunteer Program Coordinator. Jennifer is a former Early Childhood Educator and has worked with children and their families for over 15 years.


Marsha A. Goetting, MSU Extension Family Economics Specialist


Keri Hayes, MSU Extension Program Assistant
Brief Summary


This is a story about a frog named Ferguson who has dementia. The author uses this animated character to help young children understand and talk about dementia.

The difficulties someone with dementia could experience, the feelings they could have, and the behaviors they show because of dementia are explained within the storybook.

The storybook provides the young reader the knowledge and awareness they need to interact with a loved one in a caring and empathetic way.
Questions to Ask


People all over the world can have dementia just like people all over the world can have the same name as yours. What does it mean to have dementia?


Ferguson has some memory loss and can't remember lots of things. What are some of the things Ferguson forgets? What is the one thing that makes Ferguson happy every day?


Ferguson has lived a long time. His life has gotten more difficult. But he wants to be remembered. What does Ferguson want to be remembered for?
Activity Enrichment


Download and print the Frog coloring page and hearts below: Color together the frog coloring page with your child and have an open discussion about dementia. Cut out the hearts and glue them to your frog. On the coloring page, feel free to write any endearing comments your child may have had during your discussion.


Common Reactions


Dementia is a complex condition. When children are not given the knowledge and awareness to process something new, they will ultimately reach their own conclusions, beliefs, and feelings. These will either be wrong or partially wrong and can result in feelings of guilt, rejection, and helplessness. Providing resources and discussions with children can help them understand dementia so they can interact with their loved ones with care and understanding.
Other Books in this Program


Other Storybooks and Reading Guides can be found at: https://www.montana.edu/extension/alzheimers/booksandreadingguides.html
---
Funding for purchase of the storybooks in this program have been made possible by a grant from the Montana Geriatric Education Center at the University of Montana, AARP Montana, and by the Endowment fund from National Extension Association of Family & Consumer Sciences (NEAFCS).