Storybooks About Alzheimer's
Below are the descriptions of the storybooks with reading guides:


---
Below is a list of other storybooks: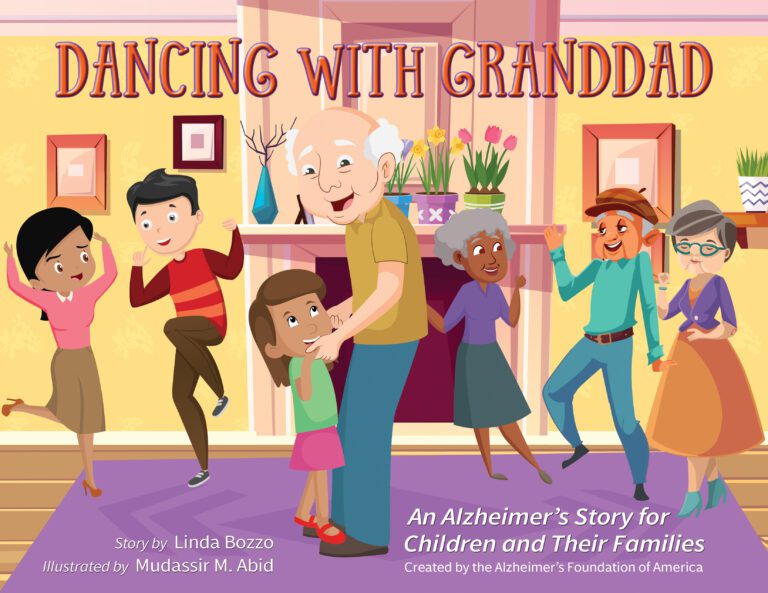 Dancing With Grandad: An Alzheimer's Story for Children and Their Families
Author: Linda Bozzo
Illustrator: Mudassir M. Abid
Description: Dancing with Granddad is a teaching tool adults can use to have a conversation with a child about Alzheimer's disease. The book takes young readers on the journey of learning in an age-appropriate way that seven-year-old Nia's Granddad has Alzheimer's and will need to move to a new home. They also learn that while Nia's Granddad is changing, the love they have between them never will. Suggested for children ages 5 through 8. Alzheimer's Foundation of America has published the book. https://shop.alzfdn.org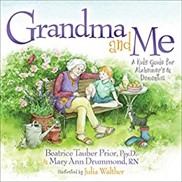 Grandma and Me: A Kid's Guide for Alzheimer's and Dementia
Authors: Beatrice Tauber Prior and Mary Ann Drummond
Illustrated by: Julia Walther
Description: Beatrice and Mary Ann combine their years of clinical experience to create a truly engaging, yet informative book for young children on the topics of Alzheimer's and dementia. The beautiful artwork will capture children's attention and bring them into the story. Grandma and Me provides a gentle, yet age appropriate description of Alzheimer's disease, while providing tools to help children continue to have a relationship with their loved one despite the disease. It addresses a difficult topic with love and understanding and provides the tools for children to successfully navigate the journey ahead.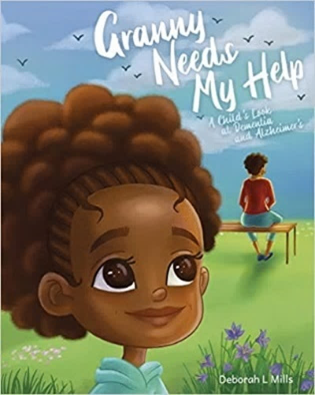 Granny Needs My Help: A Child's Look at Dementia and Alzheimer's
Author: Deborah L. Mills
Illustrated by: Julia Walther
Description: This Alzheimer's book for children explains Alzheimer's in kid-friendly terms. The book presents memory loss in an easy-to-understand narrative. Zeh discovers what is going on with her granny's brain. The book peers into the feelings and confusion children can face when a loved one is diagnosed with memory loss like Alzheimer's. The book presents memory loss in an easy-to-understand narrative. The storybook follows a family facing their challenge together and making the most of every available moment.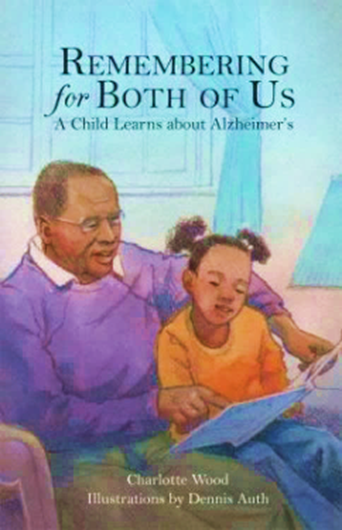 Remembering for Both of Us: A Child Learns about Alzheimer's
Author: Charlotte Wood
Illustrated by: Dennis Auth
Description: Tasha loves her grandfather, and she knows that PaPa loves her. But lately, PaPa has begun to forget things. He is often confused and upset. Sometimes, he does not even recognize his own family. How can Tasha's grandmother help her see that while PaPa is changing, his love for Tasha has not? Remembering for Both of Us is a touching story of a child's first glimpse of Alzheimer's and a reminder that ties of the heart transcend age and illness.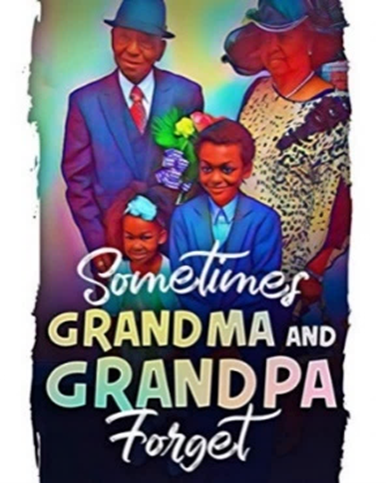 Sometimes Grandma and Grandpa Forget
Author: Kacy C. Chambers
Editor: Dr. Carolyn M. Johnson
Description: Children understand far more than adults often give them credit for. They are observers. They recognize changes. When the people they love begin behaving differently, often, children are the first to notice. That's when adults should step in and answer their questions, listen to their concerns, provide guidelines, and help them brainstorm ways to help those suffering from dementia or its most common cause—Alzheimer's.Written in a children's story format, this bookprovides the perfect platform for parents to begin a much-needed conversation and help ease children's worries. Starting from a place of knowledge will empower them to continue to love, assist where possible, and understand that dementia is a disease that affects people; it shouldn't define them.


---
We were unable to find any storybooks about Alzheimer's disease for Native American children. However, we discovered there are educational materials for adults about Alzheimer's disease.
Booklet: Memory Loss and Alzheimer's Disease in Native People
https://alz.org/media/Documents/Memory-Loss-and-Alzheimer-s-Disease-in-Native-People.pdf
Author: Bureau of Health Professional, Health Resources and Services Administration, Department of Health and Human Services
Description: Alzheimer's is a devastating disease. American Indian people are not strangers to Alzheimer's. This tragic condition has affected Tribal Elders. Families are faced with the struggle of understanding how to cope with caring for their loved ones who have been touched by Alzheimer's while at the same time caring for their children.
Booklet: Road Map for Indian Country
https://www.cdc.gov/aging/healthybrain/indian-country-roadmap.html
Alzheimer's disease is the most common type of dementia, and with greater age comes increased risk. Between 2014-2060, the number of American Indian and Alaska Natives aged 65 and older living with memory loss is projected to grow over five times. Today, one of every five American Indian and Alaska Native adults aged 45 and older reported experiencing subjective cognitive decline—increased difficulty in thinking or remembering over the past year—which can be a precursor to dementia.
Below are fact sheets for download and printing for reference: