Next Steps to Complete Your Registration for Access to the Course
You have completed part one of registering for the class. Next, complete your registration for access to the course material through our partner for the course, Utah State University Extension using the five steps below.
1. Complete the application for the course at the Utah State University Rural Online Initiative Application website
2. Select the Certified Remote Work Professional option under "Course Type". ( pictured below).
3. Enter Participation Code MSUE2021. This tells them you have already paid for the course. (pictured below)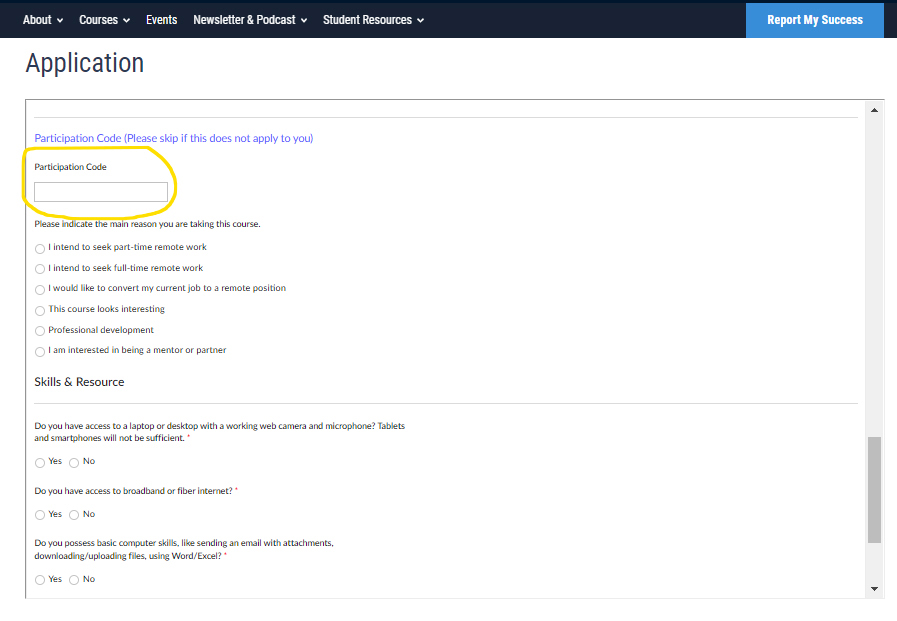 4. After you complete the application, watch for emails to access the course from "USU Online Courses [email protected]".
A welcome email will come 1 to 7 days prior to the first day of the class. Check your junk mail if you don't see anything.
Click on the link in the welcome email to gain access to the course material.
5.Other items to note:
The course content comes from Utah State University Extension and is hosted by the website Instructure using the Canvas online learning application.
Look for emails listing tutorial videos about the three most used programs in the course which are Canvas, Zoom and Slack. The videos are great to help you learn about these important programs.