What is Reimagining Rural?
Reimagining Rural is a program to increase volunteer engagement in rural communities. Reimagining Rural communities each host an in-person gathering for their local volunteers and leaders to watch rural-focused speakers via Zoom. Following the speakers, each community has their own local discussion about the ideas they heard from the speaker and how they might apply locally.
---
2023 Reimagining Rural Inspiration Hour
Making things happen in small towns.
The Third Wednesday of each month from 11:30-12:45 via WebEx.
Visit here for more information.
Reimagining Rural Gathering - June 13, 2023 - Townsend, MT.
---
2022 Reimagining Rural recordings:
Help your local leaders get energized and re-think what is possible by participating in the
2022 Reimagining Rural Virtual Gatherings.
Participating communities:
Receive up to $200 to defray costs of local event.
Have community coaching available as you plan your local event.
Receive free facilitator training for the local facilitator you chose.
Receive individualized free marketing materials to assist in local promotion.
Have access to county data on some of the changes happening.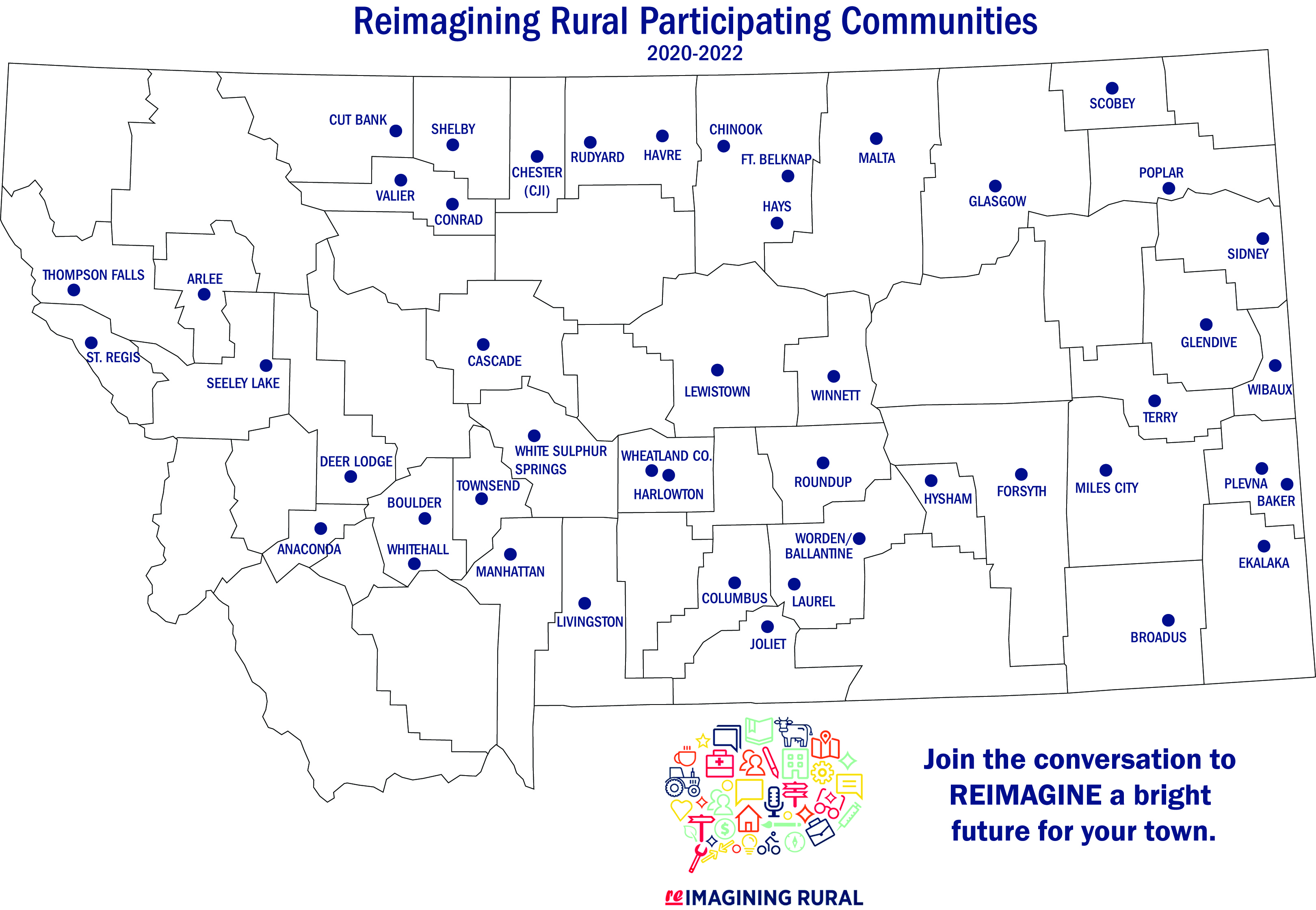 ---
2021 Reimagining Rural recordings:
September 13, 2021.

Rewriting the Rural Narrative.

Reframe your view of rural with "Brain Gain" author Ben Winchester. View the recording of the September 13th talk here: https://youtu.be/CE4y_YAGhAs .
September 27, 2021.

We did it and you can too!

Short stories of successful projects from rural Montana community leaders that made things happen. View the recording of the Sept 27th session here:
October 4, 2021.

Winning in Winnett MT

. Hear about how residents in Winnett MT, population 182, went from possible dissolution of their county to a robust Beef to Schools program, new housing and construction of a new community center. View the recording of this session here: https://youtu.be/BYzhALyfQco .
---
2020 Reimagining Rural recordings: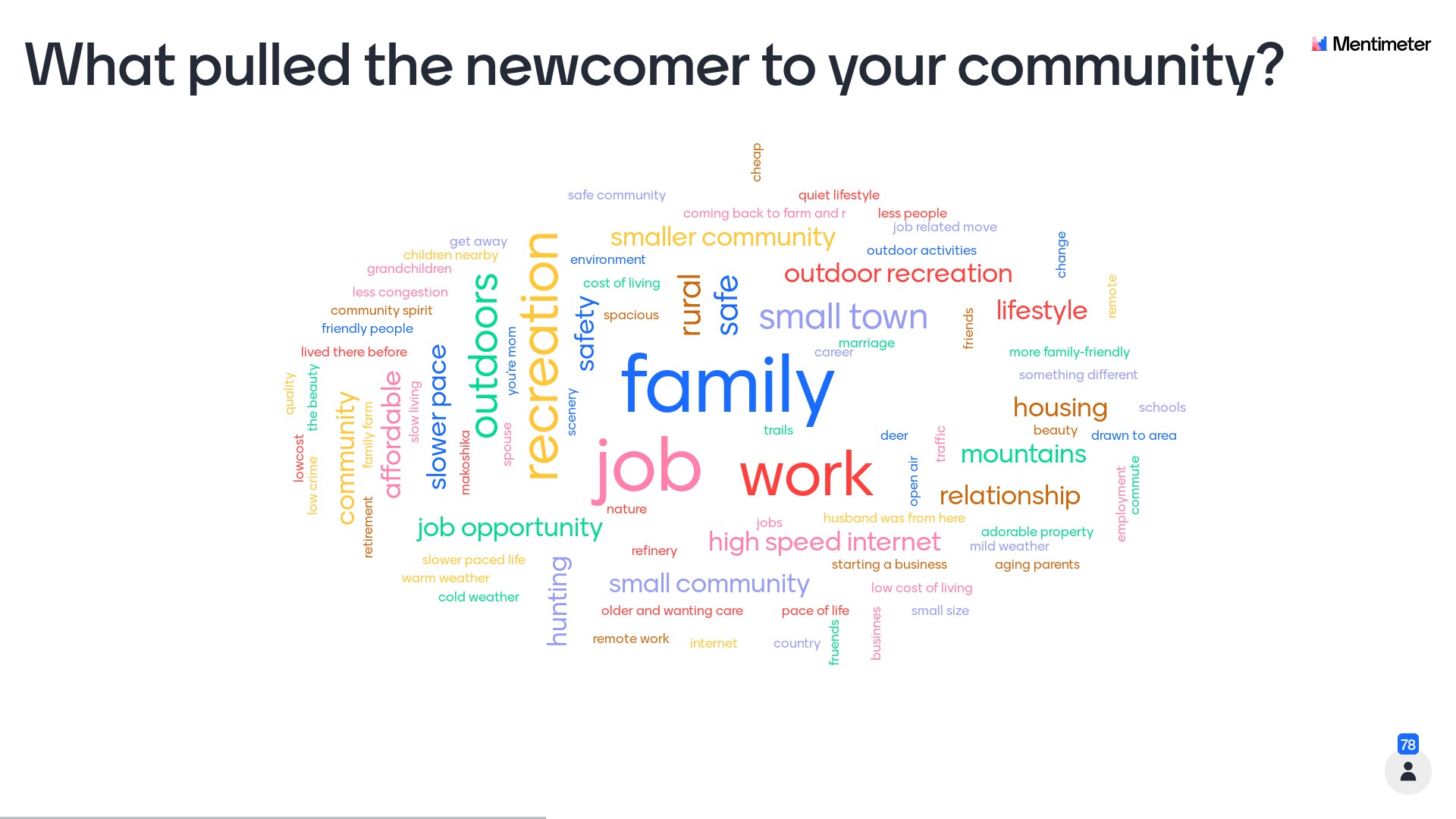 ---
How it all started. The Fall 2019 In-Person Event

The Reimagining Rural Planning team hosted an in-person event in Harlowton attended by over 100 people in September 2019 to learn about and discuss rural issues with other statewide counterparts. The goal was to raise awareness about rural and build relationships among organizations that have a stake in the success of rural communities.
The Reimagining Rural event had a significant positive impact on the attendees and the audience as indicated by the positive evaluations and the interest in sharing the message of the keynote speaker, Ben Winchester, from the University of Minnesota Extension Center for Community Vitality. Winchester's "Brain Gain" and positive message about rural life was so relevant that three different organizations invited him to give the keynote address at three separate events in Montana during the spring of 2020.
Bringing Reimagining Rural to Rural
Following the success of the in-person event, the Reimagining Rural planning committee was awarded an outreach grant by Montana State University to recreate the in-person event remotely in 20 rural communities across Montana. The goal of the virtual event was to bring the important message shared by Winchester directly to groups in rural communities so they can learn new ideas and gain inspiration to take positive action in their communities. The resulting program was initially planned for the spring of 2020 but was rescheduled for Fall 2020.
Rescheduled and Expanded Thanks to Additional Partners
Thanks to a partnership with The Burton K. Wheeler Center and additional support from the Montana Community Foundation, we were able to increase the number of communities participating in the fall 2020 program and we were able to expand the program to three days.