MSU Extension Custer County - Agriculture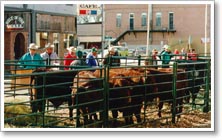 Downtown Miles City Beef Breeders Show
Welcome to Custer County Extension Agriculture Site
We provide educational programs through out the year. An upcoming program coming up that happens on a yearly basis is Cow Capital Beef Day. The goal for this educational seminar is to develop programs centered around the current topics in the Beef Industry.
We provide programs based on county needs and will periodically offer programs to mee those needs. We are also availabe upon request for specific programs that you may wish to see presented, so if you identify a need that is not being met in the area that can be addressed through education, give us a call.
Custer County Weed Cooperation
The Custer County Extension Office in conjunction with the Custer County Weed Department offers several services and programs to thcounty residents. Weed identification and help with management programs are greatly utilized services. The department has several 4-wheeler sprayers, backpack sprayers, and a truck slide-in unit available for loan at no cost to the landowner. Our chemical cost-share program continues to be of great help to private landowners as a tool in weed management efforts.
Weed Sites:
Montana Weed Control Association
Resource Links: