4H Newsletter November 2022
Custer County Extension Office 1010 Main St. Miles City, MT 59301
Phone: 406-874-3370 Fax: 406-874-3454 [email protected] Website: https://custer.msuextension.org/
MSU Extension Agents: Jackie Rumph and Mike Schuldt Extension Administrative Assistant Jessica Blakenship
Welcome to the 4-H New Year
Welcome new and experienced 4-H families. We are excited you are joining us for another year in 4-H. In this newsletter you will find a letter about communication guidelines for our 4-H community, our schedule and club assignments for county events, and 4-H building cleaning schedule. Today you are receiving this newsletter in the mail and as an e-mail.
If you would like to receive this newsletter in the future as a hard copy, please let our office know, otherwise future letters will be sent via the e-mail you provided in z-suite.
Zsuite 4-H Enrollment Open
This year all members and leaders will enroll themselves through the ZSuite program. Instructions for enrollment can be found on the state 4-H website . Should you have questions, please use the ZSuite Live Chat Support found in the lower righthand portion of the screen. Remember to pay your enrollment fees to Your Club!
4-H Website And Facebook Pages For Custer County
Jessica and Jackie are working to bring our 4-H information to our Custer County website and keep our MSU Extension Custer County Facebook Page.
If you have not visited this page and clicked "Like", please do so soon! Please know that we do not utilize Facebook messenger for professional communication, please use our phone, email or stop by to see us.
Successful Record Books
We just wrapped up our Achievement Night on October 15th, many of those awards are based on a thorough record book. Start your record book at the beginning of the 4-H year. Write goals for the year at the BEGINNING of the year. You need to set and write at least three goals for each part of the book.
My 4-H Year: The front page must be completed including three goals and leader's signature. Every section must have something listed, including promotion and communication. If nothing was done in an area or section of a record sheet, write "none". You should have a project journal for every project listed on the My 4-H Year sheet. Your picture should be attached.
Non-Animal Project/Financial Journal: Project/financial journals are needed for every project. Project sheets need to contain the name of the project and the year these records were kept. Every section needs to have something written in it. Including three goals and financial records. Transfer financial totals to back page.
Animal Record & Journal: Animal journals need to be included for every animal project, including cat, dog, and pocket pet. These are for all animal projects, not just market projects. Include animal category (i.e., beef, dog, etc.), your name and the years the records were kept, plus a leader or parent's signature. One Animal Record & Journal can be used if the same animal is used in more than one project. Each section should be complete or if nothing applies, write "none".
To help organize yourself-either make a "sloppy copy" of your forms or use a calendar as you go through the year. Keep up with this and then the job of completing your record book at the end of the year is easy.
Make sure your record book is complete. This is a "record" of your 4-H story. It is fun to look back in the future to what you did while in 4-H. Make it complete enough that a person who is not familiar with your project could pick up your record book and look through it and it will make sense to that person.
Additional things you may wish to include (not required) in your record book:
Additional pictures of any of your 4-H experiences, projects, etc.
Ribbons or pictures of ribbons.
Certificates or awards received.
Other items you wish to add to your book.
Attention All 4-H Clubs: Advice For Starting The New 4-H Year Off Right
Plan your year (give guidance but let the kids make choices-don't forget to have fun!) Recruit help! Elect new officers!
Community Service (Choose at least 1 project per club.) Ask the 4-H office for ideas.
Field Trips (learn & have fun)
Guest speakers (informative & fun)- Mike and I would love to visit your club!
Club Demonstrations (relaxed atmosphere-have each member do one; prepare for Communication Day.)
Return Used 4-H Project Books To Extension
If you have any 4-H project books that are not being used and have not been written in, PLEASE return them to the Extension Office. We re-use them to keep costs down.
4-H Club Officers & Roles And Responsibilities
The officer and committee systems are a good way of dividing jobs and responsibilities among club members in an orderly way. The number of officers needed is determined by the size and type of club. Club officers are usually elected annually, near the beginning of the 4-H year. One of the Leaders or parents should be responsible for helping officers carry out their responsibilities. Encourage the officers to attend officer training when it is offered at the county or state level.
President: Prepares the agenda with other officers and Leaders and presides at club meetings.
Vice-President: Assumes duties of President in their absence. Has responsibility to see that committees are working on assigned tasks.
Secretary: Keeps complete and accurate records/minutes of each club meeting. Writes all club correspondence. Keeps club attendance and all other club records up to date.
Treasurer: Handles all club money. Keeps accurate and up to date financial records. All checks should be co-signed by club treasurer and an additional account signer.
Historian: Maintains and updates the club's history book to preserve information for future club members.
Reporter: Writes news stories about meetings and special events for the local newspaper.
The Extension Office has project materials for these offices. Ask your leader to pick one up or stop by the office yourself.
Shooting Sports
Shooting sports will begin November 10th with a kick-off meeting at the Home Show Building. Parents, please plan to be there to help move equipment at 4 PM. The meeting will begin at 6 PM emphasizing safety. Kids must be 9 years old by October 1st to begin Shooting sports, there is a $25 fee per kid. Be sure and to complete your regular 4-H obligations as shooting sports is a project in your 4-H year. Practice is every Tuesday and Thursday beginning November 15th.
Livestock Judging "Kids Like It!!"
Interest in the Livestock Judging program continues to build among the Custer County 4-H members. Driven by a strong commitment by both the Volunteer Coaches and the parents, Livestock Judging has grown from a small group of interested individuals to one of the most progressive programs in the State.
Custer County has over 20 active youth participating in the Judging program. The organizing volunteers have weekly workouts with an internet-based homework assignment and activities for members to complete during each session. They participate in several competitions in the region including the Black Hills Stock Show, Steinbiesser Memorial Contest and Beef Breeders Livestock Judging along with contests in Western North Dakota and Eastern and Central Montana.
The Miles City community has great venues for the youth judging program to prosper. These include the Livestock Pavilion at the Eastern Montana Fairgrounds and the Miles Community College Ag Advancement center. Utilizing the indoor facility at MCLC in February of has been instrumental in growing the annual Beef Breeders Show all beef livestock judging contest into a premier opportunity that attracts over 100 youth each year.
Contact the Extension Office if you are interested in becoming involved in the Livestock Judging program.
New Family Orientation
We would like to connect with our new -families and even those with more years of experience. Please join MSU Extension agents to learn about the process of completing a 4-H Project, keys to communication within 4-H, and developing a compass for fair. Monday November 28, 6:00 PM 4H Building, Eastern MT Fairgrounds. Please RSVP to the extension office by November 18th , supper will be provided.
Family and Consumer Sciences Sampler
Come and try a few family and consumer sciences (FCS, formerly home economics) projects with us. These projects are for 9-12 year olds, all kids welcome, do not have to be a member of 4-H. These projects will be lead by teens in FCS projects both in school and in 4-H! Class will be held in the FCS class-room of the Custer County District High School 4:00 – 5:30 PM. Pre-Registration required by November 8th 5 PM.
Communication And Operation
As we kick of a new year, there are some issues that have surfaced that highlight the fact that we need to do a better job of communicating within this organization. We have an awesome group of dedicated individuals that serve as leaders to this organization. They volunteer their time, energy, and resources to ensure that we provide the best program and opportunities possible for our youth members. 4-H is successful because of these leaders.
We would like to remind all parents, leaders, and members that within this organization we are bound to a code of conduct and will not tolerate disrespect, personal attacks verbal or otherwise, abusive behavior or lies. There is a protocol to follow that allows members, parents, and leaders the opportunity to seek resolution to issues that may negatively affect them, and this protocol needs to be followed.
The Custer County 4-H is governed by a formal County 4-H Leaders Council.
Who Votes:
Adult Leaders that have signed up and been approved by the Extension Office
Youth representatives from the 4-H Teen Council
Who Can Attend: The meetings are open to anyone to attend.
How do I hear about what was decided:Changes to 4-H by council are communicated through the 4-H Custer County Weekly e-mail. E-mails are sent out by from the [email protected] address and Mike and Jackie. If you have not received an e-mail for each week in October, please reach out to our office. We use the information provided in z-suite to populate the list serve.
The Council also has several Standing Committees including:
Horse
Livestock
Awards
Fundraising
Budget
FCS
Food booth.
Who Can Attend: Anyone is welcome and encouraged to participate in these committee meetings. Committee meetings are scheduled when we have issues that we need to address.
How are they scheduled: The date and time of these meetings is set to accommodate the schedules of the leaders involved and advertised through the weekly e-mail and the 4-H newsletter.
What happens at them: Committee meetings are the venue for detailed discussion to occur about matters that are specific to the area of interest of the committee. Recommendations from committee do not become policy until they are discussed and approved by the entire 4-H Council or in rare cases and special circumstances, by the executive committee. These are your opportunities to weigh in on policy and rule changes within your 4-H organization.
If dissatisfied by something that comes out of the above process, you should contact one of the Custer County Extension Agents directly to start a discussion about the issue at hand. 4-H is administered by Montana State University with mandates and guidelines dictating program operation. The county agents are the individuals that are charged with ensuring policies of operation, financial accountability, leader certification and background checks are all adhered to. Although we have some mandates that are not up for discussion, the majority of the 4-H program is directed through a democratic process carried out by the club, committee and 4-H council.
The Eastern Montana Fair board sets the rules and guidelines for participation at the fair. Participation at the fair is not required to complete your 4-H project, it is, however, an opportunity to show the community the great work that we do in 4-H and receive recognition for that work.
The fair board is the authority
that requires entries to be submitted by deadlines they set
market animal contracts
rules governing participation especially when both 4-H and FFA are combined
exhibits to conform to display requirements during the fair (for example not removed until allowed).
A fair board meeting is not the venue to discuss issues specific to 4-H program operation as they have no control over our internal operations. If you wish to see changes in the 4-H portion of the fair the process outlined above of working with Committees, Council and the Extension Agents is the appropriate avenue to impact those changes.
Once again, I would like to recognize the great work, energy and dedication of the Volunteer Leaders that make 4-H such a great program. Jackie and I are more than happy to visit and address any issues you may have or opportunities for improving how we do 4-H in Custer County.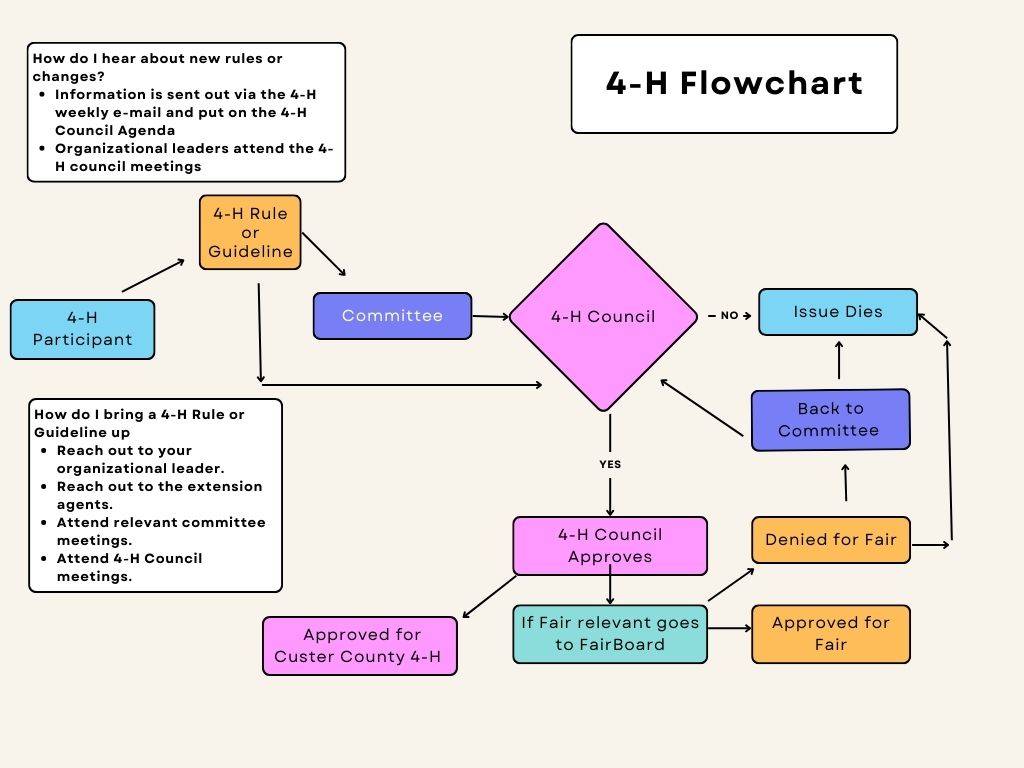 2022-2023 4-H Building Cleaning Schedule
November 2022– Prairie Wranglers
December 2022– Powderville Pioneers
January 2023 – Busy Bees
February 2023 - Crow Rock
March 2023 – Rough Riders
April 2023 – Pine Ridge
May 2023 – Prairie Wranglers
June 2023 – Powderville Pioneers
July 2023 – Kinsey
August 2023 - Pre Fair Set Up- Pine Ridge
- Post Fair- Prairie Wranglers
September 2023– Busy Bees
October-2023 Crow Rock
Don't forget your special cleaning duties as well. Lists will be put in mailboxes and hung up at the 4-H building
2022-2023 4-H Club Responsibilities
| | | |
| --- | --- | --- |
| Event | Month | Club Hosting |
| Candy Making Workshop | January | Teens |
| Cookie Bake –Off | February | Prairie Wranglers |
| Demonstration Day | March | Rough Riders |
| Spring Livestock Judging | April/May | Crow Rock |
| Small Animal Showmanship Clinic | July | Kinsey |
| Large Animal Showmanship Clinic | July/Early August | Pine Ridge |
| Fall Livestock Judging | September/October | Powderville Pioneers |
| Achievement Night | October | Busy Bees |
November 2022 4-H Calendar
Sun

Mon

Tue

Wed

Thu

Fri

Sat

1 Pine Ridge Meeting

2 Busy Bees Meeting

3

4

5

6

7

8 Office closed Election Day

-Powderville Pioneers Meeting

9

-Teens Meeting at Noon

-FCS Sampler

4-5:30 PM

9-12 year olds

Sign up online or call office

-Prairie Wranglers Meeting

10

Shooting Sports Kick Off Meeting

Set up at 4 PM

Meeting at 6 PM

Home Show Building

11 Office Closed Veterans Day

12

13

14 Crow Rock Meeting

15

ServeSafe

Shooting Sports

16 Rough Riders Meeting

17

Shooting Sports

18

19

20

21

22

Shooting Sports

23

24

Office Closed Thanksgiving Day

25

26

27

28

New Family Orientation 6:00 PM 4 H Building

29

4-H Council Meting 6 PM

4-H Building

Shooting Sports

30 Kinsey 4-H Meeting