MSU Pesticide News - August 21st, 2014
Discarding Empty Pesticide Containers and the Montana Pesticide Disposal Program
Cecil Tharp, MSU Pesticide Education Specialist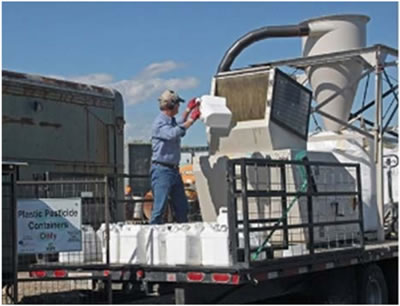 Pesticide applicators should be aware of the resources available for discarding pesticide containers and pesticide waste. By following a few simple steps applicators can ensure that empty and partially filled pesticide containers are discarded and disposed of legally.
Disposing of Empty Pesticide Containers
Prior to discarding any pesticide containers a pesticide applicator is required to power-wash or triple rinse the containers. The rinsate should be discarded in pesticide tanks and sprayed over a site listed on the pesticide product label at or below required product label rates. After triple rinsing, the container should be rendered unusable by puncturing.
The Montana Department of Agriculture Pesticide Container Recycling Program is an option for applicators desiring to keep pesticide container plastic out of Montana's landfills. This program has collected more than 288,000 pounds of pesticide containers since October 2009. Numerous sites across Montana are available that applicators may use by simply searching the container recycling map. Once an acceptable site is found, applicators may contact the local cooperator to arrange a drop off of empty pesticide containers (refer to the recycling map link). Shredded plastic from pesticide containers is recycled to create non- consumer items such as drain tile, roadway speed bumps, pallets and landscape edging.
Disposing of Pesticide Waste
Applicators should use the Montana pesticide waste disposal program if they have unknown pesticide products (due to worn product label), unregistered pesticide products or unusable pesticides that are in need of disposal. The Montana pesticide waste disposal program began in 1994 and has collected more than 455,600 pounds of pesticide waste since onset. Common pesticides brought to the event include DDT, chlordane, 2,4,5-T and strychnine. The disposal fee is FREE for the first 200 pounds and $0.50/lb for amounts in excess of 200 pounds for licensed pesticide applicators.
Pesticide Disposal Program Locations and Dates
September 16, 2014 - Kalispell, MT
September 17, 2014 - Polson, MT
September 18, 2014 - Missoula, MT
September 19, 2014 - Bozeman, MT
Participants must pre-register their unusable pesticide with the Montana Department of Agriculture before the event. Registration for the program is requested by the end of August. For the most part, acceptance into the program is on a first come, first serve basis and early sign-up is encouraged.
Requirements
Participants must pre-register their unusable pesticide with the Montana Department of Agriculture so the collection can be managed safely and efficiently. The registration form is located at [expired link].
Please mail registration form to:
Montana Department of Agriculture
Pesticide Disposal Program
P.O. Box 1054
Glasgow, MT 59230
Further Information
See the MDA Pesticide Container Recycling Program website or see the MDA pesticide waste disposal program. Contact Carli Lofing for additional information regarding the MDA Pesticide Disposal or Container Recycling Program at (406) 228-9512 or email at [email protected]. For any other questions contact Cecil Tharp, Pesticide Education Specialist, at the MSU Pesticide Education Program office (406) 994-5067, [email protected]