MSU Pesticide News - July 16, 2018
2018 Pesticide Education Program Train-the-Trainer Update
Cecil Tharp, MSU Pesticide Education Specialist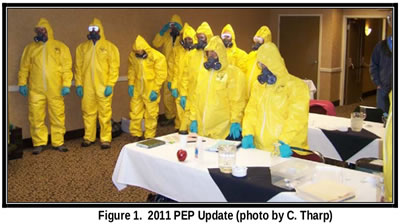 The Montana State University Pesticide Education Program is offering a pesticide education train-the-trainer opportunity November 14th and 15th at the Holiday Inn Express (2305 Catron Street), Bozeman, MT. Attendees of this program can attain 4 commercial/government recertification credits in the categories of dealer, ag plant pest, right-of-way, demonstration and research, and regulatory weed pest.
Topics
Speakers will discuss a variety of pesticide topics including:
Mandatory Paraquat and Dicamba Trainings
presented by Dr. Cecil Tharp, MSU Pesticide Education Specialist
Rodents, Pesticides and Recent Poisonings
presented by Stephen Vantassel, MDA Vertebrate Pest Specialist
ID and Mgmt of Insect Pests of Cattle
presented by Marni Rolston, MSU Veterinary Insect Research Associate
Carryover and Mode of Action of Herbicides
presented by Tim Seipel, MSU Crop Weed Extension Specialist
Identifying Herbicide Injury
presented by Noelle Orloff, MSU Plant ID Diagnostician
Other speakers include
Amy Bowser (MSU Pesticide Education Technician) presenting Hosting Initial Pesticide Programs and Prize Kits
Jay VanVoast (MSU Extension Information Systems Analyst) presenting Using IT Resources when Hosting a Pesticide Applicator Program
Todd Pinney (Turning Point District Representative) presenting Audience Polling, Smartphones, Data Analysis using Turning Point Technologies
See the complete agenda on the MSU PEP website
Registration
This event is only open to pesticide trainers from weed districts, BLM, forest service, private industry, MSU Extension, etc. Pre-registration is mandatory and seating is limited. Pre-register online or by contacting Amy Bowser at [email protected] or (406) 994-5178 no later than November 10th. There is a $100 fee to cover catering, speaker and other educational expenses. Checks should be written to the MSU Pesticide Education Program if paying at the door.
Further Information
See the detailed program agenda online on the MSU PEP website. For more information contact Cecil Tharp, MSU Pesticide Education Specialist (406-994-5067; [email protected]).